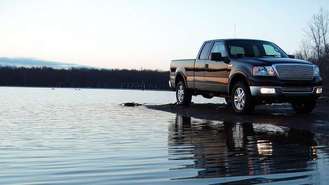 When you are in the market to buy a truck, you have a variety of places to turn. Although all new car sales must be completed with a franchised dealership, it is important to choose a dealership that offers the right vehicles at the right price. You can find a local certified dealer with a great inventory by making use of the tools available at CarsDirect. While a new vehicle may seem like the best choice, you may also want to consider a certified pre-owned vehicle with a good warranty. You can also find certified dealerships online by using CarsDirect.
Start your search for a new truck here >>
New Car Dealership Internet Department
Most new car dealerships and large used car lots employ an Internet department that includes at least one Internet sales manager. This employee is charged with providing a hassle-free experience for prospects who initially contact the dealership via the Internet. By requesting a price quote through CarsDirect, you will receive a quick quote with competitive pricing. You can also follow-up with the dealership by phone or email to negotiate, if necessary. Most Internet managers will also be happy to offer any alternative used cars that they may have in stock.
New Car Dealership Fleet Department
If you are in the market for a truck, it may also be worth it to contact local commercial dealerships that have fleet departments. By completing your new or used truck purchase through a fleet department, you will be put in contact with a senior member of the sales team whose job is more reliant on selling a large volume of vehicles than making a large profit on each vehicle sold. As fleet managers are familiar with bidding for sales and providing quick quotes for government agencies and large businesses, you should be able to get a competitive quote with minimal hassles. Many fleet salespeople are willing to sell vehicles for the invoice price, as they may receive additional fleet bonuses from the manufacturer.
Used Car Dealership
If you are unable to find the right new or used vehicle offered at a large new car dealership, you can find a certified dealer who offers a variety of pre-owned vehicles. By using an online classified site or an auction site like eBay Motors, you can find a variety of trucks for sale with a variety of warranties. If you do choose to purchase from a used car dealership, make sure that you get a good warranty. A short-term warranty may be included in the selling price, but heavy-duty truck users may be best served by purchasing extended coverage.
Whether you ultimately choose a new or used truck, be sure to select a vehicle that suits your needs and budget. After you sign a contact or buyer's order, it can be difficult to reverse a sale. There is no limited right to rescind on vehicles transactions, so you will be at the mercy of the dealership if you do not like the vehicle.
How to Buy a New Truck Online
If you want to buy a new truck online, you have many choices on ways to save money. Buying a new truck online can be a very rewarding and cash saving experience. So, here is a convenient how to guide on how to purchase a new truck on the Internet.
Start your search for a new truck here >>
Research Different Trucks
Visit websites like CarAndDriver.com and MotorTrend.com to research ratings and reviews for many popular trucks. These websites publish informative ratings and reviews about many popular trucks manufactured today. They also perform testing on trucks that evaluates dependability, performance and safety.
Visit Manufacturer Website
Once you have found a particular truck that you're interested in, visit the manufacturer's website to find links to dealers that sell the truck online. Also check for any current cash rebates or financing incentives the manufacturer is offering.
Request Quotes from Dealerships
Visit several of the dealer links on the manufacturer website and request quotes from the dealership websites for the truck you want to purchase with any needed accessories and options. Make sure to inform the Internet sales manager that you're requesting quotes from several dealerships, so they will give you their best price.
Visit a Online Car Buying Service
Visit online car buying services like CarsDirect.com to compare prices as well. You'll probably find that CarsDirect.com has the lowest prices on new trucks. CarsDirect offers a low price guarantee on trucks purchased directly through their site, so you make sure to include them in your comparisons.
Choose Dealer or Buying Service
Once you have received quotes from all of the online dealerships and car buying services, choose the quote that offers the best deal for the make and model truck that you want to purchase.
Arrange Financing
You need to arrange financing for the purchase. You can opt to use the financing provided by the online car dealership or car buying service, or you can search for banks and car loan lenders on the Internet to arrange your own financing. Once you have chosen a lender, apply online for approval.
Sign and Return Loan Documents
After you have been approved for financing, the finance company will send the loan documents to your home. Review the documents, sign them and return them to the lender. Most of the time, the lender will send you a pre-addressed envelope so that you can conveniently send the loan documents back.
Arrange Insurance
Before you take delivery of your vehicle, you have to arrange car insurance. Most the time the dealership can refer you to an insurer, or the car buying service may work with an insurance company as well. You can also visit websites like CarInsurance.com to receive rate quotes from many companies at once.
Arrange Car Shipment
If you're using an online car buying service or dealership, they can probably help you make arrangements to have the truck transported to your local area. You can also search the Internet for car shipping companies if you want to save a little money.
Take Delivery of Vehicle
Finally, after everything is done the car shipping service will ship your vehicle to your local area. You arrange to meet the truck and take delivery of your vehicle. Once the truck driver hands you the keys, the deal is done and you start making monthly payments to the car loan lender.
Start your search for a new truck here >>
Stay Updated with Government Rebates for Buying a New Truck
It helps to know about special discounts or rebates when you're buying a new truck. After all, even a small amount saved can help your finances keep afloat in trying times. There are several ways to stay updated on available rebates and discounts.
Government Websites
The US Government initiated an incentive program called "cash for clunkers" or CARS (car allowance rebate system) that allowed you to trade a "clunker" for a more fuel efficient vehicle. The program has already ended, but there are other government incentives that aim to reduce the impact of vehicles on the environment. For example, tax credits are given for purchases of hybrid, electric, diesel, and alternative-fuel trucks. Government websites from the U.S. Department of Energy will often collate information related to state and federal incentives.
Online Forums
Some states offer rebates and discounts for new trucks to pump prime their economies. Many government rebates are often only made known locally. One way to keep track of these offers is through online community forums. Many forums have a special section that cater to people looking for discounts and related material. These sections bring together people who share rebates and discount information with each other.
Dealerships
If you are buying a new truck, make sure you ask for all the available government rebates and discounts you can qualify with. It is amazing that many buyers don't assert their right to ask questions and will just allow themselves to be swayed by smooth talking salesmen. It never hurts to ask.
Start your search for a new truck here >>
Should I Buy a Truck or an SUV?
When considering whether to buy an SUV or buy a truck, there are a few things you may want to consider. While both types of vehicles will generally allow you to carry substantial amounts of cargo in your vehicle, there are benefits to both.
Advantages and Disadvantages of SUVs
An SUV is similar to size in many cases to a pickup truck; moreover, SUVs typically allow for more passengers to ride comfortably inside the vehicle. Typically, SUV's allow for a fairly substantial amount of cargo in the rear of the vehicle, and many offer a way of folding down the rear seats so that you can use it for more cargo capacity.
However, while many SUVs are 4x4 rated, they are generally designed for only occasional off-road use, and may be limited in their towing capacity. Furthermore, while cargo capacity in some SUV's is sufficient for many needs, there may be times that you require additional cargo capacity.
Advantages and Disadvantages of Pickup Trucks
Pickup trucks are designed to be used in more heavy duty applications, and are typically better suited for many more types of off-road use and activities. Also, pickup trucks are usually equipped to carry a lot more cargo simply because the design of their open-air bed. The truck bed of a pickup truck allows you to haul large amounts of cargo or supplies, and most trucks suspensions are designed to carry a lot of weight.
While pickup trucks are better suited for most heavy duty work purposes, most trucks are limited in the number of passages that can be comfortably seated inside the vehicle. Furthermore, most pickup trucks don't provide some of the added comfort and luxury that may be available in some models of an SUV.
Start your search for a new truck here >>
Buying a Classic Truck
Some common problems that you may find when looking to buy a classic truck are related to cost and reliability. Purchasing a classic truck that has been restored can be much more expensive than purchasing a comparable non-restored truck and even more expensive than purchasing a brand new truck. As a result of the significant expense, you may find it difficult to secure financing on your truck of choice. Additionally, specialty collector truck insurance can cost more than insurance on a newer vehicle because it could be hard to find replacement body parts. While collector insurance may be expensive, choosing to have a regular full coverage policy on your truck may not insure it for a high enough value. All said, the true cost to own a classic truck can be much higher than owning a non-classic truck.
Mechanical problems also abound when shopping for a classic truck. As a classic truck may not have fuel injection or all of the electronic engine management systems of a newer truck, you may experience frequent breakdown problems. Additionally, parts may be difficult to find, and you may have to spend more to get the parts. If you choose a classic truck, make sure that your insurance policy includes towing and rental coverage, or consider purchasing this coverage from a third party. Although making a large investment in a classic truck seems exciting, a classic vehicle can soon become a major liability if you have difficulty insuring or repairing the vehicle. Be sure to approximate repair costs and possible insurance expenses before finalizing a deal.
How to Decide If a Diesel or Unleaded Engine Is Right for You
Fuel Cost
Diesel fuel is more difficult to refine and make as compared to unleaded gasoline. The exact cost of diesel will vary considerably from region to region and even in a same region. These costs depend on state and federal taxes, and as of 2010 diesel is about $0.06 higher than unleaded gasoline. This means if you don't have to travel long distances with your truck, it's a better idea to opt for unleaded engines that will provide more power but will definitely be cheaper. Do check when you are buying a new truck to compare rates.
MPG
Diesel trucks require more maintenance, and that means more expenditure. Diesel burns less fuel, producing more energy per gallon, and it will get better mileage on long distance trucks. If you're planning to haul large goods over long distances, then diesel is the way to go.
Emissions Control
The general understanding is that unleaded gasoline is the master of emissions control. But it's not like that. Diesel has now been standardized and it's more a high tech fuel that is used all over the country. It also produces 15 percent more emissions per gallon of fuel, but this is offset by the improved fuel efficiency.
It's necessary that you do the research to select a truck that will suit your particular needs. If you require a truck for personal use, then a gas engine is fine, but for long distance travel a diesel truck is the better option.
Start your search for a new truck here >>
Related Questions and Answers
Is there an SUV that Can Do What a Utility Work Truck Can?
Your utility work truck comes in very handy on the job site, because it has more than ample storage for all of the tools, equipment and materials that you will need on the job site. With must utility work trucks, this ample storage comes in the form of storage bins hung on the side of the truck cargo area and the open bed between the storage boxes. Your SUV will be more handy in transporting people than large pieces of equipment or materials, although it will be able to carry a good deal of smaller tools and equipment.
Does a Truck Have More Towing Capacity Than an SUV?
Heavy duty truck towing capacity is usually quite high. Most heavy duty trucks are equipped from the factory with towing packages to increase their towing capacity. These towing packages usually consist of strengthened suspensions, bumpers and the addition of tow hitches to the strengthened bumper. Most larger SUVs can also be bought with these same packages to increase their towing capacity. A truck is normally going to have more towing capacity than smaller SUVs or those without heavy duty towing packages. Heavy duty towing package equipped SUVs will have the same capacity as similarly equipped trucks.
Does a Truck Cab Extender Provide More Cab Space Inside?
A truck cab extender is designed to give the look of a longer cab with more room. However, they won't give you any more usable internal space. They bolt onto the back end of your cab and look good, and maybe decrease freeway wind resistance a little, but they aren't designed to actually give increased cab space. The purpose of cab extenders is to lend to the looks of the truck and give a little covered storage space out of the elements. There are a variety of manufacturers of these cosmetic upgrades.
Is there a Truck that Has Interior Storage that Matches an SUVs?
Truck interior storage usually leaves quite a bit to be desired. This is especially true when the truck is a two-door model. Extended cab trucks have four doors and thus quite a bit more storage than a standard cab truck. Most SUVs are four-door vehicles with a rear entry door and window that gives access to a rear storage area. These have the extra rear storage area that even extended cab pickups don't have. For this reason, SUV's will have more internal storage area than any four-door truck. There are certain modified pickup trucks that have been extended to give even more internal storage or seating area, either by the addition of a third set of doors or just a third row seat.