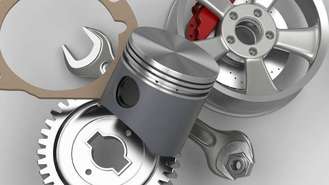 If you're interested in importing cars or car parts without paying import duties or taxes, you need to be aware that not all persons are eligible to import a vehicle tax free. If you are eligible for a tax free auto, this guide will give you step-by-step information on how to import the vehicle and save money.
Gather Needed Documents
Before you get started, make sure you have all the documents needed to import your vehicle. Generally speaking, you should be able to provide as much documentation concerning ownership of the vehicle as possible. For example, a bill of sale, a foreign vehicle registration or certificate of ownership or title, or other document that shows proof of ownership is usually required.
Confirm Certification
All of the parts you order must be certified for use in the Unites States. This certification means that the parts meet all specifications for driving and are safe. If your parts do not meet specifications, then you can be fined or even have your car confiscated. With your certified parts you will not have a problem passing your registration.
Determine Eligibility for Tax Free Imports
In order to import a vehicle without paying duties or taxes, you must be considered eligible under the law. In most cases, only U.S. government civilian employees and military members can import a vehicle duty free or without paying any type of import tax. However, certain nonresidents may import duty free vehicles for personal use in some situations. If you are unsure of your eligibility, contact the Bureau of Customs for more information.
Find a Shipper
Go online and search for shippers that can ship your vehicle from the foreign country to the United States. When shopping for shipping companies, compare prices for shipping to your preferred ports as well as transit times.
Get Insurance
It is worthwhile to have insurance, particularly if the parts are very expensive. Make sure you have car import insurance before the parts are shipped as most companies state they are not responsible for the part during transport. Very large parts that must be sent on a ship in a container can frequently have issues. The insurance will cover you if the part is damaged or lost during transport.
Have Vehicle Undercarriage Cleaned
Before you bring the vehicle into the United States, you need to have the car's undercarriage cleaned. The shipping company may be able to provide this service, or you may have to contract the work out to another company. Whoever you use for the undercarriage cleaning service, be sure to get an invoice or receipt so you can show it to the Bureau of Customs.
Remove all Contents from Vehicle
Make sure you take everything out of the vehicle before shipping it to the United States. You must declare all contents of the vehicle with the Bureau of Customs before it enters the country. If you forget to declare something in the vehicle, the property in the vehicle may be seized. If it is, you may have to pay costly fines and penalties before you can claim your vehicle. Also, items left in the vehicle are at risk for theft during transit.
Claim Vehicle or Have it Delivered
Once the vehicle reaches its final port of destination, you can claim it or have a registered agent claim it from the Board of Customs for you. In order to claim the vehicle, you need to provide the original bill of lading from the shipping company, a receipt for the cleaning of the undercarriage and proof of ownership documentation. Once you provide all this documentation, you should be able to claim the vehicle and drive it home or have it delivered by your agent to your location.
Watch Out for Scams
While there are many reliable and reputable import car part businesses, you do need to be wary of scams. Make sure you read customer reviews or get references from the company. You should not pay for the car or part in full until it has arrived. Steer clear of any companies that require payment through escrow services.