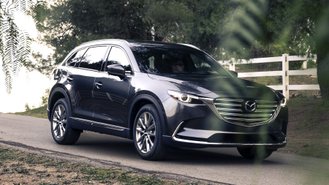 Is the 2016 Mazda CX-9, in particular the Grand Touring we tested, a good fit for your priorities? If you have a family, are looking for a three-row vehicle with handling prowess, and spend time commuting, the answer is yes.
Right for
Family Buyers
The CX-9 is a nice fit for families, although be warned that its third row is really only comfortable for children. Something else to consider: while access to the "way back" row is easy, when it's in use you're faced with just 14.4 cubic feet of cargo space behind it. When folded, those seats continue to take up space, although capacity does expand to 38.2 cubic feet. So while the CX-9 has a commendably high ride height, which means you have a great view of traffic ahead, and overall visibility is very good, there's a limit to how much it can carry.

Northern Climate Buyers
With the option of all-wheel-drive, the CX-9 should prove to be highly capable when the snow begins to fly. Its i-ACTIV AWD system monitors 27 separate factors at over 200 times per second, and can account for wheel slip by directing up to 50 percent of the engine's power to the rear wheels in all conditions including wet, dry and icy. Slap on a set of winter tires and, voilà! you have a true winter warrior.

Performance Buyers
A lighter chassis, excellent throttle response, great feedback through the steering wheel, and a responsive brake pedal are only a few of the attributes that make the new CX-9 the best-handling vehicle in its class. You also shouldn't be put off by the fact that there's only a four-cylinder under the hood. That 2.5-liter turbo generates 250 horsepower on 93 octane gasoline and 227 on 87. More importantly, its 310 pound-feet of maximum torque is available at a very usable 2,000 rpm, which means power comes on in a hurry.

Commuting Buyers
According to Mazda, the CX-9's redesign included 53 additional pounds of sound-deadening material under the carpet, as well as a thicker floorpan and acoustical glass for the windshield and front windows. The suspension exhibits plenty of travel, absorbing everything from small road imperfections to large potholes. The result is a very quiet vehicle that's ideal for commuting.

Safety Tech Buyers
Advanced passive safety features abound in the CX-9. Think standard LED headlights and taillights on all trim levels. LED fog lights are optional on the Touring and standard on Grand Touring and Signature models. Blind spot monitoring and rear cross-traffic alert are found on Touring and above models, while opting for either the Grand Touring or Signature gets you standard lane departure warning, lane keeping assist, radar cruise control, and smart brake support with distance recognition.

Luxury Buyers
Mazda's decision to move the CX-9 upmarket resulted in a sculpted exterior design that is both understated and elegant. Inside, the attention to detail continues with finely grained surfaces that blend harmoniously with soft leather and brushed aluminum. The Signature model also gets rosewood trim sourced from premium guitar-maker Fujigen.


Wrong for
Single Buyers
Everything that makes the CX-9 great for families probably makes it a little off-putting for singles. For instance, how often do they need room for five adults plus two kids? Do they have the patience to find a parking spot, especially if they live in the city? Finally, a crossover this size is the next-best thing to a minivan, which for singles means it's the next-worst thing to a minivan.

Budget Buyers
The CX-9's move into near-luxury territory is a clear signal that it's not intended for car shoppers on a budget. The entry-level FWD Sport has a base MSRP of $32,420, while the price of the flagship Signature model, with all the trimmings, nudges the $47,000 mark.

Green Buyers
The CX-9 may currently reside at the top of its segment when it comes to EPA-estimated fuel economy, but that's all relative. EPA estimates put FWD models at 22 mpg city, 28 mpg highway, and 25 mpg combined. AWD models are rated at 21 mpg city, 27 mpg highway, and 23 mpg combined. These numbers also correspond to the real world, where we averaged 22.2 mpg in mostly city driving. That's excellent for a three-row crossover, but it won't make a hyper-miler swoon.
Learn more about the 2016 Mazda CX-9, along with this month's best deals and incentives »