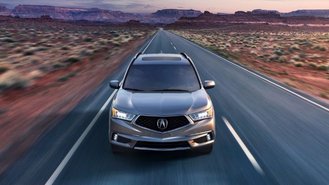 Buyers in the luxury crossover SUV game are spoiled for choice. From the small, $30,000-ish entries popping up across the market on up to the hulking, six-figure Range Rover and Cadillac Escalade, there's quite literally a cushy, leather-lined crossover out there to suit every consumer. But what kind of buyer is Acura's flagship CUV, the MDX, right for?
We borrowed an MDX, loaded up with the top-end Advance and Entertainment packages, as well as Acura's trademark Super Handling All-Wheel Drive to find out.
Right For
Safety Enthusiasts
AcuraWatch Plus and some of the auto industry's best headlights are the highlights of the MDX's impressive roster of tech. The former is the luxury brand's take on parent company Honda's outstanding Sensing suite. Unsurprisingly, the safety package works just as well on the MDX as on a Civic or Accord. Adaptive cruise control, automatic emergency braking, lane keeping assist, and road departure mitigation take the stress out of boring freeway drives, while Acura's JewelEye LEDs shine on everything that crosses this CUV's path, promising a safe driving experience on even the darkest nights. And the best thing? Both are standard.
Parents
A rear-seat entertainment system is key to keeping the kiddies quiet and calm on any long drive. In the MDX's case, that means adding the $2,000 Entertainment Package. Now technically, there are two different rear-seat entertainment packages on the MDX, and they vary depending on whether you select the $6,040 Advance Package (which requires $4,410 Technology Package, for an effective price increase of $10,450). If you go with the standalone Entertainment Package, you get a second-row bench, a nine-inch, roof-mounted screen, and two pairs of wireless headphones. If you pony up for the Advance Package, Acura upgrades the display to a 16.2-inch widescreen with HDMI compatibility and a split-screen function. Kids can't agree on a movie? With the Advance and Entertainment Packages, it's not an issue. Is that worth $10,450? That's certainly open for debate. The Entertainment Package is a $2,000 option, regardless of how you equip the rest of the MDX.
Ride-quality snobs
Consumers in the luxury market value a quiet, comfortable ride, and the MDX excels on both counts. Active noise cancellation – a technology that drowns out unpleasant sounds using other, imperceptible sounds – mutes 3.5-liter V6's smooths out the engine's harsher notes, contributing to refined, ear-pleasing sounds in normal driving. Meanwhile, the amplitude reactive dampers – bits of the suspension that can adjust their firmness based on road conditions – due a fantastic job smothering any road imperfections.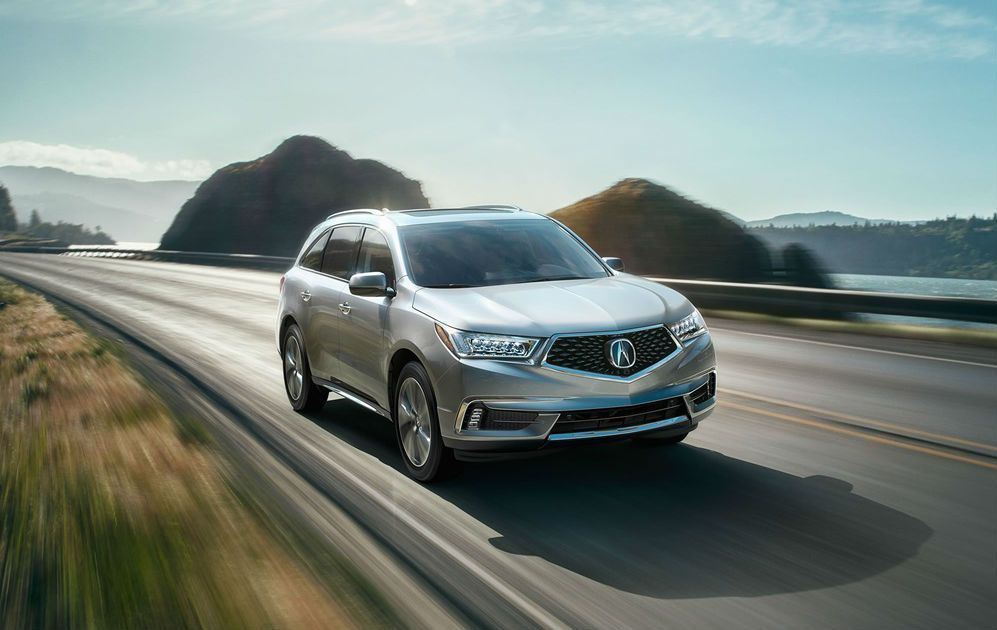 Wrong For
Badge Snobs
Acura's strides and the MDX's impressive showing here doesn't change the fact that the company simply doesn't have the brand cache of Lexus, Mercedes-Benz, BMW, or Audi. If you care about the opinions of Muffy and Biffy at the country club, the MDX isn't for you. We suggest ignoring them, though, because as $50,000 to $60,000 luxury crossovers go, the MDX simply has a lot to like.
Design Enthusiasts
The MDX is a smart, competent crossover, but it's not very pretty. As has been the case for years, Acura still hasn't figured out how to make a vehicle with an attractive grille. While the new, blacked-out unit is much nicer than the controversial "shield-nose" of the past, the MDX and its funky looking JewelEye LEDs still won't win any beauty contests. But the interior is a bigger problem – not only are is the dual-screen center stack unattractive, but it also comes with a steep learning curve. If you're looking for clean, simple function from an infotainment system, we'd suggest shopping at your local BMW, Audi, or Mercedes dealer.
Performance Fans
Make no mistake, the MDX's 3.5-liter V6 has enough power to get around – there's 290 ponies and 267 pound-feet of torque here – and it sounds lovely to boot. But Mercedes, BMW, and Audi all offer more powerful alternatives (albeit, they all require owners to pay a lot more money and/or sacrifice features). Even in a vacuum, the MDX is hard to recommend. It all comes down to a slow, disappointing nine-speed automatic transmission that takes too long to perk up off the line. Stab the gas, and the big Acura hesitates as the transmissions realizes, "Oh yeah, I'm a gearbox and have a job to do." Downshifts are similarly dimwitted. The only time the transmission feels right is while upshifting under acceleration where it delivers smooth, refined upshifts.
Budget Buyers
At $59,475 (including destination) for our fully loaded example, the MDX is a bargain in the luxury crossover space. Getting a BMW, Mercedes-Benz, or Audi with similar power and equipment is a tall order – a six-cylinder BMW X5's starting price is less than $1,000 off our Acura's, while a mid-level Audi Q7 is just over $60,000. The Mercedes GLE350 is the only one that's appreciably cheaper, but still requires giving up a lot of equipment. But if you're willing to sacrifice the Acura badge, there's a much cheaper way of getting most of the MDX's goodness, and it's called the Honda Pilot Elite. For better or worse, it has the same V6 engine and nine-speed automatic (although there's slightly less power), but it also has heated/cooled seats front, the same advanced safety suite, a more intuitive infotainment system, more cargo volume (regardless of seat configuration), and a larger overall cabin. Fully loaded the Honda is $48,010, or over $11,000 less than our Acura.
Learn more about the 2017 Acura MDX, along with this month's best deals and incentives »