The latest Accord Hybrid is the best one yet. But you still pay a premium for being green, and our own observed fuel economy didn't even come close to the EPA-estimated mileage numbers.
Right for
Family Buyers
Total passenger and cargo volume of 119 cubic feet put the Accord at the very top of the EPA's midsize category, which means there's plenty of room for five adults. There is, however, a penalty to be paid for choosing the hybrid as the rear seat in these models is fixed, reducing overall versatility and cargo-hauling capability.
Commuting Buyers
A smooth ride, compliant suspension and plenty of sound-deadening materials add up to a very quiet commute. Good acceleration, excellent visibility, supportive seats and clear instrumentation make spending time in the Accord Hybrid pleasant, indeed. The only intrusion to the tranquility is some buzziness from the engine when you really put your foot into it.
Safety Tech Buyers
All 2017 Accord Hybrids are equipped with the Honda Sensing suite of active safety technologies. It includes automatic emergency braking, lane departure warning, forward collision warning, lane keeping assist, road departure mitigation and adaptive cruise control systems. A multi-angle rear view camera is also standard.
Green Buyers
The Accord Hybrid comes with EPA estimates of 49/47/48 city/highway/combined mpg – great numbers for a family sedan. In around town driving, however, we only managed to average 30.9 mpg. That's decent city mileage for a midsize sedan, but it's also 17 mpg below the EPA's combined rating. While hybrid systems typically aren't as efficient in cold weather, that's a big difference between the EPA's estimates and our real-world results.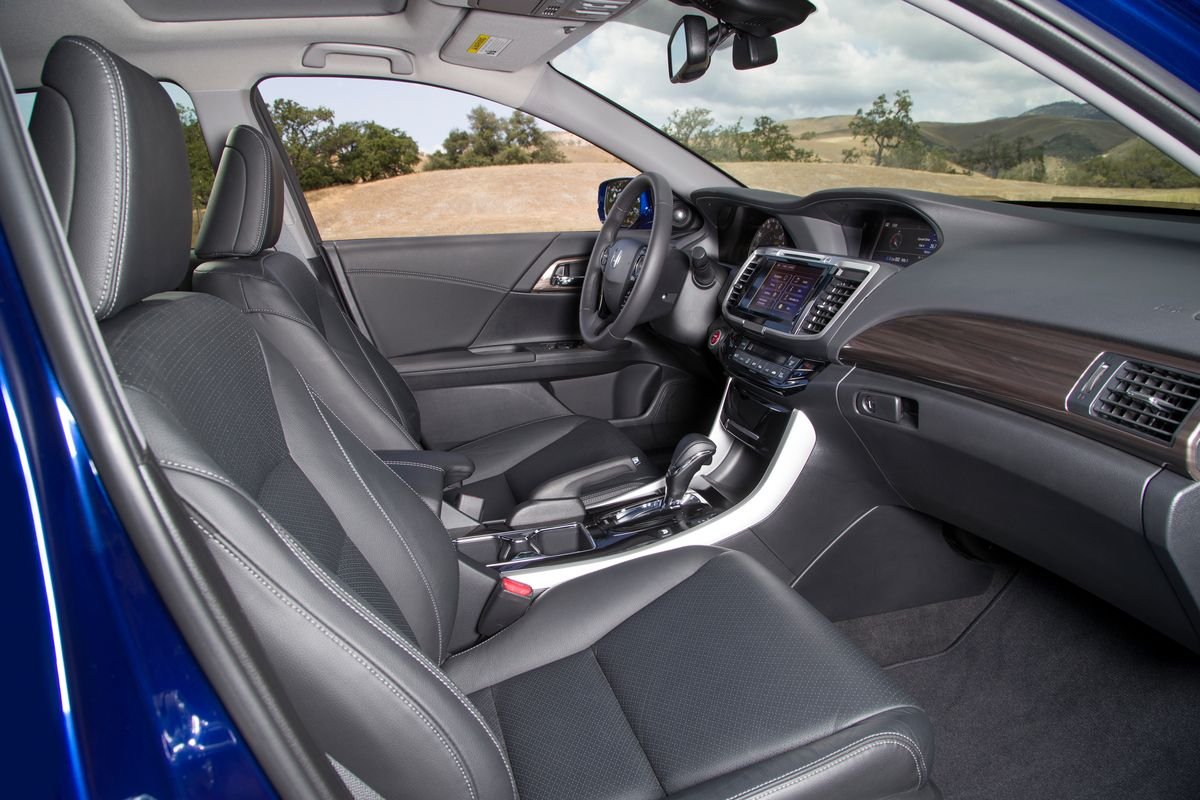 Wrong for
Performance Buyers
The 2017 version is the best Accord Hybrid yet. There's good feedback through the steering wheel and it's easy to modulate the brake pedal. Thanks to a direct drive system that employs a clutch and a pair of electric motor/generators, there's also nearly instant torque off the line. But that's pretty much where the fun ends. The suspension is tuned for comfort over handling and when pressed, the engine makes rough, droning noises – sounds we don't normally associate with Hondas.
Budget Buyers
A regular Accord sedan, equipped with a 6-speed manual and 2.4-liter four-cylinder, is available for $23,330. But the hybrid model sits atop the lineup, with the entry-level trim sporting an MSRP of $30,480. The top-shelf Touring variant, like our tester, adds a leather interior, moonroof, LED headlights, rain-sensing wipers and a satellite-linked navigation system and starts at $36,830 – and that's without adding dealer-installed accessories such as wireless phone charging and illuminated door sill trim.
Single Buyers
Aside from the fact that most midsize sedans generally add ten years to your perceived age, you can probably add another five years to the total if there's a "hybrid" badge affixed to the decklid. For the same or less money, there are a number of sedans that are more stylish nearly as fuel efficient, and more fun to drive.
Learn more about the 2017 Honda Accord Hybrid, along with this month's best deals and incentives »