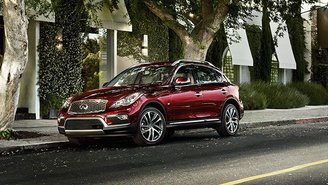 Given a stretched wheelbase last year as part of its mid-cycle refresh, the 2017 Infiniti QX50 is aimed squarely at buyers looking for the versatility of a crossover with a healthy dose of performance.
Right for
Singles
If you have the wherewithal and lust after a smaller all-wheel-drive luxury performance sedan but need the versatility of a crossover, your ship has come in and it's called the Infiniti QX50. With four doors and a wheelbase that's 3.2 inches longer for 2017, friends can easily get in and out of a back seat with enough room for two average-size adults (those over six feet may find the headroom to be tight). With its compact exterior dimensions, parking in the city should also be a snap.
Luxury Buyers
It's all here - comfortable and supportive seats covered in soft leather, as well as standard power and heated front seats, moonroof, leather-wrapped steering wheel, and dual-zone automatic climate control. A list of optional packages also adds everything from maple wood trim, a Bose sound system, HID headlamps, and power-folding second row seats to a suite of advanced active safety features.
Enthusiasts
The QX50 looks like a crossover, but it's based on the same platform as the Infiniti Q50 sedan, which in turn shares it with the Nissan 370Z. Drivetrain choices include either all-wheel or rear-wheel drive. The 3.7-liter V6 under the hood generates 325 horsepower and works with a 7-speed automatic transmission with a manual mode. The result is brisk acceleration, while the control-arm front and multi-link rear suspension ensure a sharp handling character and little lean in corners. The steering is precise and the brakes, with a nice initial bite, are easy to modulate. Both offer plenty of feedback to the driver.
Commuters
The QX50 is fairly quiet both around town and on the expressway, aside from some road and tire noise over rougher stretches of pavement. A high ride height translates into a great view of traffic and sightlines to the sides are also very good. The raked roofline and small rear window limit viewing out the rear three-quarters and in back, but a rear view camera is standard.
Safety Conscious Shoppers
The optional Touring Technology Package includes adaptive cruise control, blind spot warning, lane departure warning and prevention, and forward collision warning with automatic emergency braking.
Wrong for
Families
The interior dimensions of the QX50 lean towards cozy, rather than spacious, although there's plenty of room in the back seat for two children. But like many vehicles in its class, where the QX50 really comes up short is with its 18.6 cubic feet of storage behind the back seats - that's less than half the 39 cubic feet of cargo room found in a Honda CR-V.
Budget Buyers
Even the entry-level, rear-wheel-drive QX50 is out of reach for budget buyers, with prices starting at $35,645. Our all-wheel-drive tester eclipsed that with a base price of $36,250 plus a $700 Premium Package, $2,000 Premium Plus Package, $2,400 Deluxe Touring Package, $2,750 Technology Package, $440 for illuminated kick plates and a $995 destination charge for a total MSRP of $45,535.
The Eco Conscious
The 3.7-liter V6 offers a lot of punch, but it also comes with a big dent in fuel economy. The EPA-estimated fuel economy for the all-wheel-drive QX50 is just 17 miles per gallon in the city and 24 mpg highway, for a combined rating of 20 mpg. Our vehicle-measured fuel economy - after a week's worth of spirited suburban driving - was 15.0 miles per gallon.
Learn more about the 2017 Infiniti QX50 AWD, along with this month's best deals and incentives »