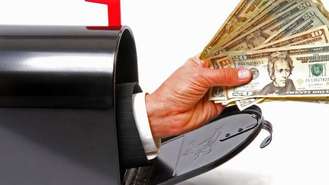 New car incentives and rebates are among the most important, and also the most underutilized, of all discounts you can receive off of the purchase of a brand new car. Manufacturer incentives and rebates are one way the price of a vehicle is lowered off the manufacturer's suggested retail price (MSRP), but dealers themselves may also provide auto rebates that help to lower the cost of a vehicle.
Manufacturer Incentives
Manufacturer incentives are created by the company that makes the car. They are designed to help boost sales of their vehicles over those of competing brands. The most important way of taking advantage of a manufacturer incentive is to know that it exists. As you're planning to buy a new car, check on the manufacturer website and read about the manufacturer in the news as often as possible. Manufacturers tend to do a good job of advertising their incentive plans and discount offers, but they may not provide much advance warning of an offer. It's important that you look regularly for signs of a deal.
When you've found the manufacturer incentive offer that works for you, visit a dealer in your area to inquire about buying the car. If the incentive was a paper ad in the newspaper, be sure to clip it out and bring it with you. Otherwise, mention the incentive to the dealer, to be sure that he or she is aware of the discount.
Dealership Incentives
Dealership incentives work much the same way as manufacturer incentives, except that these discounts help sell vehicles from that particular dealer over those from another dealership. Therefore, these discounts may apply to cars from multiple manufacturers or lines, provided that they're all sold through the same dealer and on the same lot. Additionally, dealers tend to keep their incentive packages a bit more difficult to find than manufacturers do. Keep a close eye on newspaper ads, and be sure to check up on forums for the sale of cars from particular manufacturers to hear testimonials from consumers in your area.
Rebates
Rebates are another important way that you can save money off of the cost of your car. Rebates are money you can receive back after you've purchased the vehicle. You typically have to negotiate the rebate with the dealer before you buy the car, then complete some paperwork and mail it to the manufacturer to receive the rebate. Rebates can be up to several hundred dollars.
How to Stay Updated on New Car Dealership Incentives
New car incentives and rebates change on a regular basis. Common new car incentives often include low interest rate offers, special low-price leases and the more traditional customer rebates. Make sure to stay up to date with new car dealership incentives in your area.
Join a Mailing List
One way to stay updated on new car incentives is to join a mailing list offered by a dealership or manufacturer. Rebates usually change on a monthly basis, so being on a mailing list is a great way to be informed of additional savings you could receive on your vehicle of choice. If you join a dealership's mailing list, make sure they only send you information on rebates. Some Internet departments send emails on a daily basis highlighting all sorts of specials in which you may have no interest.
Research First
Before you make any contact with a car dealer, research the current and updated dealership incentives available to new purchasers. You can do this by investigating the particular dealership or type of car online. Recent customers can also help to provide you with valuable information about potential rebates and deals when purchasing a similar car. Dealers may be obligated to withhold certain information about potential incentives in a consultation, so do not count on a car dealer to provide you with the best rebate opportunities up front.
Request Price Quotes from Dealerships
Using a service like CarsDirect to request price quotes is also a helpful way to stay updated on new car incentives. Even though you may not be in the market for a new vehicle at the time you submit the request, you can ask the Internet manager who responds to your inquiry about possible future discounts and low-APR financing offers. If nothing else, you have made a valuable dealership contact who can help you when you are prepared to finalize your purchase.
Act Confidently
When communicating with a car dealer, do not be afraid to ask questions about potential rebates about which you've learned. In most cases, it will be up to the purchaser of the car to bring up this topic during negotiations. In either case, be sure to take advantage of as many rebates as possible to save the most money on the purchase of a new car.
How to Stay Updated with Used Car Dealership Incentives
Taking advantage of used car dealership incentives can make the car-buying process more advantageous for you as the consumer. Many used car dealerships offer rebates and incentives for purchasing certain types of vehicles or meeting certain criteria. You can stay up to date on current rebates available on particular auto sales by joining a local dealership mailing list, checking online, reading your local newspaper or visiting used car dealerships near you.
Used Car Dealership Incentives
Often, used car dealerships offer incentives to clear their lots of cars which haven't sold, or to make way for incoming inventory. You may also be eligible for incentives if you are in the military, a college student, buying a hybrid vehicle or trading in an older model. Make sure to do your research before taking advantage of an incentive opportunity. Check blue book pricing on the makes and models of vehicles which interest you, check for recall information and research ratings for the dealerships in your area. It's important to make sure that you're getting the best deal possible when a dealership incentive is involved.
Online Dealer Ratings Websites
Once you've investigated the dealerships which are currently offering rebates, check out online dealership ratings to read about other customer experiences at those particular locations. A rebate may not be worth the hassle of poor customer service and pushy salespeople, or you may be equipped to haggle and negotiate over vehicles which are of higher quality and lower price. Reading comments and checking ratings will help you to determine which locations can offer you the service and sales opportunities that will be the most beneficial to you. At this point, you'll be able to make the best decision on which rebate offers to take advantage of.