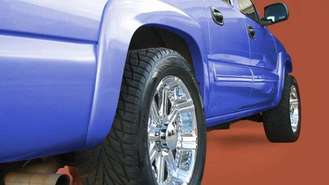 As people search for more fuel efficient ways to travel, diesel engines are finding their way into everyday life. Diesel power is especially suited to SUVs, which need all the efficiency they can get, not to mention plenty of pulling power. Fortunately, diesel technology has come a long way in recent years. You no longer need to fear pokey acceleration or excessive noise and smoke.
These days, the main difference between gas and diesel SUVs comes down to money. Most people know that diesels are durable and efficient, but there are financial downsides as well. Let's take a look at the financial pros and cons so you can make an informed buying decision:
Pros
Better fuel economy. A diesel SUV can get significantly better fuel economy in both city and highway driving. Visit fueleconomy.gov to learn more about the differences in fuel economy between gasoline and diesel-powered SUVs.
Higher resale value. Diesel SUVs can be worth much more than gasoline SUVs at trade-in time. When fuel prices spike, gasoline-powered SUVs fall in value, while diesels rise. This higher resale value may be offset by a higher initial cost, but you will definitely face less depreciation with a diesel SUV.
Less frequent maintenance. The heavy-duty engines and transmissions used in diesel SUVs require less maintenance. While gasoline SUVs may require oil changes as frequently as every 3,000 miles, service intervals for diesel SUVs can reach 10,000 miles.
Cons
Larger initial investment. While diesel SUVs offer fine efficiency, they also cost more than similar gasoline-powered models. Depending on how many miles you drive, it could take years to offset the higher initial investment with fuel savings. The break-even point will come sooner for high-mileage drivers, and drivers who keep their SUV for many years will realize the greatest savings.
Higher finance rates. If you're taking out a loan, you may find that your interest rate is higher on a diesel SUV. Some lenders simply don't finance diesels, and others view all diesel vehicles as commercial vehicles, which normally have higher interest rates. You are most likely to encounter higher rates if you purchase your diesel SUV new. Manufacturers may not offer their no- or low-interest deals on diesel vehicles, while rates as low as 0% are available on gas SUVs.
Urea injections. Modern clean diesels may require urea to reduce exhaust gas and pollutants. The urea (also known as diesel exhaust fluid) must be replenished at regular maintenance intervals, usually at every oil change. While urea is generally cheap, dealerships may charge a significant amount for this service.