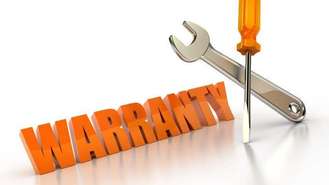 Whether you are buying a new or used vehicle, a car warranty is something that should always be considered. A warranty on a vehicle offers peace of mind as well as protection in the event a vehicle needs costly repairs. However, there are many considerations for striking the perfect balance between warranty protection coverage and price. This article will provide some information to help you get the most warranty protection for your money.
Best Warranties for New Cars
If you're purchasing a new vehicle, the best warranty coverage is always offered by the original car manufacturer. In almost all cases, a new vehicle comes with a manufacturer's bumper to bumper warranty coverage that covers almost all parts and repairs for the vehicles for three years or 36,000 miles, whichever comes first. Some manufacturers offer longer periods of warranty protection.
The need to purchase an extended warranty for a new car will usually depend on how long you intend to keep the vehicle. If you're the type of person that changes vehicles every three years or so, extended warranty coverage for your new vehicle is usually not required. However, if you intend on keeping your vehicle for a long time, or frequently drive a high number of miles every year, then extended warranty coverage may be a suitable option.
If you determine you need an extended warranty for a new vehicle, you should attempt to purchase extended warranty coverage directly from the car manufacturer. While many other extended warranties are offered by aftermarket warranty companies, the manufacturer's coverage will usually be more convenient and include more repair options for the vehicle--even if the coverage is slightly more expensive than with other companies.
Coverage Options for Slightly Used Vehicles
If you're purchasing a used vehicle that is less than two or three years old and has a relatively low number of miles on the odometer, check with the dealership to see if the vehicle has been certified by the original manufacturer. Some authorized dealerships offer vehicles that are certified pre-owned or certified used vehicles in a manufacturer program designed to promote the sale of certain makes and models of used cars.
Like a manufacturer's new car warranty, cars that are covered under a certified pre-owned or used program also come with very good warranties. Warranty service offered under these types of programs are usually provided at the dealership by factory trained mechanics and technicians.
If you purchase a vehicle that is not covered under this type of program, good warranty service is probably still available. However, you'll need to purchase an extended warranty contract from an aftermarket company. The best aftermarket warranty contracts are those that provide adequate coverage of most parts and systems while being reasonably affordable.
Best Options for Old Vehicles
When it comes to older vehicles (those more than 10 years of age or older), you should be particularly careful when it comes to extended car warranty coverage. In most cases, you should weigh the need for an extended warranty with the actual value of the used car in question. For example, if a vehicle is only worth a couple of thousand dollars, an expensive aftermarket extended warranty may not be a wise investment.
If you're able to afford potential repairs out-of-pocket, avoid spending money on a car warranty and save the money for when the actual repairs are needed. If an older vehicle requires a really expensive repair, it may be better to simply purchase another vehicle.
Auto Warranty Coverage
After purchasing a car, warranty coverage is critical because the vehicle loses value as soon as you drive it away from the dealership. Anything can go wrong and it is important that you know your rights regarding warranty coverage laws and which product to pick. Understanding the fine print will require investigation and some explanation from car dealers and insurers. The following points will clarify basic warranty coverage issues.
Implied Warranties
The implied warranties may be part of the "sales speak", or unwritten promises that car dealers make. This could be the commitment that the dealer will make to say that you can return your car to the dealership within a given period of time if you are not happy with certain parts or features. Although this is not a written warranty, it is usually honored by dealerships unless the salesperson has made the promise without authorization.
Express Warranties
These are written documents offered to customers with a car sale that will bind them to fix defects. This is a federal law that was instituted in 1975, and the Magnuson-Moss Warranty Act is a standard feature in every new car purchase. Additional warranty coverage should also be purchased to avoid excessive payments.
Obtaining Warranty Coverage
The additional coverage can be obtained from the auto manufacturer or a third party company. Third party warranties are cheaper, but they are often less reliable as they can go out of business quickly. The automobile manufacturer's warranty is supported by a more reputable company.
Types of Warranty Coverage Options
There are generally three options--powertrain, standard component and bumper to bumper warranty coverage. The cheapest warranty coverage is the powertrain, but it only covers repairs on large parts such as the engine and transmission. The powertrain warranty is suitable for a high mileage vehicle such as a delivery van or used car that may generate large repair bills. The most comprehensive warranty is the bumper to bumper warranty, where most parts are covered except the bumper. This is also known as a new car warranty or a wrap program, and may include additional services such as 24-hour roadside assistance and towing options. Although this policy tends to be more costly, the risk of a high repair bill is less and you can be assured of roadside assistance if something were to go wrong. Standard Component Coverage policies list the items to be covered such as the automobile's electrical system, cooling system, suspension and engine.
Before making a warranty decision, shop around for quotes and read the fine print on contracts to understand what your limitations are for claiming and repairs. The biggest risk with warranty coverage is usually in used cars and involves parts such as air conditioning, electrical systems, DVD players and brakes. By the time the car needs repair, it will be too late to change the policy. So it is critical to read the fine print before purchasing warranty coverage.
How to Buy a Warranty for a Car
When you buy a warranty for a car, you are really buying an insurance policy. The purpose of this policy is to protect you against having to pay for costly repairs on your car. When purchasing a car coverage warranty, the objective is to find a policy that will cover the most repairs for the lowest price. There are many options to consider when purchasing a car warranty, especially if you are looking for extended vehicle coverage. Here are the basic steps involved in buying a warranty for a car.
Clarify the Features of Your Ideal Warranty
There are so many different kinds of car warranties out there that choosing the right one for you can seem like a daunting task. Before you begin to shop around, make a list of all of the things you are looking for from a car warranty. How long do you want the warranty to last? How much can you pay each month? What kind of repairs do you want to make sure are covered in your policy? These are the kinds of questions you will want to answer before you begin. Having a wish list ready will help expedite your search.
Check Multiple Sources
Once you have your list of all the things you want out of an auto warranty, begin shopping around. Many people begin their search online. There is no shortage of information about car warranties on the Internet. The Internet is also a great place to find reviews of different car warranty dealers. It is important to make sure that the dealer you are doing business with has a good reputation. If you don't understand something you read online, find the customer service number and call to speak with someone. They are there to answer your questions. If you'd rather not use the Internet for your research, you could instead call car dealerships and ask about the different policies they have available. Again, don't be afraid to ask questions.
Purchase Your Policy
Once you have decided which policy is right for you, it's time to go ahead and purchase the policy. Before you sign anything, read the policy thoroughly and understand everything you are agreeing to. Make sure you know exactly when the policy begins, because not all policies go into effect right away. Make sure that wear and tear is included in your policy, as some car parts simply wear out over time. Make sure you understand exactly how much your deductible is.
The world of car warranties is a confusing one. There are many different policies out there. Unless you are an expert, sometimes it's difficult to understand them all and know which policy is best for you. If you follow the steps above, you should be able to successfully purchase a car warranty.
How to Purchase Warranty Plans for Cheapx
When you get ready to purchase a car warranty, use the following resources to get the best deal for your money.
Car dealerships.One way to purchase a car warranty is through a dealership at the time of vehicle purchase. This may be cost-effective as there could be the option to include the price in your monthly car payments. Car dealers have ways of calculating and listing costs when writing up financial paperwork, so make sure you're completely clear on any and all figures associated with the extended warranty cost. Inquire about any warranty coverage provided by the car manufacturer as well. If you're purchasing a car that has a bumper to bumper warranty for the first three years, you'll want your extended warranty to kick in after the initial coverage has ended
Online quotes.It's possible to purchase a car warranty online by locating reputable companies that offer this service. Price auto warranties online by obtaining quotes from several companies. Always be sure to carefully compare coverage options and especially any exclusions. Cheap car warranties may have an attractive price, but may not cover parts that have a tendency to wear or malfunction. Decide your goals for the extended warranty purchase and let that be a factor to help you determine how much you're willing to spend
Consumer reports. Consumer reports are a great way to decide the best company from which to purchase a car warranty. The business of car warranties creates a gray area where people can easily be scammed out of money for a service that isn't all it claims to be. The first thing you'll want to check is records submitted to the Better Business Bureau. Often, online car warranty sites will display accredited and verified logos from different consumer reporting agencies. This would be the first thing to check for, however, you'll want to take the extra steps to view any complaints filed against the company as well. After verifying records with the BBB and obtaining quotes, you may search several car warranty review websites, including a section at ConsumerAffairs.com regarding extended warranties. Researching complaints filed here can steer you properly toward companies that may offer a more suitable warranty service
Choosing the Terms
Once you've decided on a suitable company to use for purchase of your car warranty, you'll want to decide on the terms. You'll generally have options on how long you'd like the warranty to extend, and you'll have a choice of deductible. Your vehicle make and model, plus the terms you've chosen, will affect the bottom line cost of the warranty, so take all factors into consideration. Including your driving habits, present condition of your car, ability to afford the deductible and the amount of time you plan to own the vehicle. Typical warranty terms and plans include:
Powertrain warranty.When you by a used car, the dealer is going to provide some protection for you by offering a powertrain warranty as part of the sales price. This is usually only good for about three months or 3,000 miles. You do have the option of buying an extended car warranty, but there is a lot of fine print involved in these that dictate what is covered and when. If the car is only a few years old you will not necessarily need it. The power train warranty is going to cover things like transmission, engine, axles and drive train. Anything else is not covered. Once the limit has been reached (three months or 3,000 miles) the warranty is done
Bumper-to-bumper warranty.Despite what the name implies, this is not exactly a full bumper to bumper warranty. Most of the high priced parts (engine, transmission, drive train, emission controls, some power accessories, electrical and body damage) are covered for a limited period of time. However, there are things that are still not covered like upholstery, and items that are damaged through wear and use. A comprehensive warranty is mandated by law to last for at least 12 months or 12,000 miles. There are dealer warranties that will go as high as five years and 100,000 miles. However, this is only on certain parts. Emissions parts must be covered for at least five years
Warranty transfers. If you buy a used car that is only a few years old, the initial warranty that came with the vehicle is still active until the length of time expires of the mileage has been reached. This means that you can buy a reliable used car that is only a few years old and still be covered under warranty. An extended car warranty might be a good option at this point, to continue coverage for a few more years
How to Compare Car Warranty Coverage Plans
The best car warranty doesn't need to be expensive. Instead, it can you save a lot of money while giving you the best coverage available.
Although all car warranties are designed to give you needed protection, different manufacturers tend to offer a variety of car warranty coverage. Most manufacturers offer the bumper-to-bumper warranty and powertrain warranty. The bumper-to-bumper warranty refers to the warranty that covers almost all parts of your vehicle, except for the wear and tear of some parts such as tires, batteries and brakes. On the other hand, the powertrain warranty coverage includes the important parts that are responsible for the motion of the car such as engine, transmission, drive axle and drive shaft.
You can purchase a car warranty in a variety of places. Since you will spend money for the warranty, you have to ensure you have the best deal available for your situation. Here is a guide on how to compare car warranty coverage to find the best car warranty right for you.
Conduct research in advance.Before surfing the Internet to find the right car warranty that is best for your budget and needs, you have to determine the type of car warranty that fits your situation. Since you have a lot of alternatives, it is important to know how much you need in a car warranty
Determine your options.Shopping around can help you in finding the best warranty for your car. Not all manufacturers offer the same car warranty coverage, thus, you have to do some inquiring to know the options available. Do not hesitate to ask the manufacturer about the car warranty coverage they are offering if this will help you make a decision faster. Some of the important things to consider are the cost, deductibles, transferability, renewals, cancellation and coverage
Compare the coverage offered. There are different car warranty coverage options which you can include in your policy. Some are obligatory while some are optional. Determining how much coverage you need in your policy will help you in comparing the different coverage options being offered to you. Before making a choice, you should know if you need certified pre-owned or extended warranty coverage. Although these two coverage options protect both used cars, they give protection in different ways. Do not be pressured to purchase the first policy offered to you. Never believe the manufacturer who may push you are in the wrong for not buying a car warranty in the shortest time. Remember, you can always buy a car warranty later
Comparing car warranty coverage carefully will save you from possible complications in the future. It is true, the sooner you purchase a car warranty, the less expensive your cost will be. But choosing a car warranty is a serious matter where you need more time to think before buying.
5 Claims That Must Be Included
A warranty for cars is always present when buying new vehicles. Occasionally this warranty can be transferred to the next owner. There are also extended warranties that can be purchased after the initial vehicle warranty has ended. Car warranties can be big business for the dealers and manufacturers involved.
It is important to note that there is a difference between car insurance and car warranties. Car warranties are like insurance, since you are paying a monthly fee to ensure that your car can be repaired in the event of a problem. The difference is that car insurance covers wrecks and sometimes forces of nature, whereas warranties do not. Warranties are used to cover mechanical issues that result when a vehicle is being used only under normal wear and tear conditions. Some warranties will only cover you if you go to a specific mechanic. Some issues, especially those pertaining to the tires, will not be covered by warranty because they are considered to be the driver's fault. Car warranties are primarily in existence to protect manufacturers and dealers from Lemon Law issues.
Make sure that you are getting your money's worth before you purchase a warranty. Here are some claims that should always be present in a warranty for cars. Getting a warranty that doesn't cover an expensive common repair can end up costing you thousands.
Length of validity.All car warranties reach a point of expiration. You want to make sure that the warranty you are getting will last as long as you will be making payments on the car. If you are financing a car for six years, you don't want to purchase a warranty that expires in two years
Bumper to Bumper vs. powertrain.Always look for a long lasting bumper to bumper warranty when purchasing a car, or an extended warranty for your existing car. A bumper to bumper warranty covers just about everything. A power train warranty, on the other hand, only covers very specific mechanical problems, usually in relation to the engine or transmission
Roadside assistance.A good car warranty will offer the consumer roadside assistance. Though many car insurance companies offer this as well, you can never be too careful. You will appreciate this asset when you find yourself stranded in the middle of the desert with two kids and a car that won't crank
Good car warranty reviews.Before purchasing a car warranty, look online for reviews of different car warranties. This will indicate the quality of the warranty. People who have purchased bad warranties and ended up costing them thousands in repairs are always thrilled to discuss it with anyone who will listen. It is easy to find car warranty reviews for most dealers and manufacturers on the Internet. Another good place to check for reviews of car warranties is the Better Business Bureau
Used car warranty law. This is a law particular to certain states that requires a dealer to tell you of any known issues with a used vehicle. This is especially true of cars that have less than 125,000 miles on them. This is a warranty against some major flaws. Check your state to see if this warranty law applies to you
Should You Purchase a Car Warranty?
Many people purchase the car warranty because of the expense involved with buying a new car. It will cost extra for a car extended warranty and many people consider these to be like health insurance for your car. Be aware that some cars cannot have extended warranties, mainly because the repairs are so expensive. However, no matter the type of wear and tear, repairs can be expensive and a warranty can help keep costs down.
Location Is Not a Problem
The main advantage to having a manufacturer's warranty is that no matter where you are, the warranty can be used. You do not have to argue over the price or parts needed. Just take your car to a dealer that is backed by the manufacturer and they will take care of the problem.
Getting It from the Dealer
You have an option of getting a warranty form the dealer. Many people like this because these warranties tend to be less expensive than others. You can get the service plan and warranty plan at the same place.
You Don't Have to Pay
At some point in time something is going to break, and the repair cost is going to be large. This is where the money you put into your car warranty cost will come into play, as you will not have to pay for most of the repair. This can be a great benefit if you already are on a tight budget and not able to cover the entire repair bill yourself.
Warranty Coverage, But Your Car Is Fine
The main disadvantage of getting a car warranty is that you pay all this money up front in case something should happen and you need your car to be fixed. However, by the time you get to the end of the warranty you have never had to use it. So ultimately you have paid that money and not used it. This is just like any type of insurance. You may not need to use it but you are very glad you had it when something does occur.
Covered Repairs
You need to know exactly what the warranty covers, as most times normal wear and tear is not covered. So if you have your car for a few years and the transmission breaks, it may not be covered, as this could be considered normal. This can be very frustrating as you expect any repair to be covered. Make sure everything is completely spelled out in the paperwork before you opt for the extended warranty.
Finding a Dealer
If you are looking for a manufacturer warranty, then you may have to travel to a specific dealer to obtain this. This can be very inconvenient, and you may not get the same price you were interested in or found in an advertisement. If you do not have a dealer near your location, then the warranty may not be that convenient, as taking it into the dealer for repairs will be a hassle. Additionally, if the dealer cannot fix the problem, you are stuck paying for the repair yourself.
The Pros and Cons of Extended Auto Warranty Coverage
There are a number of companies that offer extended car warranty coverage. This can seem very appealing to anyone buying a new car that doesn't offer an extended warranty. Is third party coverage as good as it seems?
Pros
Extended warranty coverage gives you peace of mind. You know that the important things regarding your vehicle are covered for the life of the warranty. There are three main options for suppliers. You can buy extended warranty coverage from the manufacturer of the vehicle, the dealer, or from an independent company.
Buying extended warranty coverage while your vehicle is still under the manufacturer's warranty. If you have an imported vehicle where repair costs can be high, then an extended warranty can save you a great deal of money. Be aware that most new car warranties last for three years or 36,000 miles. Many of them being the bumper-to-bumper, complete coverage type. If you're planning on keeping your car for a long period beyond that, then extended warranty coverage can prove worthwhile.
Cons
Extended warranty coverage costs money, especially if you purchase from the manufacturer, which is the most expensive source. Buying from a dealer means you're tied to that dealer. That might become problematic if you move, for example, and no longer live close to any of the dealer's outlets.
Buying from independent companies is the cheapest option, but also the riskiest. If the company goes out of business, you're left high and dry. You also need to be very aware exactly what's covered before you sign with anyone. Not all extended warranty coverage is equal.
Scams and Coverage Plan Problems to Avoid
It's easy to buy a car warranty these days. You can get them from the dealer when you buy your car or after the fact in the form of an aftermarket car warranty. While it can be convenient and simple to buy a car warranty, it might not be the best idea for you. There are some car warranty scams, but there are also just people for whom these plans don't make good financial sense.
Pricing Procedures
Just like an insurance policy, extended auto warranties are priced based on risk. Essentially the company estimates the cost of repairs for a specific vehicle over the term of coverage. They then price their warranty to cover those costs and make a profit. Because of this profit margin, if you are the average consumer and just put the money away in an account to pay for repairs if they are needed, you will wind up ahead of buying an extended warranty.
Remember that the pricing for extended warranties are based on the average vehicle and driver of a specific model. If you are the kind of person who takes exceptionally good care of your car--doing more than just the necessary maintenance, for instance--you will be paying for coverage of someone else's car. That's because you are likely to have less repairs than the person who does the bare minimum on their vehicle and your extra payment will go towards them.
Read Warranties Carefully
Many of these warranties have extremely complicated verbiage and that wording includes some strict exclusions. If you don't follow the terms of the warranty and have a repair, there is a good chance that your claim could be rejected. If that happens, you've paid for a warranty for nothing. Read and understand the agreement before buying. Some companies use these exclusions to create legal car warranty scams.
Dealer Extended Warranties Are Not Always Best
Your dealer will certainly offer to sell you an extended warranty. They might not have the most competitively priced warranty. In part, that's because they have a built-in clientele and, can be reasonably sure that a good number of their customers will just sign up at the time of purchase without comparing coverage.
Keep Up Your Maintenance Records
If you have an extended warranty on your car, remember that you are required to do scheduled maintenance at the required intervals. It's not just enough to do that work, though. You might need to prove you had the work done. That means keeping receipts for certain and a log is a good idea. Make sure your receipts always have the date, work performed, mileage of your vehicle and make/model year/model/plate number and other identifying characteristics of your vehicle.
Extended warranty coverage for your vehicle could be a good deal, depending on your particular situation. Remember, though, that if you are the average car owner, you will likely pay more for this coverage than if you had just put the money aside and paid for the repairs yourself.
Why a Warranty for Car Repairs is a Good Idea
Before signing for a warranty for car repairs, you need to be aware of what's covered and what isn't. Invariably, you'll be responsible for regular maintenance such as oil changes. If you don't do this properly and a problem results from this, you might invalidate your coverage.
Generally, most repairs to the engine and drivetrain will be covered for the length of the warranty. You'll find that the service should be prompt and complete. It should also include towing in case you break down on the highway, for example.
Obtaining Coverage
It's not difficult to find a warranty for car repairs. You won't need one to kick in before your new car warranty expires. Consider how long you're likely to own your car and the general record of the vehicle. Even if there have been few problems, as the car ages, you'll inevitably spend more on your car through repairs. The warranty for car repairs will cost money, of course, but it's a good investment. What you spent on it can easily be recouped if you need a new head gasket or radiator, for example. It's essentially a type of car insurance for the motor in your car. If you're lucky, you'll never need it, just like auto insurance. However, having it is much better than being without it, and finding yourself forced to pay a stiff repair bill.
How to Avoid a Denied Car Warranty Claim
All new cars come with a car warranty, where the manufacturer promises to repair any defect in the car within a certain period of time after purchase. Apart from the usual car warranty supplied by the manufacturer, you can also aim for, and get much better extended car warranties where you will be able to protect your car for several years more than the standard warranty. But there are certain conditions that have to be met if you want to reap the benefits of free car maintenance. For example, if you don't carry out regular maintenance work on your car, you're likely to have your warranty rejected and all claims will be null and void. To prevent that from happening, here are a few precautions on how to avoid a denied car warranty claim:
Ask about common car problems that your selected car model faces. If your car already has an issue that was present at the time of manufacture, your warranty will not cover it
Make sure that all preventive maintenance is carried out on the car regularly. Follow the manufacturer's instructions on car maintenance and make sure that the car servicing is done by professionals and authorized dealers. Record all receipts of the maintenance done on a service log and keep it up to date
Drive carefully, as most cars are covered for replacement of parts. A few warranties will not cover normal wear and tear. Careless driving and abuse of the car will also void your warranty
Read your warranty carefully before you install anything new in the car. Installing new parts during the warranty period will void your warranty
Stop driving your car if it has a problem. Using the car beyond the time that it has a problem can result permanent damage. Car inspectors will immediately null your warranty, resulting in expensive repairs that you will have to bear on your own. If your car is overheating, just pull over and call in a tow to take the car to a garage
Every time you take the car to a dealer for warranty work, you have to file the claim with the manufacturer or the warranty provider. This is the way by which the dealer gets paid for the work done on your car. If you carry out work on your car that is not covered under the warranty, it will be denied and you will have to pay the dealer out of your own pocket
Natural disasters like earthquakes, fires and floods are not covered under a warranty and you will not be reimbursed for those claims
Don't tamper with the odometer of your car, as this will be detected during normal maintenance work. An altered odometer will indicate that the mileage recorded is false and this will automatically tell the dealer to null your warranty
If you have a used car and will be filing a used car warranty claim, make sure that the original warranty was transferred to you at the time of purchase, otherwise your warranty claim will be rejected
Ask the dealer who will be doing the repairs and maintenance work on your car to file the used car warranty claims by themselves. Most warranty companies are happy to deal with dealers or mechanics, and you will have fewer warranty disputes with this method
It's possible that when you are buying a used car, it might have been given a salvage title. If you file a used car warranty claim for such a car, it will automatically be rejected. Verify all used cars by cross checking the vehicle-identification number (VIN) at sites like AutoCheck and CARFAX
The use of aftermarket parts in a car are allowed, but the warranty policy will differ from car to car. Make sure that you check with each warranty before you proceed with the use of used or salvaged parts to repair your car
How to Cancel a Car Warranty
Read the fine print.Before you do anything else, carefully read your entire car warranty over again. You are able to cancel some warranties before a certain amount of time has passed, say 30 days after purchase, and you may even be eligible for a full refund. If it is past the refund date, you will have a considerably harder time canceling your car warranty. In fact, chances are, you will probably not be able to cancel it at all. When you signed for the warranty, you agreed to the purchase and are therefore, responsible for the cost. If you are able to cancel the warranty, you will likely not get a full refund. The amount you receive back will be prorated based on the number of miles you have put on the car
Talk to a Customer Service Representative.Locate the customer service phone number on your warranty. Call and talk to a representative. Ask if there is any possible way to cancel your warranty. Explain why you want to cancel the warranty and answer any questions the representative may have
Ask to Speak with the Manager. Chances are, the customer service representative who took your call is not authorized to cancel your warranty. Ask to speak to the manager. Explain the situation to them and ask if there is anything you can do to cancel the warranty. If you are unhappy with the terms of your warranty, or feel it was not accurately explained to you at the time of purchase, tell the manager. Be polite. This will increase your chances of a productive interaction
Other Considerations
If you financed your vehicle when you purchased it, and still owe money on the car, your refund will go directly to the bank, since they technically still own the car. Also, keep in mind that a refund may take months to complete. You will have to make a lot of phone calls to people who will be less than eager to be cooperative. You will need to be persistent. It may also be smart to read some warranty consumer reports.
Canceling a car warranty may not be an easy process. The people who sold you the warranty will not want you to cancel it, and they may give you the run around. But if you follow these four steps and stick to your guns, it is possible to cancel your car warranty and get a refund.
How to Get a Warranty on a Car That You've Already Purchased
If you need to purchase an extended car warranty from what you have already purchased, then you will need to look to aftermarket car warranty companies for the repair coverage you need. Fortunately, you will probably be able to get a much better deal on a warranty than those that were offered to you at the dealership. Here is a quick how-to do guide that will show you the way to do it.
Determine the warranty you need.Before you do anything else, figure out what type of car warranty and how much coverage you really need. If you have recently purchased a new vehicle, the vehicle already comes with a bumper to bumper warranty for at least three years in most cases. So, if you have a newer vehicle, you may want to consider that an extended warranty may not be the best option for you at this time. However, if you have an older vehicle, you may want to purchase a warranty that provides protection against costly major mechanical breakdowns or extensive repair bills. You should always take into consideration that more comprehensive warranties are much more expensive than those that only provide coverage for major systems and repairs. So, if you're able to pay for minor repairs out-of-pocket, you might want to consider a plan that is less costly
Gather needed information.Gather all the information and documentation about your vehicle. For instance, you'll need the know the model and engine size of the vehicle when applying for an extended car warranty. Also, you will need your driver's license and other personal information in order to apply for it. Make sure you have all of this information available before continuing
Search for warranty companies.Use a major search engine to find companies that provide extended warranty coverage. Simple search terms like "extended car warranties" or "extended warranty insurance" will result in many relevant links to sites where this type of protection can be purchased
Compare warranty coverage plans.Once you have found several companies that offer the type of warranty protection you're interested in, do some further research into the types of warranty plans offered and the prices of each. Make sure that the warranty plans that you compare are similar in terms of the types of repairs that are covered, any required deductibles and the cost of each plan. Don't choose a warranty plan based on price alone. Rather, make sure that the warranty coverage provides the type of protection you need and also fits your budget
Choose a company and a warranty policy.Once you have carefully compared the plans from several warranty providers, choose the company and warranty policy that best fits your coverage needs and budget. When choosing a plan, make sure that payment options offered by the company are manageable. For instance, if you're unable to afford the complete cost of the warranty in one payment, choose a company that offers monthly installments or financing
Apply and submit payment.After you have selected a company, fill out the online application, submit all required documentation and information and wait for them to respond. If the company approves your warranty application, choose the payment option that is most convenient for you and submit your payment online or send them a check in the mail
Receive warranty contract and paperwork. Once your warranty application is approved, and you have submitted payment, the warranty company will usually send out your warranty contract and other relevant documentation in about 7 to 10 days. In the meantime, you should able to download a temporary coverage certificate that you can use while you await the hard copy of your contract
How to File Car Warranty Claims
When reporting your claim, it's always best to go to the main dealer where the car was purchased. This is very important if you bought the car new, because the garage should be able to resolve the problem. Paying to get the problem corrected at another independent dealer and then trying to claim the money back will be almost impossible.
Try to make the claim as soon as possible and make sure you get the names of people you speak to. If you have taken out an extended auto warranty from a third party, give them a call and find out what you should do. Normally they will have a number of garages in your local area which they work closely with. By taking your car to these garages, they should be able to work out the cause of the problem and also let you know whether or not you are covered.
Never pay to repair your car if you are attempting to claim through the car warranty. The moment you pay you have lost any leverage you had on the warranty company.
Claiming for Wear and Tear
All of the warranties will only cover faults caused by material or manufacturing problems. Few of these warranties will ever cover wear and tear, and none of them will cover damage caused by accidents or misuse. Understanding these points will help you to avoid wasting time trying to claim for something which won't ever be accepted.
Pre-Owned Extended Auto Coverage
For some drivers, a certified warranty for a vehicle can be a very good option for safeguarding an investment and making sure a car, truck or other vehicle will last. It's important to understand the different kinds of certified warranties available to vehicle owners, to get the most benefit from these kinds of agreements.
Factory Warranties and Certified Pre-Owned Warranty Options
A factory warranty is when the manufacturer issues a standard warranty for a vehicle model year, available to all customers when they buy that vehicle brand new at the dealership. These warranties are boilerplate deals that come with a specific new vehicle, and they are generally as consistent as the manufacturer suggested retail price or MSRP. That's because each vehicle is identical, with no mileage on the odometer, and no other unique conditions.
With a certified pre-owned vehicle, a certified warranty is not the same. The certified pre-owned warranty must take into account the condition of the engine, as well as the condition of the interior and exterior of the vehicle, along with wear on all of the other auto systems built into a car or truck.
What Is a Certified Pre-Owned Warranty?
A certified pre-owned warranty means that the manufacturer or manufacturer's certified technicians have inspected the pre-owned vehicle and declared it up to their standards for resale. A certified pre-owned vehicle is a little like a refurbished appliance in that it comes with a manufacturer's guarantee of quality, regardless of the fact that it is not factory direct.
Understanding the Certified Pre-owned Warranty
It can sometimes be hard to tell these manufacturer's warranties from warranties that are offered locally at a dealership. A dealer may try to make local warranties look like certified manufacturer's warranty options. Read the fine print to determine whether the manufacturer of the vehicle has issued a particular warranty deal. Car owners can also find detailed information on manufacturer websites that explains a consistent certified pre-owned warranty program across a manufacturer's customer base. Many of these certified pre-owned warranties offer a lot of coverage, extended warranties on engines, and other desirable features like the ability to transfer the warranty to a new vehicle owner at the time of resale.
The best way to research a certified warranty for a certified pre-owned vehicle is to look closely at what the manufacturer offers and make sure it corresponds to what you are offered at a dealer's lot. Ask questions about the specifics of what is included, and what kinds of restrictions apply. Although manufacturer certified warranties generally allow customers to go to any participating dealership for service, some restrictions may apply with some warranty programs.
A little knowledge about a certified warranty can help buyers avoid dealer's lot warranties that are dressed up to look like a warranty offer from a manufacturer. Always read the fine print and ask about coverage for labor and parts separately. While at the same time, evaluating how much warranty coverage you are really getting from a certified warranty agreement.