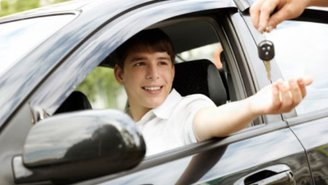 A new car is one of the most satisfying purchases on the planet. Yes, they are significantly more expensive than late model used cars, but there is far more to the story than just the purchase price. Adding in decreased maintenance and increased customer satisfaction can increase the value to the buyer considerably.
Let's look at some of the other things to consider when trying to decide if a new car is right for you.
PRO: It's all yours
The new car buyer gets to order exactly the make and model desired, in the preferred color, with the right engine, and all the correct options.
CON: Steep Depreciation
The car loses roughly ten percent of its value the moment it's driven off the lot, and roughly 20 percent per year for the first five years thereafter. A $40,000 automobile will be worth roughly $30,000 after only one year.
PRO: Peace of mind
A brand new car has never been entered in a street race by someone's teenage son, and the funny wet dog smell coming from the back seat is coming from your own dog.
CON: Insurance
New cars are worth a pretty penny and cost more to insure. Financed cars will often need the highest level of protection to satisfy the loan company.
PRO: Warranty
New cars come with warranties that cover everything from drivetrain failure to premature corrosion, and those warranties usually last long enough to cover most, if not all, of ownership period.
CON: The latest gadgets
A new car will have all the latest bells and whistles, both in cabin comfort and safety. Head-up displays, active parking assist, and wireless hands-free calling are available on many new cars this year.
PRO: Low interest rates
New cars are expected to last a long time and are cheaper to finance. A buyer is more likely to pay off the note on a car with years left of its life than on a car that just died of old age.
CON: It's expensive
The initial purchase price of a new car can be thousands and thousands more than the same model only one year old. With the average age of vehicles on the road being almost eleven years, that heavy premium is paying for less than one year of additional useful life.
PRO: Highest safety
New car buyers benefit from safety standards that become more stringent year after year. The technological advances designed to meet those standards mean that drivers are now safer than ever.
CON: Large down payment
With such steep depreciation, it's necessary to have a large down payment. Failure to do so could result in what's called an upside-down loan, a situation where the value of the car is less than the amount owed. This will add to insurance costs and make it harder to buy to buy the next vehicle.