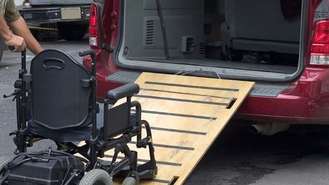 There are no hard and fast rules as to which wheelchair accessible vehicles are best for an individual. A lot depends on a person's needs and their individual preferences. Someone who is in a motorized wheelchair that cannot be broken down is going to have far different needs than one who is able to transfer themselves into the vehicle and collapse their chair, or even break it down. Many people who are in wheelchairs prefer to have the style and performance of a vehicle like a Honda Civic over a larger, more accommodating vehicle, like a van. There are, however, vehicles that have been the tried and true standard in terms of accommodation and economy for people in wheelchairs. While these typically consist of minivans, SUVs have also become frequently preferred vehicles due to offering space as well as style. Here you will find the best models for both minivans and SUVs.
Minivans
While there are a number of minivans on the market that can be easily adapted to a person in a wheelchair, the most popular choice is the Dodge Caravan. The Caravan's body style is more easily modified for a wheelchair ramp due to its lower clearance than comparable models, as well as the fact that it is one of the most affordable minivans on the market. The Caravan has been on the market for quite some time, and has a very good record of performance and a long list of features that appeal to many consumers, not just those in wheelchairs. The Caravan offers a good amount of cabin space, which makes it easier to maneuver a wheelchair in. Also, with minimal modifications, the Caravan can accommodate an individual who will be sitting in the chair while driving. All newer Caravans on the market offer sliding side doors on both the drivers and passenger side, and in addition to the rear lift-gate, offers three different entry points for the wheelchair user.
SUVs
The Honda Element is the best SUV for wheelchair users primarily due to its ease of entering and exiting the vehicle. The Element comes with French-style doors (both the front and rear doors can open wide), which provides maximum convenience for the person who is trying to get in and out of the vehicle. There is also a large space between the front driver's seat and the rear seat, which provides the room needed to transfer from the chair to the seat. The driver's seat can also be removed, offering access for the wheelchair user to roll into the driver's position, eliminating the need to transfer.
4 Types of Wheelchair Accessible Vehicles
When someone who is disabled wants to drive, they will need to have a wheelchair accessible vehicle. These types of vehicles are becoming more prominent in our society as new innovations are developed to give those with limiting disabilities experience tremendous freedom. These different types of wheelchair accessible vehicles come in all kinds of sizes and modes of transportation. Here is a little rundown of different types of vehicles available for those who have a disability and are confined to a wheelchair.
Conversion Vans
One of the most common of the handicap access vehicles is the conversion van. These vans have a lot of room where the chair ramp, chair lift and even customizable driver's area can be positioned without any problems. Conversion vans have for a long time been popular with people looking for a vehicle to travel in without driving a large RV. People in wheelchairs have the same luxuries with a conversion van such as TV, water, sleeping and seating areas.
Minivans
Following the conversion van as one of the more popular disabled autos, the more compact minivan is something many people are starting to turn to. The main reason is that it costs less. There is going to be less room, but something like a Town & Country from Chrysler, or a Dodge Grand Caravan still have plenty of room in them so you do not feel too cramped.
Sport Utility Vehicles
There are a few larger sport utility vehicles, such as a Suburban, or a Ford Excursion, that can be modified with a wheelchair lift. The biggest modification will have to deal with the side doors, but there are plenty of people who want to have the joy of driving an SUV, yet are confined to a wheelchair.
Rental Vehicles
When traveling with a disability it is good to know that you can still travel with the same freedom as you would when at home. Several rental companies provide wheelchair accessible vehicles for people with disabilities. These are mostly in the form of minivans, and are at very competitive rates.
The Best Wheelchair Accessible Car: A Comparison Guide of Top Models
When in the market for a wheelchair accessible car, a van or minivan should be considered to get the most for your money. Vans will enable you to move freely within its interior due to the added space built in. Entrance and egress would also be easier as the wide opening and sliding doors will make it convenient to operate even when in a wheelchair. Headroom should also be taken into consideration as a person in a wheelchair sits generally higher when inside a minivan. There are lots of models available in the market and each have a unique characteristic that make them special in their own way.
Vans could be classified as full size and minivans and could either be side entry or rear entry equipped. Here is a guide to the top model vans in the market that are wheelchair accessible.
Ford Transit Connect
The quirky looks are meant to project youth and utility. The Ford Transit Connect is not your usual minivan, as it offers a rear-entry design with two folding doors like that of a commercial van. It still has two sliding doors on the side for easy entry and exit. The Transit Connect exudes agility due to its compact size, but the high profile gives it ample headroom that is perfect for wheelchair applications. This is the ideal van for the city dweller as the relatively compact size makes it ideal in tight urban streets where roads and parking space are at a premium. The front wheel drive configuration is designed for economy and negates the need for a transfer shaft that may eat up interior space like those of a rear wheel drive van. A 2.0-liter 4-cylinder engine with 136 horsepower and a 4-speed automatic transmission acquits the Transit Connect quite well while still retaining 25 MPG in the highway.
Honda Odyssey
Designed with form and functionality in mind, the Honda Odyssey strikes the right balance between beauty and practical utility, and claims the highest floor to ceiling headroom of any other minivan in the market. Depending on trim levels, the Odyssey comes with a pair of power sliding rear doors and a power liftgate for complete wheelchair accessibility. A 3.5-liter SOHC VTEC V6 with 244 horsepower makes for unprecedented performance, whether in the city or on the highway. The much vaunted Honda durability is evident on the Odyssey and resale value is what you would expect with any Honda. The Odyssey is more expensive than the Transit Connect, but offers much more in terms of space and standard equipment.
Chrysler Town & Country
Long revered as the gold standard for minivans, the Chrysler Town & Country still lives up to its reputation of comfort, class and value. If you happen to prioritize comfort and opulence in a wheelchair accessible van, then the Town & Country is worth a second look. Depending on trim, the Town & Country can be powered by a 175 horsepower 3.5-liter V6 on the LX, or a 4.0-liter V6 with 251 horsepower on the top of the line Limited models. A 3.8-liter V6 with 197 horsepower is offered on the Touring model as well.
These minivans are no longer defined by their people-carrying abilities alone, as their size and configuration make them perfect as wheelchair accessible vehicles.