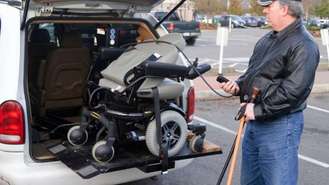 When it comes to wheelchair minivans there are more options available today than there have been in the past. It used to be that you had to buy a large conversion type van in order for it to be modified for wheelchair access and drivability. Today, there are other vehicles like SUVs, minivans and even some pickups that can be easily transformed into a wheelchair friendly vehicle. Minivans give the best overall option for a wheelchair van conversion because of their size and their increased fuel economy. Here are some of the top wheelchair mini vans to choose from.
Dodge Grand Caravan
A long time favorite among minivan owners, the Grand Caravan has a proven record of reliability, durability and great comfort. Many of the conversion shops across the country choose to work with Grand Caravans before other makes and models. The large, roomy interior and extra headroom provides the necessary area for a ramp, lift or specially modified driver's cockpit. The Grand Caravan is also comfortable and carries a lot of new luxuries usually found in sedans.
Toyota Sienna
Another world leader when it comes to best selling mini vans, the Toyota Sienna is a great option for those who are looking for long term reliability, fuel economy and budget-friendly operation. As far as wheelchair vans go, the Sienna is a leader because of the extended warranty and durability of the engine. For wheelchair access, both side doors can open to provide entry or exit from either side. The electric sliding doors also make the Sienna very easy to modify, as most of the equipment is already there. Ramps and small lifts can be easily outfitted inside this minivan. The 3.5 liter V6 engine produces more than enough to carry the extra weight and hardware.
Honda Odyssey
With the second generation of the Honda Odyssey, it has been one of the leading sellers in the U.S. market for low cost, dependable minivans. Those who are confined to a wheelchair - either as a driver, or as a passenger - will find the Odyssey is one that they will also hold in high regard. The 3.5 liter V6 engine carries enough power in its 225 horsepower rating that there will be no need for engine modifications. The interior has ample room as well as luxuries that are found in many higher priced vehicles.
Chrysler Town and Country
When it comes to innovation, working with modifications and helping people enjoy a luxury ride with few problems, the Chrysler Town and Country has always led the way. This minivan carries a little more size than some of the others, for increased passenger capability, increased storage of items and incredible leg and head room. What makes the Town and Country a great choice for wheelchair access is the ease of maneuverability and power the front wheel drive system delivers for those who have to use a hand throttle system.
Average Prices to Expect
The wheelchair minivan is a result of the disabled community's demand for a vehicle that will enhance mobility while still having the ability to function as a people carrier. While a minivan itself is more expensive than a normal car, the added cost of the conversion to accommodate a wheelchair or personal scooter should be considered as well.
Average Mini Van Prices
Used wheelchair access vans with a used conversion kit could cost anywhere between $19,000 to $26,000, depending on make and model of the minivan. A used van with a brand new conversion kit costs $27,000 to $32,000. To give you an idea, a used 2007 Chrysler Town & Country with brand new conversion kits costs around $32,500 in a low mileage state.
Newer models, such as a pre-owned 2012 Volkswagen Routan SE, will cost you $32,000 and a 2012 Chrysler Town & Country Touring model will cost $39,000. Both are fitted with brand new conversion kits as standard.
In contrast, a used minivan with no conversion kits installed costs around $19,000 to $22,000, with an average odometer reading of 25,000 miles. A 2012 Chrysler Town & Country SE costs $19,500, and a 2012 Toyota Sienna LE with low mileage is available for $27,000. Both vehicles used for comparison are stock and have no conversion kits installed.
Cost of Conversion
It is presumably better to purchase a used van with a brand new conversion kit than a used conversion unit. Brand new conversion kits are more expensive, but are more economical in the long run. The warranty will protect you from future repair costs and headaches in the process. When planning to purchase a pre-owned conversion kit, a general check of the parts and motor are required. Get the service history as well. This will guarantee that the ramps and other tools are in perfect condition to easily facilitate wheelchair ingress and egress.
Brand new conversion units cost anywhere between $12,000 to $17,000, depending on brand and model. Additional features such as motorized lifters may cost more. Pre-owned conversion kits could cost half the price, or even less, of the brand new kits.
How to Properly Load a Wheelchair into a Minivan
There are a couple of different methods to properly load a wheelchair in a minivan. What procedure is used depends on whether the wheelchair user will be sitting in the chair while riding in or driving the vehicle, or if the wheelchair is stored in the vehicle while the chair user rides in a regular seat as a driver or passenger.
Using the Chair as a Seat
If the wheelchair user is riding in the chair while the vehicle is moving, the wheelchair needs to be secured to the frame of the vehicle, the same as any other seat. Many times, if the vehicle has removable captain's chairs, the same anchors that are used for these can serve to properly secure the wheelchair. If not, there need to be four anchors, one for each corner of the chair, bolted to the frame of the vehicle. Secured tether or anchor straps to both the chair and the anchors, at the four support posts on each corner of the wheelchair, and tighten down as securely as possible. It is imperative that the correct straps are used so that they do not break or become disengaged in the event of an accident. Ideally, the straps should ratchet down for the most secure anchoring to the frame of the vehicle as possible.
Securing the Chair as Cargo
If the wheelchair occupant will be riding in a normal vehicle passenger seat, their wheelchair needs to be secured so that it does not become a projectile in the event of a collision. Once the wheelchair occupant has transferred to a seat in the vehicle, cargo straps can be used to tether the chair down securely. There are no hard and fast rules to this, and techniques will vary depending on the vehicle being utilized. The chair could be secured in a trunk if it is a passenger car, a truck bed if a pickup, or another cargo area for any other vehicle. The key is to ensure that it does not turn into a missile in a crash. Your everyday cargo straps work well for this purpose.