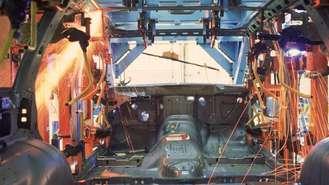 Acura cars are built at a variety of plants located around the world, however there are no dedicated Acura factories, as the brand is the luxury mark of Honda, and is marketed exclusively in the North American and Hong Kong markets. Acura cars are based on similar Honda models.
The entry-luxury Acura TSX is related to the Japanese-market Honda Accord and is built in Sayama, Saitama, Japan. The Acura CSX is sold exclusively in the Canadian market and is based on the Japanese-market Honda Civic. Being available exclusively in Canada, the CSX is built in Alliston, Ontario, Canada. The mid-size luxury Acura TL is the brand's volume vehicle, offering luxury options for an affordable price. The TL is related to the American-market Honda Accord and, in turn, it is built at the same assembly plant in Marysville, Ohio, United States.
Acura's flagship car is the RL. In the Japanese market, the RL is sold as the Honda Legend, which refers to the Acura Legend, a launch vehicle that helped cement Acura's place in the American luxury market. The RL and Japanese Honda Legend are built in Saitama, Japan. The entry-level RDX SUV is related to the Honda CR-V, but is on a unique platform. Being intended exclusively for the North American market, the RDX is built at Honda's large assembly plant in Marysville, Ohio. The larger MDX is built alongside the CSX in Alliston, Ontario, and is also sold as a Honda in other parts of the world. The ZDX is a crossover vehicle related to the Honda Crosstour. It is built alongside the MDX SUV in Alliston, Ontario.
Acura Sedan: A Comparison between Acura Car Trim Models
An Acura sedan offers a firm and supple ride, has a pleasant interior and is known for its safety quotient. They are stylish and comfortable vehicles, without being overtly flashy. The three models of sedan offered by Acura include the Acura RL, Acura TL and Acura TSX.
Acura RL
The Acura RL is available in two trims, the Acura RL 5AT and Acura RL Elite Package 5AT. This luxury sedan is a 4-door car with a seating capacity of five. Both trims have 300 horsepower at 6300 rpm, and torque of 271 at 5000 rpm. It has an overhead cam with four valves per cylinder. Both trims have a 5-speed transmission with overdrive. The Acura sedan RL has a provision for front seat height adjustment. Arm rests are also provided for the front and rear leather upholstered seats. Standard safety devices offered include, front airbags, side airbags and roof/curtain airbags. Apart from this, the cars are also equipped with disc brakes, an anti-lock braking system, electronic brake distribution, standard stability control and engine immobilizer devices. Acura RL sedans also come with anti-theft and traction-control devices.
Acura TL
The Acura TL is available in eight trims: the 5-Speed AT, 5-Speed AT SH-AWD, 5-Speed AT with Tech Package, 5-Speed AT with Tech Package and 18-inch wheel package, 5-Speed AT SH-AWD with Tech Package, 6-Speed MT SH-AWD with Tech Package, 5-Speed AT SH-AWD with Tech Package and HPT and 6-Speed MT SH-AWD with Tech Package. This too is a luxury sedan with four doors and 5-passenger seating capacity. It has 280 horsepower at 6200 rpm, torque of 254 at 5000 rpm, and six cylinders with four valves per cylinder. The interior is fitted with front and rear carpeted floor mats and a leather steering wheel. All seats have adjustable headrests and fold-down armrests. The driver seat has a 10-way seat adjustment feature, while the front passenger seat has an 8-way seat adjustment. Standard features with regard to theft protection include valet lockout, anti-lockout device and selective locking/unlocking devices. Other safety features include standard airbags and rear doors fitted with door locks for child safety.
Acura TSX
The Acura TSX is available in six trims: the 6-Speed MT, 5-Speed AT, 5-Speed AT with Technology Package, 6-Speed MT with Technology Package, V6 5-Speed AT and V6 5-Speed AT with Technology Package. This luxury sedan is a 4-door with a passenger capacity of five. It gets 201 horsepower at 7000 rpm, and torque of 170 at 4300 rpm. The V6 5-Speed AT and V6 5-Speed AT with Technology Package have six cylinders with four valves per cylinder, while the rest of the trims have four cylinders with four valves per cylinder. Safety features include airbags for the driver and passenger, front-side airbags and passenger airbag cutoff switcher/sensor. The seats have leather upholstery and the steering wheel is also wrapped in leather. All trims have rear and front carpeted floor mats. The anti theft devices include an anti-lockout device, selective locking/unlocking and fuel filler door. Wheel locks are optional.
Acura Legend Sedan Compared with Similar Makes and Models
The Acura Legend Sedan, which is sold as the Honda Legend outside of North America, sold in the U.S. between 1986 and 1995. In 1994, the base sedan was changed to a GS sedan, to meet the newer standards in luxury cars. The Acura Legend officially became known as the Acura RL sedan 1996.
The Acura Legend Sedan Compared to a BMW 5 Series Sedan
The Acura Legend, compared to the BMW and other luxury cars, is lower in price by at least $1,000. When the transmissions are compared, the BMW's 5 Series sedan outperforms the Legend's, as did the quality of its leather interior and front heated seats. When it comes to the sound system, BMW also takes the gold star with its surround sound capabilities and CD changer. The newer Acura RL sedan, however, offers XM® Satellite Radio as a standard feature while the BMW does not. Other features the Acura sports that the BMW doesn't are standard memory adjustment capabilities and a "Maintenance Minder", which reminds a driver via the GPS system when the car needs servicing.
The engine and transmission seem to be superior on the BMW, but later model Legends come with Acura's "5-speed electronically controlled manually interactive adaptive automatic transmission with overdrive." The Legend also comes standard with Honda's famous Vehicle Stability Control System.
The Acura Legend Sedan Compared to a Lexus GS
When compared with the Lexus GS, the Acura Legend ends up being a fair counterpart. A feature the Lexus GS has that the Legend doesn't is a power rear window sunshade and cargo net that excels in performance. Both cars have all-wheel drive. The Lexus' transmission has six speeds, but the Acura has an interactive transmission. In terms of fuel economy, the Lexus gets about 2 mpg more than the Legend. Both cars are pretty equal in terms of safety, but the Legend has a feature that monitors the car's tire pressure.
The Acura Legend Sedan Compared to a Mercedes-Benz Sedan
The Mercedes-Benz is one of the more expensive cars in this comparison, at about $58,000 for its latest models. With regards to the comfort of the two cars, the Mercedes-Benz rated higher than the Legend because of its high-quality leather seats, seat heaters and sound system. Like the BMW, the latest Mercedes-Benz sedan models don't come standard with satellite radio.
The Legend comes with the standard high-intensity discharge headlights, but the comparable headlights on the Mercedes are far superior. Other quality components the Mercedes-Benz has that the Acura Legend doesn't are an optional keyless entry system, trunk pass-through, a better engine and transmission, and more efficient mpg. Both sedans scored equally in safety standards, but the Legend is roomier and will better accommodate taller people.
Although the Acura Legend sedan is not at the top of luxury car line, it's still a respectable car that has all of Honda's safety technologies and reputation. If you're in the market for a nice car, but not the luxury car price, consider purchasing the Acura Legend or its latest counterpart, the Acura RL sedan.
Acura Integra Sedan Compared to Other Acura Models and Their Competitors
When looking at used sedans, the Integra sedan may be an enticing choice. While many other Acura sedans such as the CL and TL tend to be sluggish, heavy and lacking in excitement, the Integra offers a vast pool of untapped potential that the base Integra specs may not fully illustrate.
Performance and Luxury
The Integra 4-door carries over all the performance of the 2-door model, with only about a 99 pound weight increase over the coupe. Available with two engine choices, the base and mid-range models come equipped with the 1.8L B18B 4-cylinder engine that outputs 142hp, while the higher end GS-R model comes with the 1.8L VTEC equipped B18C engine that outputs 170hp. While power figures may not blow competitors such as the Acura CL or Camry V6 out of the water, the Integra's lower curb weight lessens this impact in exchange for a less plush ride and less isolated driving feel. This means that while it may not be nearly as quiet and elegant in your daily commute, it has far more potential at carving.
Aftermarket Support
The Integra is one of the most widely supported vehicles available. As a result, high quality upgrades are in abundant supply for almost any aspect of the car you could want to change. If the GS-R's B18c is lacking in punch, a variety of options are available, from turbo and supercharger kits, to engines swaps from the high performance Integra Type-R. If you prefer to stick with Acura for your upgrades, almost all of the engine, brake and suspension components from the overachieving Type-R model can be made to work on your Integra sedan. Because of this extensive support, the Integra sedan can be made to do almost anything; something other Acura models and competitors like the Camry and Accord could only wish for.
Reliability
Honda's B-series engines are legendary for both their performance and reliability. In stock form, any of the engines equipped in the Integra Sedan can live comfortably from 100,000 miles to 300,000 miles when properly serviced and cared for. The Integra has been an incredibly popular platform across the world, and its the third generation model run extended for seven years. Should anything happen to break, junkyards tend to be in good supply and reasonably priced. Replacement engines for all trim levels are easily obtainable, both in the form of used domestic units, and higher performance imported Japanese units. Because of the extended model run of the third generation Integra, Acura had plenty of time to work out the kinks, and the result is a platform that is both thoroughly reliable and extremely durable.
If you are looking for a sedan that is smooth, quiet and exudes luxury, the Integra sedan may not be your best choice in a used sedan. What the Integra specializes in, is delivering an exciting drive with an immeasurable potential for performance and customization. All with legendary reliability and Acura's famous fit and finish.
5 Tips for Buying an Acura Import
There are select Acura models that are available only in Canada or Japan. If you want an Acura import vehicle that's not available in the US, you will be able to import it if you follow a few guidelines. There are various regulations associated with importing vehicles from overseas. As a buyer, you need to make sure that you're aware of these regulations and complete the necessary paperwork. You must learn about the entire import process before purchasing any vehicle out of the country.
Research. Before selecting an Acura to purchase and import, contact several importers/exporters to find out if they have the vehicle you wish to purchase. Obtain quotes from several car dealers to determine what they can offer you. Although there are several companies that deal exclusively in importing or exporting vehicles, you need to do your homework and most importantly, deal with a reliable source so that you aren't a victim of a scam.
Consider auto brokers. If you wish to purchase a new Acura, you're better off working with a car dealer. On the other hand, if you wish to purchase a used vehicle at a cheap price, you should hire the services of an auto broker to help you find good vehicles that are auctioned off. You don't even have to be present overseas in order to bid for a particular vehicle. The agent will handle the bid on your behalf.
Purchase car insurance beforehand. After you've decided which Acura to purchase, make sure you insure the car before it's shipped to you. This will ensure that your investment is well protected. If the vehicle is damaged in transit, contact the insurance company to initiate the claim process immediately. You will also have to furnish the company with pictures of your damaged vehicle (if any).
Assess advantages and disadvantages. Understand the advantages and disadvantages of buying and importing any particular Acura. All vehicles imported into the US need to pass safety and emission standards. If the car doesn't pass the inspection, it will have to be modified to bring it under compliance. This cost will have to be borne by you. Thus, you need to make an educated choice when selecting any vehicle for import purposes. Moreover, if the car has to be significantly modified, insurance companies may fail to provide you with the mandatory liability coverage.
Get shipping quotes. Although you may ask an agent to have the car shipped to your country, you can also do the research on your own. Contact various shipping companies to obtain quotes and find out which company can ship the vehicle to a port of entry that's closest to you. You also have to fill out certain forms such as the EPA 3520-1 form and the HS 7 DOT form. It's important to have the carrier's bill of lading handy, so that you don't face any problems when clearing the vehicle at the port of entry. Whether it's an Acura MDX import or an Acura TSX import, obtain all relevant information about the vehicle before going through the trouble of importing it. Also budget the duty charged on vehicle imports into your purchase price. This will help you decide if you really want to import the vehicle or not.