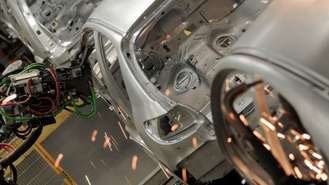 Honda cars produced for the North American market are manufactured at Honda plant locations located in the United States, Japan and Mexico.
Where Are the Various Honda Models Built?
For the American market, a large number of models are produced in the East Liberty, Ohio and Lincoln, Alabama facilities. Models produced at the Ohio location include the Civic sedan and coupe (including GX trims, as well as the Element lines). The Alabama Honda factory handles production of the Honda Odyssey, Pilot and Ridgeline models in addition to the production of the US market V-6 engines. The Honda Accord is the exception to the American produced Honda line, with the Coupe and Sedan models built solely at Honda's Marysville, Ohio facility.
The Honda CR-V is unique among the Honda models, in that it is produced in three locations for the American market. While the East Liberty, Ohio facility produces as many as 400 CR-Vs a day, due to its popularity, models built in El Salto, Jalisco, Mexico as well as Sayama, Saitama, Japan may be imported to meet demand.
American market Hybrid models, such as the Civic Hybrid, Insight and FCX Clarity, are produced in Japan. All of these models as well as the Honda Fit line are produced at the Honda production facility in Suzuka, Mie, Japan with exception of the FCX Clarity, which is produced solely in Takanezawa, Japan.
Honda cars destined for the US market are manufactured primarily in the United States, while cars requiring specialized technology and design (such as the newer hybrid and hydrogen fuel cell models) are made solely in Japan. Though some manufacturing does take place in Mexico, it is limited solely to production of the CR-V.
Why Are Hondas So Commonly Stolen?
In 2002 Hondas accounted for three of the top five most stolen cars in the US. Now Honda has had at least one model on the top five "most wanted list" of frequently stolen vehicles every year for about two decades. There are some common misconceptions about why Hondas are commonly stolen.
Misconception: Hondas Are Particularly Easy to Steal
Hondas really aren't any easier to steal than any other type of vehicle. In fact since all modern cars use the same basic systems to function, as a general rule most cars present about the same degree of difficulty for a thief. Exceptions include higher end cars (Example: Mercedes Benz Vehicles) which are typically equipped with extra anti-theft measures to further protect them against loss due to theft. However one point to remember is that since Hondas are considered to be particularly desirable many thieves are more familiar with the process of stealing a Honda. That means that it's probably easier and faster to steal this type of car for an experienced crook.
Misconception: Hondas Are Easier to "Chop"
Hondas aren't any easier to chop than any other sort of vehicle. "Chop Shops" dismantle stolen cars to sell them for parts. Sometimes these operations are very organized: recently an auto theft ring was uncovered in southern California that involved literally hundreds of members. Stolen cars were being taken apart and sold for parts through several different sources including craigslist and Ebay. However rumors stating that stolen Honda parts are more difficult to track than other vehicle brands are more or less untrue. There are also rumors stating that Honda itself was actually turning a blind eye to this type of vulnerability in order to increase sales, which is also bogus. The truth is that a thief will steal any type of car he or she can get their hands on, because it will turn them a quick buck or give them a ride for a period of time.
The Truth
The real reason that Hondas are among the more commonly stolen vehicles is simple supply and demand. There is a high demand for Honda parts and vehicles, which means that any Honda parts or cars can be sold quicker for an extra premium. That equals more money for your local car thief. Honda parts are in high demand for several reasons. A few of these reasons are that since Hondas tend to be long-lasting vehicles parts are needed as the vehicles age, and Honda owners are notoriously loyal and so they tend to invest more in repairing their cars then owners of other cars might. Since the demand for whole Honda vehicles is also high, "washing" operations also push stolen cars whole by faking paperwork and vehicle identification numbers to achieve the appearance of a legit car (often at a great price). That's just another reason to thoroughly check out any car that you are considering purchasing from an unknown source.
Is a Honda Convertible Right for Me?
Determining if a Honda convertible is right for your needs will require some research about what you actually like. A convertible is sometimes a luxury more than a necessity, so you may find that taking your time and looking at several different types of convertibles will reveal the exact Honda convertible that best suits you. A lot of times, the convertible you wanted to buy does not end up being the best one for you. Here is a simple process to work through in order to find the Honda convertible that will fit you perfectly.
Read lots of reviews.Begin your search for a Honda convertible by reading through a lot of different customer reviews. Many magazines do reviews of sports cars on a regular basis. Their websites also list many reviews for people to read on their computers. The best way to find out which Honda convertible is right for you, is thorough customer reviews of people who own a convertible. They will be able to help you more than a corporate review
Talk with honda dealers.Spend time talking with several different Honda dealers that deal with convertibles. They can tell you how much is involved in ordering a convertible as well as what some of the problems are. Ask for the names of some customers who have bought similar vehicles and talk to them about what their current likes and dislikes are
Try out several convertibles.The best way to make an informed decision for your own personal needs is to try out several different Honda models. The Civic, Accord, S2000, Element or Fit are all different types of Honda convertibles. Try them out to see how they perform, handle, and fit you. This simple act will not only familiarize yourself with the different models, but give you hands on experience with each one
Consider your lifestyle. Do you have a family? Do you travel a lot? What area of the country do you live? You might not want a convertible in a place where it is rainy, cold, or dusty most of the year. You might need a convertible that has room for a few kids and some luggage if you need to travel
Start your search for a new Honda here >>
How Does the Honda Warranty Work?
A Honda warranty, also known as a vehicle service contract, is available for a new or used Honda and a certified Honda. This warranty offers you coverage in terms of roadside assistance, concierge emergency service, rental car reimbursement and more. This manufacturer warranty is beneficial as the cost of vehicle repairs or replacement of parts, is covered by the policy. The vehicle will be worked upon by trained professionals and this helps you protect your investment. Since every warranty comes with certain limits, you need to carefully review the inclusions listed on your plan, to stay well informed about your entitlements. Moreover, since the Honda warranty is transferrable to subsequent owners, your vehicle will have a high resale value.
Honda Care Plans
Honda warranty is offered for five years or 60,000 miles. Alternatively there's an enhanced coverage that's offered for eight years or 120,000 miles (Honda vehicles only). In addition, they offer a Sentinel plan that includes protection for damaged tires and regular oil changes. These plans are offered for two years or 24,000 miles and three years or 45,000 miles. Although damage to tires is covered in the Sentinel plan, damage caused due to abuse, misuse or driving off the road isn't honored. The Sentinel plan also offers Road Hazard Tire Protection. This means that your original tires are protected against leaks and punctures to the amount of $35 per repair.
Roadside Assistance
Under this plan you won't have to pay any out of pocket charge. It covers you for comprehensive towing, tire change, battery jump-start and lock-outs. You could also avail of their 24 hour toll free customer service to have your questions promptly answered. Apart from roadside assistance you could also sign up for concierge emergency services. As part of this plan, you could obtain an emergency cash-advance. You could get help to file insurance claims and assistance with emergency requests. Moreover, they also offer you rental car reimbursement which covers you for a sum of $35 for a maximum period of six days. Since these benefits are made available through Cross Country Motor Club, they may not be applicable to residents of all states. You have to thus verify your benefits by reviewing your membership documents.
Comprehensive Coverage
Several components of your car are protected under the comprehensive coverage plan. According to the standard Honda warranty plan, components like the drivetrain, electronics, audio systems and heating/cooling system are covered. If you have the Sentinel plan, comprehensive coverage is only offered with the three years or 45,000 miles policy.
Cost of Coverage
The cost varies according to the dealer you choose to work with. If you wish to purchase extended manufacturer warranty, you should shop around before making a choice. The average cost of auto warranty ranges from $800 to $1,500 depending on the coverage options you select.
You have to make sure that you abide by all the requirements listed on the owner's manual to have all your claims accepted. Also consider purchasing extended warranty if your vehicle is equipped with expensive features.
Start your search for a new Honda here >>
Related Questions and Answers
Does Honda Make a Line of Luxury Cars?
Honda luxury cars are sold under the Acura nameplate. Acura is the luxury division of Honda, and they have been selling cars in the United States since 1986. They sell a full line-up of vehicles, ranging from luxury sedans to high end sports cars. The Acura brand is highly regarded by both industry experts and owners. Acura was designed to compete with BMW, Audi, Lexus and other high end sedans. The Acura Integra was one of their most popular models. The Integra was eventually replaced with the RSX. The current line-up includes both an SUV and a crossover vehicle.
What are the Latest New Honda Cars for 2011?
The only new Honda cars for 2011 is the Honda CR-Z. This vehicle is a sports hybrid that combines the excellent gas mileage of a hybrid with the high performance of a sports car. Honda is creating a new category with this vehicle. It has a 1.5 liter VTEC four cylinder engine with integrated motor assist. This is coupled with a sports suspension, which makes the car handle like a sports car. It has a 6-speed manual transmission, making it quick off the line, and provides plenty of performance. The rest of the Honda lineup stays the same for 2011.
Where can I Look Up the Latest Honda Car Recall Info?
The best place to find information about Honda car recalls is on the Honda Owners website. You can enter the VIN number of your vehicle and it will pull up all past and current recalls on your car. There are a number of other websites that offer recall information as well. Doing a quick Google search will bring up a ton of sites that offer recall info. It is always best to go directly to the manufacturers website, as they will have the most current information and updates about recalls. In the majority of cases, the manufacturer will mail out a letter describing the recall and the steps you need to take to get the car fixed.
What are the Most Popular Honda SUV Models?
The most popular Honda SUV models would be the CR-V and the Pilot. The CR-V is a small to medium size SUV that competes with the Ford Escape and other small SUVs. It is highly rated by both industry experts and customers. It is one of the best selling SUVs in its class. The Pilot is a slightly larger model that competes with the Ford Explorer and other full size SUVs. This model is also highly regarded by its customers and experts in the industry. The CR-V sells for $21,000 to $29,000, while the Pilot runs from $28,000 to $40,000.
Why do Honda Pre-owned Cars Have such a High Resale Value?
Honda pre-owned cars have some of the highest resale values in the industry. This is because they are well built cars that have a reputation for reliability and a long useful life. Honda vehicles are often still on the road with over 200,000 miles on them. When people are looking for used vehicles, they want a car that is reliable and will give them years of hassle-free service. Hondas have this type of reputation. When looking for a used Honda, certified pre-owned Hondas are a good car to consider. They come with a limited factory warranty and have been inspected and certified by Honda.
Start your search for a new Honda here >>