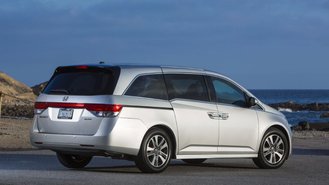 We think it's time to take another look at the minivan. The new Chrysler Pacifica has shown us that a minivan can be stylish, too, and any minivan offers more usable space than comparably sized crossovers. Even better, because minivans are less popular, it's easier to get a good deal. More utility for less money? Sign us up.
Take the case of a minivan—the Honda Odyssey—and a crossover—the Honda Pilot. To our eyes, they look remarkably similar. And beneath the sheetmetal they're largely alike in specification.
Despite all of these similarities, the Odyssey is vastly more user-friendly for active families: getting in and out is easier with a lower ride height and larger, sliding doors, and it boasts maximum cargo space of 148.5 cubic feet against the Pilot's 83.9 cubic feet. (We'll concede that available all-wheel drive does give the Pilot an edge for shoppers in rural areas or wintry climates.)
Value for the dollar is where a minivan also shines. Nothing can touch the bargain pricing of the Dodge Grand Caravan—especially in AVP trim level—but let's stick here with the apples-to-apples comparison of the Odyssey and the Pilot.
The Odyssey is a bit cheaper with a starting price of $29,550 versus the Pilot's $30,345 price of entry. Another critical difference between the two cars is manufacturer-sponsored incentives. Currently, Honda doesn't offer any finance or lease deals for the Pilot. The Odyssey, meanwhile, enjoys one of each. You can lease a 2016 Odyssey at $259 for 36 months with $2,999 due at signing; if you prefer to finance, you can get up to 36 months at 0.9% and up to 60 months at 1.9%.
Be a rebel. Consider a minivan and get a great deal in the process.