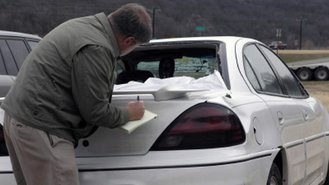 Driving offers the freedom that we all crave as children, but there is a risk associated with this freedom, and that is the potential for an accident. If you are unfortunate enough to be involved in a fender bender, regardless of fault, you will have to deal with an insurance adjuster who will attempt to repair your car as economically as possible. But your car is your pride and joy, so it is in your best interest to negotiate with the adjuster when appropriate to assure that your car is replaced or brought back to its pre-accident condition.
Get Free Car Insurance Quotes >>
What do car insurance adjusters do?
Insurance companies hire adjusters to assess the condition of an automobile after an accident. The adjuster analyzes the extent of the damage and works up a report that they will submit to your insurance company. This report is an estimate of the amount of money it will cost to fix the vehicle, based on a combination of their knowledge of parts and labor required for the vehicle in each claim and standardized repair times.
If the adjuster concludes that the cost of repair is greater than the value of the car, the report will suggest that the automobile is "written off" and the insurance company can decide to pay the claim in full and send you a check for the blue book worth of the vehicle. However, if the adjuster feels the car is repairable for a price less than the vehicle's value, then the report will reflect those estimates and the insurance company can cut you a check for the amount of the total damage repair cost or directly pay a repair facility.
Negotiating with a car insurance adjuster
You and the claims adjuster both want a fair settlement, but it's possible that your definitions of "fair" may differ. To make sure you're as satisfied as possible with the final settlement, consider these tips:
Don't let anyone rush you. If an adjuster is pressuring you into a quick settlement, it may be a low-ball offer, and she may think you'll accept because you need the money. Total costs associated with the accident may not be immediately apparent, though, so it's best to try to wait until you have all of your final bills in.
Be prepared. Have a copy of your accident report and your insurance policy for reference during your conversation. Also gather as much information about your car's blue book value as you can, along with any medical or repair bills you have on hand.
Always ask for more than what you want. It may be easier to arrive at the settlement you need if you open discussions at a higher value than you hope to get. This is especially true if you've been injured—this may cause problems for years to come.
Do not spend the money before you receive it. Don't weaken your negotiating position by spending money you don't have yet. If you aren't happy with the offer you receive, this gives you the time you need for further negotiation.
Consider a lawyer. Depending on your circumstances, you might consider retaining an attorney. Remember, though, that personal injury lawyers usually receive a large percentage of any settlement they get you.
Get Free Car Insurance Quotes >>
Some insurance claims adjusters are trained to be intimidating, especially if you are dealing with another driver's insurance company. However, if you follow these steps you are primed to have an easier experience dealing with this stressful situation.