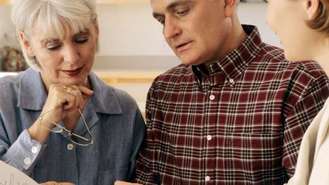 When it's time to get the required insurance for getting on the road, drivers can turn to an independent car insurance agent for help writing the best policy available for their particular needs. Unlike a captive insurance agent, who works exclusively for a large insurance company, an independent agent works from an unaffiliated office and helps a client shop different companies for a policy. Here are some of the advantages and disadvantages of each type of insurance agent.
Get Free Car Insurance Quotes >>
Why Go with a Captive Auto Insurance Agent?
A captive insurance agent represents a national insurance company. With these kinds of agents, you get direct connection to the names you see in magazines, on television, and in various kinds of media. This is a plus for some customers, who want to know who they're dealing with when they purchase auto insurance.
Many of the large call centers for auto insurance companies operate 24 hours a day, seven days a week. Customers can have a better chance of getting through to insurance offices on the weekends or during the wee hours of the night.
Large auto insurance companies are at the helm of the move to the Internet and paperless billing or policy handling options. Customers who sign on with companies like Geico, National, Progressive, or other national chains get the full menu of services that these large companies provide.
Why Go with an Independent Auto Insurance Agent?
The main reason people choose to take advantage of the services of an independent auto insurance agent, also called an insurance broker, is to save them time and effort while still finding the insurance policy that they want. Rather than finding and individually applying to many different insurance providers, you can have an independent insurance agent take your information—a single application on your part--and apply to all the available providers on your behalf.
After applying to different providers for you, an auto insurance broker can pick out the policies that best suit your needs based on what you've specified. There's no guarantee an agent can find precisely what you want, but within reason, an independent agent can get you as close as possible to the coverage and price you desire.
Where customers who buy directly from large auto insurance companies are limited to the policies and procedures for those companies, those who buy from independent agents are more likely able to affect change in how their policies are handled. Having an insurance broker, on your side can help you navigate various policy options to come up with the one that benefits you the most.
Along with the above point, those who purchase from independent auto insurance agents may be able to ensure less of their money goes directly to the kinds of big-dollar advertising techniques used by the big insurance chains. Independent insurance agents bring a level of decentralization to the process of buying insurance.
For some of today's shoppers, keeping business transactions local represents an overall philosophy about how to use a household's buying power. A "buy local" campaign most commonly applies to tangible goods like food, but these kinds of movements can influence insurance buying decisions as well.
What Role Do Car Insurance Agents Play In Claims?
The agent can help you to get the facts straight about your accident. They will not necessarily act as your advocate, since they are agents of the insurance company, however they will help you understand how to sort your facts, present your case, and talk to the insurance adjuster. They will remind you to be consistent in your facts, especially if the other party is contending your version of events.
Your insurance agent can help you understand when you are completely liable and when a claim is completely the other driver's fault. Agents are particularly useful in cases of ambiguous or partial liability. They know the laws in the state regarding comparative negligence or contributory negligence. A car insurance agent is likely among the only people who can let you know what your options are and what the difference rules are in the state regarding coverage in the case of contributory negligence. A good agent will suggest that you get an attorney for a case when it is not clear who is at fault or if the fault is shared, since you want good advice and representation in those cases.
While the agent may tell you not to discuss the specifics of injuries with them, they will let you know how to document any injuries and will remind you to keep track of whether or not your injuries are permanent, how long for recovery and what treatment you've had. They will recommend you keep all medical records from the accident in a separate file, and hold onto them for a year or more after you think you've completed treatment.
Your agent can also advise you on keeping records of any loss of income and proof of income loss from your employer. Transportation to appointments, babysitters and home assistants are also included in claimed expenses. Again, these issues can be complicated, and if you have a competent car insurance agent, he or she will let you know when you need to get an attorney.
A car insurance agent can be a helpful resource when you need to file a claim. However, keep in mind that they are paid by the insurance company. If you do not think they are giving you the best advice, seek the counsel of an attorney.
How Auto Insurance Agents Get Paid
Independent auto insurance agents are not salaried by a company and they do not work specifically for one employer. This is not always the case though, and there are some agents who are tied to one specific company. There are different types of agents and various types of arrangements.
Commissioned agents. What independent auto insurance agents do is broker a deal between a client and an insurance company. The client requires an auto insurance policy, and once the deal is successfully underwritten, the broker receives a commission according to a percentage of the policy. The commission will be higher in year one and then the compensation will be based on renewals and continued business. Other ways that local auto insurance agents may get paid is to charge their clients a small fee for advice, or a finder's fee for getting them a good policy.
Salaried agents. Salaried agents get paid by one specific company. They work a regular job and receive referrals from leads generated over the telephone or via the Internet. They visit clients upon their request and if a deal is signed, they will receive nothing extra on top of their regular monthly salary. Some companies may offer bonuses for writing so many policies over a particular amount each month.
Independent agents. Independent agents receive commissions, but their main priority to benefit the client. They may also sell other types of insurance, and not just concentrate on auto insurance. They receive repeat business from return clients, and when they sign up new business they also receive a commission.
How to Choose a Car Insurance Agent
There are numerous car insurance agents prepared and willing to help you, but not all of them are the same. Several factors must be taken into consideration before you select your agent. Below are some tips to help you find the car insurance agent that's right for you.
Find the best priced coverage. Auto insurance expenses depend on several factors, such as your deductible, payment limit, driving record, location and coverage type. People often search for car insurance agents that offer the cheapest coverage. While it's a good idea to research several insurance companies and get their price quotes, you also need to know how they handle and treat their customers.
Check for customer satisfaction. It's important to select an auto insurance agent who works for a company that provides exceptional customer service. When it's time for you to file an insurance claim, you want your agent to quickly process it and cover the full costs. Visit the Standard & Poor's website to check on a company's ability to fulfill a claim. Just click the "ratings" section in the navigation bar, and select "property/casualty" under insurance. The site provides a comprehensive list of insurance companies with their respective ratings. Additionally, your state's Department of Insurance website provides you information on a company's performance based on received complaints. This is a great way to find out which company is truly meeting customer needs.
Confirm the insurance agent's license. Visit your state's Department of Insurance website to check that your agent is licensed to work in your home state. Many insurance companies only operate in certain states. Additionally, these websites will provide links to help you look up an agent's licensing history and find a company representative in your area.
Get to know a company's reputation. Select a car insurance agent who also works for a reputable company. A large and loyal customer base is usually a good indicator for a company's reputation. You can find this out by checking if a company provides other types of insurance other than auto. An insurance company that covers many areas is well-established in the market. Popular companies are also more likely to offer better discounts.
Ask a mechanic or friend. People who have had experiences with auto insurance companies and agents may provide the most valuable information. Insurance agents give body shops permission to repair cars on a daily basis. As a result, managers from auto body shops often know which insurance companies are better at handling claims. You should also ask trustworthy friends and family who already have auto insurance agents. Their experiences can be an accurate reflection of the insurance company.
A great auto insurance agent is one that provides well-priced coverage, maintains high customer satisfaction and works for a reputable company. Remember to consider these factors when looking for a car insurance agent.