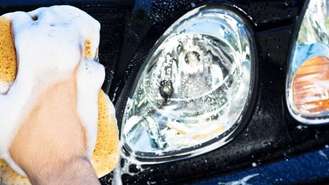 If your car's headlights have become dull, cloudy or yellowed, a headlight lens cleaner solution can add new life to them. Replacing an old set of headlights with a new pair can be expensive. So an inexpensive headlight lens solution kit that makes them look like new again is always a good idea. You might be surprised to learn that you can even buy a very high quality headlight lens cleaner at Walmart. To get you started, here is a list of some of the best headlight cleaning solutions.
Crystal View Chemicals
For about $30, you can save up to a couple hundred dollars over the cost of replacing your headlights. Crystal View Chemicals provides a do-it-yourself kit that contains everything you need to make those old and dull headlights look brand new again. The easy to use product comes with a lifetime warranty, is backed by a $5,000,000 liability insurance policy and is guaranteed not to ever damage your headlight lenses. You can purchase this money saving kit at popular auto stores like Advance Auto Parts or in the automotive sections of major retailers like Kmart and Wal-Mart.
Permatex Kits
Permatex also offers a headlight restoration kit that sells for only about $15. While the kit is about half the price of the Crystal View kit, it is very effective in cleaning and polishing plastic headlight lenses. However, the kit is not as easy to use and using the Permatex kit requires a lot more elbow grease and time to make the headlights look like new again. However, if you're looking for a more affordable solution, then you might deftly want to give the Permatex kit a try.
Novus Plastic Polish
Although not specifically designed for cleaning and polishing headlights, Novus Plastic Polish does an excellent job of making those old yellow plastic headlights shine again. Novus Plastic Polish is available in major auto parts stores and major retailers like target or Wal-Mart. The polish is available in varying grades designed to clean and remove fine to heavy scratches. The best thing about Novus Plastic Polish is that is very cheap. You can pick up a jar of polish at your favorite retailer for under $5.
Meguiar's SCRATCH-X 2.0
Although designed as a rubbing compound to help remove scratches and swirls from your car's paint job, Maguiars SCRATCH-X 2 .0 is known to do wonders for dull or yellowed headlight covers. Simply apply the liquid onto a dry towel and buff into the dull, lifeless headlamp. It takes some elbow grease; however, with a little work you can really make those old headlights look like new replacements. You can pick up a bottle at major auto parts stores for about $10.
Bon-Ami Cleaner
If you're looking for the least expensive way to clean up those old dull and dirty headlights, pick up a pouch or a can of Bon-Ami cleaner. You can pick up a can of this cleaner for about two dollars and use it with a heavy duty sponge and mildly abrasive scouring pad to remove nicks and scratches from your glass or plastic headlight covers. This is by far the hardest way to get the results you want, but is also the cheapest.