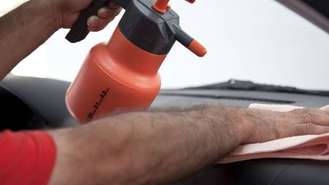 A car detailing service can take as little as thirty minutes and as much as a full day, depending on the condition of your vehicle and the type of detailer you hire. The quickest detail services are traveling detailers who bring all of their tools to your home or office. They can complete a quick detail in about a half hour, but a more comprehensive job including wax and dying carpets can take a few hours. Traveling detailers are very convenient, but they may not always have the best tools or the most experience reconditioning vehicles.
If you take your vehicle to a private detail shop or car wash, you can also expect a turnaround time of a few hours. As many private detail shops are hired by dealerships to clean used cars, you may find that you need to schedule an appointment to bring in your vehicle. A private detail shop may have multiple detailers who clean your vehicle as a team.
The best detail work is done by car dealerships, but they can also take the longest to detail your car or truck. Expect the dealership to require an entire business day to finish detailing your car. If the dealership must keep your vehicle for a prolonged amount of time, check and see if they can offer a service loaner to get you back on the road while your vehicle is being detailed.
5 Reasons to Use a Car Detail Service
While many automotive enthusiasts prefer the sense of bonding and personal care that comes with detailing their own car, this is not always an option for many owners. If you are trying to decide whether or not you should do it yourself or pay a service to do it for you, looking over some of the following points might help you to narrow down which decision is best for you.
Cost of buy-in.To properly detail a car, a wide variety of products are required. From polishes and waxes, to clay bars, glazes and detailing solutions, the list can get quite large, depending on how thorough a job you feel is required. All of these products can cost a great deal of money, especially when buying them all at once, so for someone interested in a thorough detailing, the cost of a professional detailer may not seem nearly as bad. If you are only detailing one car on an occasional basis, you may be better off simply paying for a service
Quality of work.Properly detailing a car is something that takes practice and familiarity with common detailing tools and products. For someone inexperienced in detailing work, quality results may take some practice. By paying a reputable service to do the work for you, you're paying for a great deal of experience, and receiving a reliable car detail job in return. Many services offer satisfaction guaranteed services, so you always know you're getting your money's worth
Potential safety concerns.Tools such as random orbital polishers have the potential to cause a great deal of damage to your car's paint if used improperly. If you are unsure of how to use any of the detailing tools, paying someone experienced in their proper use may be a better alternative than learning how to use them on your own car
Location.Many of the products used in detailing are designed to work in a cool, dust free environment away from direct sunlight. If you do not have a garage or carport, or you live in a particularly dusty or hot area, you may get far better results paying someone with a more suitable detailing location
Labor concerns. Detailing can be a lot of work and can take many hours to do properly. If you are not in good physical shape or have any injuries or conditions that prevent prolonged standing and bending, detailing may not be something you can do yourself without a great deal of discomfort and exertion
Whether you do the work yourself, or pay a service to do the work for you, having your car properly detailed can extend the life of your vehicle and improve its luster for years to come. If you care about your car, regardless of the method chosen, it will be money well spent.