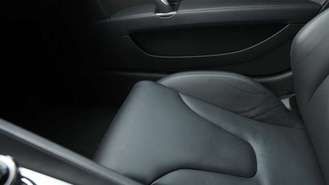 A leather car seat can enhance value and beauty to a car. With proper care, they can last into vintage age. It's important not to get leather soiled, soaked, or let it dry out, but if you have leather car seats that have become stiff, there are some remedies.
Remove the leather seats from any area that is extremely hot or cold, or excessively dry or humid. You may want to remove them from the vehicle to begin restoring the leather. Before you place anything on the leather, think of it as your own skin. Chemicals and heat can harm or crack it. Improper cleaning can also remove finishes and colors.
You'll need to wash the leather to clean the dirt deep in the pores and to remove any stains before applying conditioner. Conditioner will soak in deeply and will drag the dirt in as well, if not removed first. Be sure to use quality products, as some leather cleaners can actually damage leather. Avoid leather care products that are alkaline by nature. These products can further dry and eventually crack the leather. Also avoid petroleum distillates, silicones and waxes that are fire hazards. Some cleaners leave a residue or darken and harden the leather.
A good leather wash will safely clean and lift out embedded dirt. It should have beneficial lubricants to soften the leather. Cleaners that don't need to be rinsed out and are removed by wiping straight off are best. Also, a cleaner that will enhance the original leather color without changing it is preferred. Always try to work on a sample first, or in an area that is not seen in order to learn what the results will be.
When fully dry, use a quality leather restorer/conditioner to gently massage the stiffened leather. A pH-neutral product is recommended. Apply the conditioner with a sponge or soft cloth (never use paper, it will cause scratching). Leather absorbs just what it needs. The conditioner should soak in, and then disappear. You should not need to wipe it off. If you apply too much, it will stay wet or greasy. A good conditioner will penetrate deeply to the center of the leather to nourish and lubricate its fibers. A pH neutral conditioner will not interfere with the natural acidic quality of the leather. Instead it will increase its softness and life in general.
Cleaning, restoring and conditioning should be repeated every three months to keep the leather strong and supple. It is important to replace oils that are lost, or the leather will eventually dry out and begin to crack. You may wish to add a protective shield or water repellent to provide protection from the elements, or from spills.
Keep your car in a dry location, out of extreme temperatures of heat or freezing cold. On warm days, crack the windows. Even if it's only 70 degrees outside, it could easily heat up to 100 degrees inside. Use shades on the windows to keep the sun from beating down on the leather seats which will eventually fade and crack the leather.