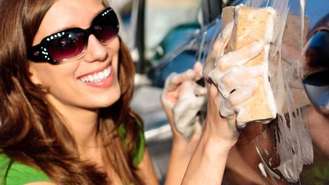 To give your car a show-quality appearance, you need car detailing supplies. Detailing a car requires a thorough cleaning, polishing and waxing to prepare it for car shows, to preserve the car and for your own personal satisfaction. There are basically three components of detailing: the exterior, interior and engine.
Exterior Detailing Supply List
Specialty detergent for washing cars and removing surface particles
Wax remover
Detail clay: a clay bar cleans contamination such as tar, animal droppings, etc.
Waxes and sealants (liquid or paste form) to use by hand, or with a machine
Applicators, special cloths and specific polishing pads as needed
Products to clean and protect rubber seals and moldings
Polish for chrome, aluminum and stainless steel (wheels and trim)
Window glass cleaner
Black trim cleaning and protection products (if your car has black trim)
Tire cleaning and protection products (also used for windshield wipers)
A soft detail brush for removing contaminants without scratching
Interior Detailing Supply List
A car vacuum
Upholstery cleaner (for vinyl, cloth, leather)
Cloths and a soft brush for cleaning
Upholstery protector (for leather, vinyl or fabric)
A hand brush for hard to reach places
Carpet cleaning product and stain remover
Polish for nonporous surfaces (such as chrome)
A stiff bristled brush for removing ground in dirt
A product to clean and protect dashboard, steering wheel
Window cleaner (for glass and mirrors)
Detergent and a cleaning brush for floor mats
Engine Detailing Supply List
An air compressor or hand brush for removing debris
Engine degreasers
Cleaners for the engine compartment (citrus or water-based is suggested)
A hose (avoid high pressure hoses, or use with extreme care)
A cover to protect engine from getting wet
Plastic bags with tape to cover electrical devices
A small detail brush for cleaning crevices
A long-handled parts brush for heavy soil
Detailing towels and some terry cloth
Vinyl protectant spray for rubber hoses and plastic parts
Engine protectant to coat hoses, wires
High-quality detailing spray for shine
Sealant for long term coating protection
Polish for aluminum parts
Bright colored paint or chrome, optional for key parts
Where to Buy a Detailing Clay Bar >>
Beautifully restored and polished cars create a stunning display, especially when applied to vintage and exotic cars. Detailing can also make a profound difference in an average car's appearance. It is especially important for protecting your car and its value for many years to come.