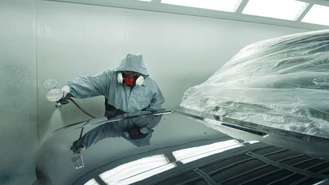 A great paint job can make an even average car look special, and professional car paint is what you need to achieve the best results. Regardless of the budget for a car's paint job, pro car paint products can make the work go faster and offer a much more durable finish to your car's exterior. Professional quality paints come in all prices ranges, and the best car paint to use will usually depend on the application and how much you are willing to spend.
Economy Paints Used By Professionals
Although economy auto paint is designed to be exactly what the name implies—cheap paint—professional car painters have learned that some brands hold up better for inexpensive jobs than others. Just because a brand of paint is inexpensive does not mean that you should not expect the paint to cover well, create a decent base for clear coats or glosses and last for at least a few years.
There are many paint centers that offer budget car paint services, Maaco is a good example, and there are many inexpensive paints that are used in these shops. When getting even a cheap paint job, try to avoid Chinese made car paints. They don't hold up well at all, and are famous for chipping or peeling within a year or two. Instead, seek out economy paint services that use brands like Sherwin Williams or Starfire.
If painting a vehicle yourself, consider brands like Trinity 1945, known for good quality, yet low cost, automotive paints. For economy paints look to spend $40 to $80 per gallon.
High Quality Auto Paints
A high quality paint job requires better quality paint. A great standard paint job or repaint of a vehicle will often run you $2000 to $5000, depending on who is doing the work and the grade of paint being used. There are several brands that stand out among the others.
Companies like Diamont, Duramix, Kuston Shop and PPG all produce high quality paints that are used in pro painting shops all over the country. Generally speaking, all of these brands are excellent and can be used successfully in a number of different applications and with various types of automotive paint spray guns. While cheap car paints are sold by the gallon, better ones are usually sold in pint or quart sizes. For high quality paints like these, expect to pay $30 to $100 per quart.
Premium Quality Paints for Custom Jobs
If you are looking for a truly outrageous or unique paint job for your car, you want paints that are used for custom or very high end paint applications. While DuPont and PPG also offers some paints that fall into this category, you may want paints designed specifically for specialty jobs.
Brands like House of Kolor, SEM Color Horizons and Auto Air Colors allow painters to be creative with specialty finishes designed to provide showroom quality paint jobs. These brands can run as high $500 to $600 per quart.