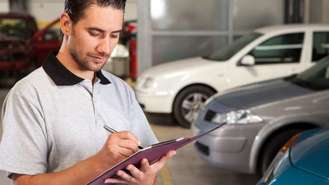 Keeping a vehicle maintenance log is a prudent practice. Not only does it provide you with a centralized place to record all the repairs and maintenance of a vehicle, it serves as a planning tool to keep your vehicle in top running condition, and provides a way to forecast the cost of regular maintenance. It helps your mechanic as well. In the event your car breaks down, your mechanic can refer to the maintenance log to rule out possible malfunctions and get more information when diagnosing and troubleshooting.
Microsoft Office Online
Microsoft offers various types of templates uploaded by other users. If you have Microsoft Office, the following links will connect you to their site where you can download the template for free. Each template is different, so take the time to view each of the examples. Once you make your choice and download the free maintenance log, you can alter it to your needs, adding or deleting fields and columns that may or may not relate to your vehicle. Think of the template as a starting place for you to customize one that meets your needs. You can download the appropriate maintenance log templates using the following links:
The Excel and Word templates on the links below are standard in nature, but the Access version is more sophisticated, allowing you to toggle between the records of more than one vehicle. Also, it calculates your past as well as future expenses, a handy planning tool to help budget your expenses for the year.
Related Questions and Answers
Can You Get an Official Dealer Maintenance Log Sheet?
Dealer maintenance log sheets are useful to record repairs and maintenance of a vehicle. This is necessary to keep track of expenses and the overall reliability of the car. There are many dealer maintenance sheets on the Internet that can be downloaded, and there are options for various cars and people. Apart from tracking the past and present repairs that a mechanic may find useful, it also helps to estimate future expenses to keep the car in good condition. Each time there is any work being done on the car, it gets recorded and stored for future reference. This dealer maintenance log can be shown to the car dealership when the car is returned at the end of the lease.