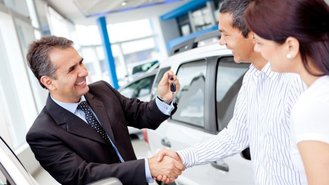 We all want to purchase new cars below invoice cost from the dealership. The dealer invoice price for a vehicle is the cost that the dealer actually pays to the manufacturer for a particular make and model new car or truck. Dealers are independent franchisees and CarsDirect they must purchase their cars before they can sell them. They then mark up the cars to the sticker price, which is often the MSRP, or manufacturer's suggested retail price. The MSRP is usually marked up between 10-15% above the invoice price. This way they have leeway to negotiate down and still make money. There are some ways to get around this and ultimately allow you to buy the car for under the invoice price.
Get a free no-hassle quote on any new car >>
Do Your Homework
There is one great thing about car invoice prices and that is that they are the same for every single dealer. This is a big advantage to the buyer. This means that as a buyer, you know what they paid for their car, and if you can't deal at one place, you can go to the next and not have to redo your research for that dealer. Invoice prices are highly available on the Internet and you should always know this price.
An easy way to get the invoice price, MSRP, and overall final price is to research through an online car selling website. This information as well as free quotes by local dealers can be found through CarsDirect. Start Here!
Approximate the Holdback
Holdback is an amount paid from the manufacturer to the dealership to help offset normal costs of doing business, like facilities maintenance and employee salaries. Most dealer accounting systems view holdback as connected to a particular vehicle in the inventory, so holdback ultimately lowers the dealership's cost for a vehicle. On most vehicles, the holdback amount is 2% or 3% of the base vehicle MSRP. If you know the approximate holdback amount on a vehicle you are considering, the dealership will respect your research and may dip into the holdback to get the price below invoice.
Determine Necessary Options
As you calculate the prices of preferred vehicles, you will find that most cars and trucks offer a variety of packages and powertrain upgrades. Before contacting a dealership, price out a vehicle that has only the options you will require. Many car buyers simply choose a vehicle with too many options. Choosing a vehicle with less options can keep the car in your price range and help you get a lower monthly payment.
Set a Target Price
After determining which options are most important to you, calculate the MSRP and invoice prices for such a vehicle. Set a target price that is close to the most you will pay for the car. Be sure that your target price is reasonable, either being slightly above or at the invoice price.
See what kind of prices you can get at CarsDirect >>
Run the Numbers
Running the numbers allows you to see how much a dealer is approximately making on the deal, and how much of a deal you can potentially get. Most of their costs in the invoice price will get passed on to you. However, one thing that is a significant little piece is called the hold back. This price is a few percent of the MSRP price, and the more expensive the car, the higher that will be. This can amount to a couple of thousand dollars which can truly make or break a car deal. That cost is not to be your expense and that is because the dealers get this money back after a few months. They don't tell you this, but you can use that to lower the cost of the invoice price.
Determine True Dealer Cost
When you are attempting to purchase a new car below dealer invoice cost, you will need to be able to properly determine what the actual dealer cost for the vehicle is. In determining how much a vehicle really costs a dealer, you will need to consider other things as well, such as: dealer destination charges, options and accessories, dealer holdback and any rebates that are being offered for a particular make or model vehicle.
While determining destination charges may be difficult, you can easily find the dealer invoice price for most vehicles. In order to find dealer invoice pricing on a new car truck simply visit websites like Kelley Blue Book or CarsDirect; both of these sites are excellent sources for finding the actual dealer invoice price on a particular model car or truck.
Once you have all the required pricing information, you will be able to come close to determining the true dealer cost of the vehicle. In order to determine the dealer cost, simply use the following formula:
Dealer Invoice + Destination Charge + Options - Holdback - Rebate = True Dealer Cost
That's it, as far as determining the dealer cost is concerned. This is the amount that the dealer will ultimately pay for any new car truck. Therefore, this is quite useful information when considering how to negotiate a lower price on a new vehicle.
Let Dealer Know That You Know
When you arrive at a new car dealership, make sure you have the copy of the Kelley Blue Book pricing information with you. Once the dealership understands you know how much the vehicle cost them, they will probably be more willing to negotiate a lower selling price.
Take a Competitor's Ad
Almost all new car dealers hate to lose a sell because of a few hundred dollars. If you do find a lower price on the type of vehicle you're looking for, make sure you take a copy of the advertisement with you. Many new car dealers offer price-matching guarantees and will generally try to work with you. Using this method can always save you a little money.
Negotiate
While the above formula works for about 95% of cars purchased from manufacturers by dealerships, there may be additional discounts available to the dealership. For instance, many large corporations that purchase hundreds of vehicles from a particular manufacturer will often qualify for fleet rates.
More and more, many dealers are offering fleet rates to Internet-savvy customers that know how to search for them. The reason dealerships make these rates available to the individual consumer is quite simple--they want to sell more vehicles. Not every manufacturer allows dealerships to sell one or two one vehicle at a fleet price; however, there are many manufacturers that give dealerships the leeway to do this in order to close a sale.
A fleet price can often be between about $1000 and $2000 below dealer invoice. While you will probably not be able to purchase one vehicle at the actual fleet price, you may be able to make a deal somewhere in between the normal invoice price and the discounted fleet price. By doing this, you may be able to save and an additional $500 or $1000 on the purchase of your vehicle and buy the vehicle below the dealer invoice price. However, in order to get these rates you almost always need to deal with the dealership's fleet or Internet manager. Managers in these departments are used to dealing with Internet-savvy customers that demand the lowest prices.
Buy at the End of a Month
Dealerships have sales goals to meet, and large cash bonuses are dependent on sales volume. Visiting a dealership at the end of the month can put the ball in your court when it comes to negotiating. If you are looking for a sale below the invoice price, it is best to contact multiple dealerships at the end of the month to see who offers the most competitive quote. If multiple dealerships are close to hitting their monthly goals, you will be able to pit dealerships against each other to get the best price.
Ask about Dealer Cash
Although dealer cash is not universally offered, it may be available on some less popular models. Be sure to ask the dealership if there is any dealer cash available. Dealer cash is paid from the manufacturer to the dealership after a sale is completed. This amount may be passed on to the customer, but dealerships most frequently try to keep this additional money to increase their gross profit.
Be Firm
In tough economic times where car dealers are really hurting, they need to make sales. The manufacturers are also offering them rebates and incentives for selling their cars. Manufacturers offer these incentives to car dealers for selling their cars, and they actually get great deals that way. Even if they sell you the car at invoice, they still will make around 10%. If they sell you a car at their sticker price, they are actually making much more than the 10% it looks like they are profiting.
Being firm is the number one negotiating tip anyone can give you. You should start the negotiations, not the salesperson because they will start off with a price near the sticker price and there is not much room. But if you say that the invoice price is X and you want the car for Y, then the negotiating power is in your favor. The salesperson knows that if they sell if for cost, they still are making money, but they obviously want to sell it for as much as possible. If you start low first, then you can get a real good deal, and possibly even lower than the invoice price.
Request Multiple Quotes
The best way to get a vehicle below invoice price is to get multiple competing quotes. Most cities have a dealership that routinely sells for less than invoice, emphasizing high volume over high profit. By contacting dealerships via the Internet or phone, you can get quotes to review on your own terms. If necessary, you can pit dealerships against each other or choose the first quote that meets your target price.