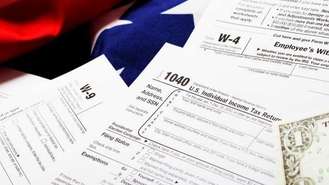 A Honda tax credit can help you save a lot of money on your taxes. Tax credits authorized by congress, such as "Cash for Clunkers" and for hybrids, have helped American citizens save thousands of dollars on their taxes.
A tax credit differs from a standard tax deduction in the fact that a credit is subtracted from the amount of tax you actually owe. A standard deduction only allows you to lower the amount of your taxable income. If you're interested in finding tax credits and deductions for your Honda, here is a guide to help you in your search.
Use a Trade-In to Reduce Sales Tax
Start your Honda ownership experience off on the right foot by paying as little sales tax as possible when you buy your new car. Instead of selling your older vehicle on your own, consider trading it in to the dealership so you can save on sales tax. a trade in vehicle lowers the cost of a new vehicle, reducing the invoice amount for which sales tax is charged. Depending on where you live, and the amount of sales tax charged in your state, you could save hundreds of dollars or more.
Save Your Receipts or Records
Be sure not to throw away receipts and invoices for gas, oil or repairs. When it comes time to file your federal income taxes, make sure you have them handy so you can claim expenses for work, school or medical related travel expenses. If you own a small business, the tax savings can be even more. Keep those receipts for at least five years, just in case the IRS wants to do an audit.
Keep a Mileage Journal in the Car
Begin recording the mileage of your travels. Before you start driving, record the odometer reading. When you arrive at your destination, record the ending mileage. Make a quick note of the purpose of your trip as well as where you travel. This information will come in handy if you itemize deductions. The IRS allows you to deduct a specified amount (per mile traveled) for certain types of activities.
Reduce Your Honda CO2 Emissions
If you live in a state that requires smog or emissions testing, no one needs to tell you how expensive these tests can be. These fees are de facto road taxes that the state charges drivers for driving on state roads and highways. The tests also help to keep our air clean by reducing carbon based emissions from vehicles. Keep your car tuned up to avoid being penalized or charged extra fees for a pollution causing vehicle. You will also save by avoiding having to take the test multiple times and pay the fee over and over again.
Search for a Honda Tax Credits and Deductions
From time to time, you should go online and search for the latest tax credits or deductions that may be available for your Honda. Occasionally, the government offer tax credits for owners of certain types of vehicles or in order to stimulate the economy. Before you file your taxes, see if there is a vehicle tax credit available that could potentially save you thousands of dollars on your federal income taxes.
Find More Information at the IRS Website
Although many websites offer information about tax credits, you should always verify the information on the IRS website. Once you find articles and publications related to car tax credits, you'll be able to review detailed information about which makes and models are eligible for the credit, as well as income limits for taxpayers that want to apply for the credit.
Download Publications and Forms
Take note of any booklet or form numbers that are referenced in articles or publications regarding a specific car tax credit. Proceed to the download section of the IRS website and download the needed forms to your computer. If necessary, print them out.
Get Your Tax Break
Follow the instructions included with the forms to calculate the amount of any credit you are eligible for. Once you have determined the amount of the credit, list that amount in the proper box on your income tax return to reduce the amount of tax that you owe.
The Best Honda Models for Cheap UK Road Tax
The British government has been levying a vehicle excise tax for years. The road tax funds public projects while incentivizing lower fuel consumption and less carbon emissions, in keeping with the goals of the Kyoto Protocol and general public administration targets.
Smaller and more fuel efficient Honda vehicles will generate a much lower road tax. For some of these leaner Honda models, the road taxes are pretty negligible. Here are some of the best choices for avoiding high road tax with a Honda vehicle.
Honda Civic Saloon. This flashy two-door Honda runs on a 1.4L i-VTEC hybrid engine that delivers an estimated 61 miles per gallon. Its incredible fuel economy and low carbon emissions put it in the road tax band B, with an annual assessed cost of £10.
Honda Insight. Honda's other hybrid, which also sells on the North American market, is shipped to the European market with a 1.3L hybrid engine. It has the same fuel economy as the Saloon, and enjoys the same road tax designation.
Honda Jazz. The stylish Honda Jazz, a newer offering from this auto importer, includes a 1.2L or 1.4L engine, depending on the desired trim model. It falls into road tax band D, with an annual cost of £90.
Honda Civic. Honda sells many different versions of this popular car all over the globe. The various trims of Honda Civic are all represented in road tax band E, carrying relatively low annual road tax costs and delivering the kind of great fuel economy and Honda engineering that this brand is known for.
Honda Accord. This slightly larger car is a dual product that Honda also offers on the North American market. Though it falls higher on the road tax scale than the above vehicles, among the sedans and personal cars offered by other automakers, it offers competitive fuel economy and carbon emissions rates, and a Honda Accord road tax won't break the bank for U.K. drivers who like the style and features of this popular model.