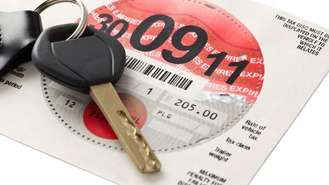 When you want to apply and pay for a DVLA car tax disc, you have to abide by conditions which may apply to you and to the vehicle. Renewing or applying for a first DVLA tax disc can be quick and easy. Remember to have the correct method of payment when you begin your application. Here's how to pay DVLA car tax online.
If You Received a Reminder from the DVLA
Usually, a V11 reminder form will be posted to you about two or three weeks before to the renewal date. If you receive it earlier than that, the soonest you can apply for the renewal is the fifth date of the last month your vehicle license disc expires. If you're applying with your V5 (Vehicle Registration Certificate), you are allowed to renew your car tax disc on the first day of the expiration month.
All insurance certificates are now kept in an online database (Motor Insurance Database). If you want to buy your tax disc online, you can look at the database before applying. MOT records are kept on the National database as well, and you can also look up the status of your own MOT. Once you are sure that you have the right documents to apply for online car tax, you can go ahead and do so.
If You Did Not Receive a Reminder from the DVLA
You can submit a V10 form (Vehicle license application) if you have bought or been given the vehicle recently, but have not yet received your V5C registration form back from the DVLA.
Documents
In the event that you do not possess the appropriate registration document you must be in ownership of the 'new keeper' part of the registration form. This is the piece of the 'sale or transfer' of the vehicle registration certificate that you as the buyer need to keep when you purchase the car.
You will also require a valid certificate of insurance. This has to be current and valid on the day that you apply for the renewal of the car tax disc. You still need to have a valid and current MOT if the car is older than three years and the certificate of MOT has to be valid at the time the tax disc becomes applicable. If the car is less than 3 years old an MOT certificate will not be required and you can process your online application without it.
Payment
In all situations you will be required to include a satisfactory form of payment. Making payment using a debit card is allowed. You can also pay using a major credit card, but you will incur a service charge fee of £2.50. If you want to avoid this administration fee then use your debit card.
Under current law, you cannot apply for a car tax refund online. If the event that you wish to do so, you must submit the old car tax disc after applying for a valid one for the current car you are driving.
How to Get the Lowest DVLA Car Tax Prices
Knowing some sensible ways of buying a vehicle can help you lower your DVLA car tax prices. CO2 emissions have become the guideline by which the government now classes vehicles for road tax purposes. If you wish to get the lowest DVLA car tax prices, then some suggestions for the type of vehicle you purchase can be found here.
Consider Low Emission Vehicles
Vehicle emissions are measured in g/km (grams per kilometer). This means that your vehicle will emit a certain amount of grams for every kilometer you drive and you save money both in fuel costs and car tax costs. Depending on how high or low your emissions are, you can claim your vehicle in a certain vehicle classification for car tax prices.
Getting the lowest car tax prices for your vehicle will probably mean cutting your CO2 levels or purchasing a low emissions vehicle, such as a hybrid. Many hybrid vehicles are now of a greatly higher standard than the older versions. Previously, electric vehicles were frowned upon by the very nature of the fact they are could not hold a good charge, would not get you very far on your journey and would take horrendous amounts of time to recharge to a full battery.
Avoid Older Cars
If your vehicle was registered on or after March 1, 2001 and you have a standard class vehicle you will pay rates according to your vehicle's emissions. The prices for this are currently between £20 and £435 per year. The government has split the categories into 13 bands dependent upon CO2 emissions.
If you purchase a car with emissions lower than 100 g/km than you will be classed as tax exempt and the car tax price will be £0.00 per year. Anything above 100 g/km will start at £20 and increase according the emissions produced by that vehicle. However, if you are using an alternative fuel you will pay even less. Alternative fuel can be hydrogen, electricity or any zero emissions fuel.
Again, anything up to 100 g/km will be tax exempt, but 100 g/km will start at £20 per year and increase accordingly to a maximum of £435. For vehicles registered on or after April 1, 2010 there is yet another class in which they have been categorized.
New Cars Are Ideal
Anyone purchasing a car after this date will incur a smaller 'first year' tax. This indicates that for the first year that your new 2010 vehicle is on the road it will emit less CO2 than older cars, and for that first year your fees for taxing your car will be cheaper. Anything up to a band D vehicle (emitting less than 130 g/km) will be tax exempt for the first 12 months. Anything emitting 131 and over will pay a charge of £110 per year, rising to £950 for emissions of more than 255 g/km. If you wish to cut the cost of your car tax, buying a low emissions vehicle is the best answer.
Additional Tips for Getting a DVLA Car Tax Refund
If you need to apply for a DVLA car tax refund, there are certain circumstances which apply. The main rule falls under certain criteria that will be explained below.
Register Owners
If you are registered owner or legal keeper of a car and want to apply for a refund on your tax disc, you can apply as long as you qualify. If the vehicle is off the road for any reason you are expected to make a Statutory Off Road Notification. This declaration attests that the vehicle is being kept off road and not employed on a public thoroughfare for any reason until a new valid tax disc is acquired for it. The SORN will be valid for the maximum period of one year and must be reapplied for if you continue to park the unused vehicle off the street. If you tax the vehicle again within three weeks of declaring the SORN, you will fail to qualify for a car tax refund.
Non-Registered Owners
If you recently scrapped the car, you might qualify for a full or partial refund, depending on how long you had left on the tax disc. You must take the car and its Registration Document (V5C) to an Authorized Treatment Facility (ATF) prior to applying for an auto tax rebate. The DVLA will need proof that the car was disposed of. If you passed the vehicle to the insurer for the purpose of scrapping, but did not get proof of scrapping or transfer, you must complete section 9 of the form V5C and post it with your application for your car tax refund.
Selling
If you sell the car and you wish to retain the car tax disc you may do so, but you must then apply for a refund using the proof of sale or transfer. Retain the tax disc when you hand over the vehicle and send that with the sale and transfer document, along with the relevant forms.
Forms
If you are currently not in possession of a V5C form you must submit a signed letter along with the application. That letter has to include the car details, the merchant that scrapped it along with the date the car was scrapped.
Reporting
If you reported your vehicle stolen you should also have been given a crime report number from the police officer attending.
If you fail to notify the DVLA of a sale, transfer, scrapping, export or SORN declaration on the car, you will fail to qualify for a car tax refund. You could also be committing a crime.
Refunds
You are advised not apply for any refund if the car is going to have its registration plate transferred or retained.
Your application will be rejected if any personal details fail to match those shown on the V5C form you fill in. If you did not receive a V5C in your own name you are not entitled to any full or partial car tax refund. The only way you can apply for a DVLA discount car tax disc is if you alter the class if your vehicle to a lower tax class. You must buy a new disc for any vehicle you purchase.
The DVLA will pay you a full or partial refund if you have newly changed the vehicle to the class of 'nil tax.' Perhaps you applied as a disabled class vehicle. You are advised to do this prior to applying for a car tax refund.