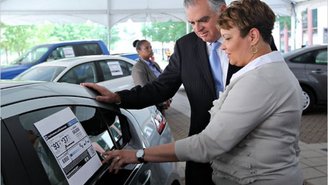 There are so many phrases in the new car-buying process, so it pays to be informed before you go in to the dealership. Two phrases you'll see a lot is Invoice Price and MSRP. Learning both of these figures is essential to getting the best deal on a new car.
Invoice Price is what the dealer pays for the new car from the manufacturer. In most cases, you won't be paying the invoice price. But depending on how quickly the dealer wants to sell a certain car, or how quickly the automaker wants to sell all of them, there is room to pay a price close to invoice. Separately, manufacturers sometimes offer incentives to the dealer so they can afford to sell a car below the invoice sticker. These are unadvertised incentives, but do show up on some websites.
MSRP, or Manufacturer's Suggested Retail Price, is what the automaker thinks is a fair price for the car that also nets the dealer some profit. It's typically 20 percent higher than the invoice price, but varies somewhat depending on manufacturer. Dealers will sometimes add accessories they install onto the MSRP on a separate window sticker to boost their profit even more.
When you go into the dealer, look at the incentives on the car you're looking at and compare the invoice price with the MSRP. Somewhere in there is a sweet spot for negotiation. On a car without factory-to-dealer incentives, $500 above invoice may be a good starting point to negotiate.