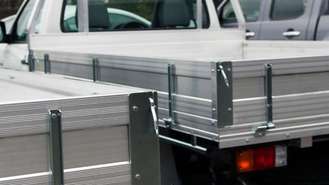 If you're shopping for a new pickup truck, you should be aware of how dealer truck invoices reflect the pricing. The dealer invoice price is the price that a dealer pays to the manufacturer for a particular make and model pickup truck. Generally speaking, the invoice price listed is the same for all new car dealerships.
In order to find out the invoice price on any new truck, simply visit the CarsDirect search page for new cars and trucks.
Dealer Truck Invoice and the Sales Price
The manufacture bases the truck invoice amount on the base cost of the truck, plus any added options or accessories. There are many types of add-ons that can increase the invoice cost of a truck to the dealer, for example, an automatic transmission, 4-wheel-drive or a bed liner will increase the cost of the vehicle from the manufacture to the dealership. Therefore, understanding how truck invoice prices are determined, can help you find a lower price for the new pickup truck of your choice.
While the dealership will always pay the amount listed on the dealer invoice to the manufacture for a vehicle, most dealers are eligible for incentives or holdbacks on every new truck they sell. Therefore, the invoice amount of a new truck is not usually the actual amount the dealer is out of pocket. Usually, incentives or holdbacks amount to about 1 to 3 percent of the invoice cost of the new truck. Therefore, a dealership could actually sell a vehicle at dealer invoice cost and not lose money. However, most dealerships will not sell a vehicle at dealer invoice price, unless there is a good reason to do so.
Other Dealer Invoice Price Considerations
Dealers may choose to add dealer value add-ons, such as anti-stain treatments or pin striping services that also increase the dealer's cost in a vehicle. All of these amounts--the dealer invoice price, shipping costs and dealer value add-ons—are generally passed onto the consumer.
How to Lower the Price on a Truck Invoice
Car dealers are businesses, and they will always try and get more money from you by inflating that truck invoice (at least up until your breaking point). You do not have to play the game, however, and be stuck with dealers who keep upping that new truck price. Here are a few tips to claim back some of that money.
Set a Budget (and Stick to It)
Making a budget and sticking to it adamantly, despite any dealer pressure to increase it, "just a little bit," will save you a lot of cash. Many psychology books discussing influence and persuasion will tell you that if you give in just a tiny bit, you will give in just a tiny bit more. When all those tiny bits pile up, you get surprised at how far the price is from your established budget.
For example, say a salesman gives you the truck sticker price. It is a couple hundred dollars above invoice. You will of course negotiate, and he will agree to a price just below your budget. But then he says he will have to confirm with his manager first. He leaves for a few minutes, then comes back to you, saying he can only offer the truck at a few hundred dollars above invoice, but still less than his original offer.
You might be tempted to accept the offer, since he was so nice about giving you the discount, but don't do it. Stick to your budget—in most cases, you set your budget through careful and thorough preparation. Giving in to the smooth talking will cost you.
Don't Be Afraid to Look Around
Many dealers create a sense of scarcity by telling you that they are the only dealership within the area, and that the gas money you spend shopping around isn't worth it. They plant the idea that instead of spending all that money on gas, you should just buy at the current inflated price.
Most of the time, this is untrue. You might spend just $50 on gas, while getting a deal that saves you $300 off the truck—a $250 savings. Don't be dragged into agreeing with the salesman, just because they plant the idea that it's more expensive or it's inconvenient to shop around.
Don't Fall for the Upsell
Again, sticking to your budget is the key here. If you're a shrewd negotiator, you will have negotiated to a fair price. In this case, the dealer may have seemed to give up, but is actually preparing for a comeback.
For example, say they agree with your offer. They then offer you some new upholstery, a new tint job, or a new dashboard kit, saying that you should purchase them since you've already saved a lot from the haggling. Don't do it—most likely these extras are cheaper purchased elsewhere, or are actually part of the purchase (and the dealer is just charging you extra for them).
Look out for charges and rebates
See if you are being charged for expenses that should be paid by the dealer. For example, shipping and delivery charges are in fact expenses borne by the dealer, and should not be passed on to you.
Your new truck might also qualify for rebates and federal tax credits—make sure you ask the dealer about them. Try out online forums and communities as well. They may have more up to date information. Don't be afraid to go cross-country to grab that rebate, as long as the savings outweigh the expenses.
Related Questions and Answers
What are the Top 3 Cheap Pickup Truck Models When it Comes to Price as a New Car?
If you are looking for a cheap pickup truck, you can't beat these three for a bargain. The base Toyota Tacoma is the cheapest truck available, at around $15,000 brand new. Next is the Mazda B2300. This is the smallest of the Mazda trucks and comparable to the Ford Ranger. The truck sells in the $16,000 to $17,000 range. The Ford Ranger rounds out the top three. This truck is the best selling compact truck in the country. Prices start at $17,000 and balloon to $25,000 for a fully loaded 4x4 version. All of these trucks are base models at the prices quoted, so expect to pay more as you add options.
Are there any Automobile Dealer Costs Specific to Pickup Trucks?
No, there are no automobile dealer costs that are specific to pickup trucks. Both cars and trucks are subject to additional costs when buying from a dealership. There is usually a delivery cost which can run up to $500. This is the same regardless of it being a truck or car. There are also taxes and registration fees that will vary by state and even county. In almost all cases, there are no additional fees for driving a pickup truck. In many states, taxes and fees are determined by the value of the vehicle. These fees apply regardless of whether it is a new or used truck.