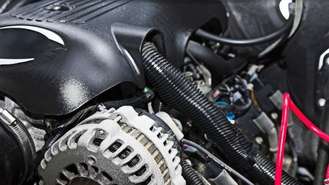 You can save a lot of money by purchasing refurbished alternator instead of a brand new one. A refurbished alternator has been completely disassembled, thoroughly cleaned and had major components replaced with brand new components. Although refurbished alternators are usually quite reliable, there are a few tips that you should follow in order to make sure you get a quality alternator at a good price.
Have the Alternator Tested for Power
At the auto parts store, have the staff member that assists you with the purchase test the alternator for power. In order to test the refurbished alternator for power, the store will need a standard volt meter on hand. Most auto parts stores have this piece of equipment available for employees and customers to use when needed. A standard voltmeter can determine if the alternator will provide power or not to your vehicle's battery.
Choose a Refurbished Alternator with a Good Warranty
You should always choose an alternator that has a longer warranty. Many high-quality refurbished alternators come with a warranty as long as one to three years. However, some lower quality refurbished alternators may have warranties for only 90 days or so.
Always Return the Alternator Core
Whenever you purchase a refurbished alternator, your local auto parts store will usually charge a deposit for the alternator core. Simply put, the alternator core is the alternator itself. To avoid paying a deposit, remove your faulty alternator and take it with you when you visit the auto parts store.
If you fail to provide an alternator core at the time of purchase, you will usually be required to pay a deposit between $20 and $50. When you turn in the damaged or defective alternator, the auto parts store should refund your deposit. In order to make sure you receive your refund, always make sure that you keep the receipt and jot down the name of the employee that sold you the refurbished alternator.
Shop Around
Like anything else, refurbished alternators vary widely in price. While almost all local auto parts stores carry refurbished alternators for many common vehicles, not all refurbished alternators are priced the same. Call around to or visit at least three or four local auto parts stores to find the best deal on a refurbished alternator.
Check for Specials and Coupons
Check your local newspaper to see which local auto parts stores have specials or promotions running and also check for any coupons that may be available. You can also search for auto parts retailer coupons on the Internet. If you find coupons on the Internet, simply print them out on your computer printer and take them to the auto parts store when you purchase your refurbished alternator.
Concerns with Refurbished Alternators
Although a refurbished alternator is much less expensive than a standard, newly built and never used alternator, there are a few things to be concerned about before you look to buy a previously used alternator. The first is that the alternator is responsible for providing power to virtually every electrical system in your vehicle. This means the stereo system, the air conditioner, the lights in the dash and many other parts of your vehicle depend upon the alternator to work smoothly and perfectly.
Alternators are generally only designed to last for a certain number of miles. If you plan to buy a refurbished alternator, you should first look into where the one that you're planning to buy came from. If it has already met with its dedicated number of miles, you'll probably be better off buying a new alternator; those that have already had their full usage, even when refurbished, generally will not last much longer.
The Benefits of a Refurbished Alternators
Refurbished alternators are much less expensive than standard new alternators. However, if you're looking to make a long term investment in an alternator, it's generally safer to put more money into a new alternator that will last for much longer.