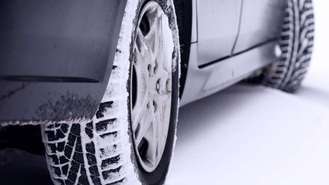 Snow tires are specially built tires meant to give your car extra traction in winter weather. These winter tires are different from all season tires because they tend to be made from a higher quality rubber compound and can have studs for greater grip. Although this may sound like a good thing to have all the time, there are also disadvantages to snow tires which is why many people opt for all season tires instead.
Snow Tire Advantages
Better grip.When roads are covered in snow or ice, snow tires are indisputably superior to all season tires. Snow tires are specifically built for maximum grip in snowy and icy conditions. Softer and grippier rubber, very deep treads and sometimes hard studs combine to give snow tires the most traction possible. If you live in an area where winters are harsh, snow tires are a must; all season tires simply won't cut it
Superior braking. When conditions are poor, braking can be vital. All season tires are liable to lock up and skid on icy roads, but with the superior grip explained above, snow tires can dig into the snow and ice to allow you to break the way you need to
Snow Tire Disadvantages
Poorer handling.Snow tires offer less precise handling than all season tires due to the way they are built. In bad conditions, drive even more carefully than usual since your control over your vehicle will be less than you might be used to in better weather. Snow tires can't fully compensate for the effects of icy roads, and you shouldn't expect them to
Tough on roads.The design which gives snow tires such fantastic grip on ice and snow, especially when they have studs, also causes them to dig harshly into asphalt. Keeping snow tires on your vehicle year round will tear up any road that you drive on and cause it to deteriorate faster. Over time, too many people with snow tires can create potholes and all sorts of other issues
Comparatively fragile. Since snow tires are constructed from softer rubber than regular tires, they wear down more quickly. Driving with snow tires when the conditions don't warrant them can wear down the tread and ruin the tire. In comparison, all season tires are sturdier and meant for constant use
When to Use Snow Tires
So, it's important to know when to use snow tires and when to switch to the all season ones. In any conditions where there is a layer of snow or ice covering the ground, be safe by switching to snow tires. Your local radio stations will often issue warnings when snow tires are recommended or even required.
Winter Safety Kit for Safer Travel >>
How to Choose Snow Tires
You can find snow tire ratings on websites such as AmericasTire, TireRack and ConsumerReports. Customer and professional reviews will tell you what you can expect from each type of available snow tire.
Types of Snow Tires
Snow tires are a very important safety addition to your vehicle in the winter months if your home town experiences large amounts of snowfall. To help you choose the right product for your vehicle, here is a comparison of three major manufacturers.
Nokian Tires
The Nokian Tires range of snow tires offer you the choice of studded or non-studded tires, depending on the severity of snow you are likely to encounter. Nokian snow tires can be fitted to any size of passenger car, SUV, light truck or van.
Nokian Tires are also environmentally friendly, as all products are manufactured without the use of harmful oils and the tire's low rolling resistance in the tread designs means that your vehicle uses less fuel, and in turn produces fewer emissions.
You will also enjoy advanced and intuitive technology with your Nokian snow tires. For example all Nokian tires are manufactured with a driving safety indicator in the center of the tire to indicate the tread depth. As the tires wear down, so too do the numbers, revealing the new tread depth and allowing you to quickly and easily assess the safety of your tire tread. The Nokian Hakkapeliitta 5 snow tires are manufactured with four different rubber compounds. The quattrotread feature improves the stability of the vehicle, improves the performance of the studs and reduces road noise through the tires.
Bridgestone Tires
Bridgestone's range of winter tires are called BLIZZAK, and the range includes studded or non-studded snow tires, as well as a range of performance snow tires which offer good looks and safety features. For example, the BLIZZAK LM-22 RFT Performance winter tires will maintain the sporty look of your car, not impede the movement or mobility of the vehicle and still afford you improved traction in dry, wet and snowy conditions. This snow tire is also a run flat design which ensures you can maintain mobility and control, even after losing all air in your tires, as can easily happen on hazardous and snow covered roads.
The overall design of the BLIZZAK snow tires by Bridgestone includes winter tread compounds specially molded into the directional tread designs in the tires. These designs create thousands of biting edges for the tires to ensure traction in stop and go situations, and responsive handling on both wet and dry roads.
Winterforce Snow Tires
Winterforce snow tires are studdable, which means they can be used with or without studs depending on the conditions. The tread design is created from computer models, allowing the tires to confidently navigate wet, icy or snowy conditions. The Winterforce snow tires also prove a comfortable, quite and affordable option for safer traction in the snow. The performance of the Winterforce snow tires is improved in icy conditions when their studs installed. They are also able to navigate through deep snow with a reliable grip.
The latest Scandinavian review found that in overall tests, studded snow tires performed better than non-studded snow tires. While the Scandinavians are a reliable resource for snow tire's reliability and performance, not all studded snow tires will automatically offer superior performance; it is important to review all features in your snow tire comparison, to make sure you fit the right snow tires to your vehicle and your needs.