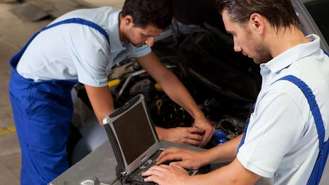 An automotive borescope is an inspection tool that allows you to check out machines for repair and maintenance in locations that are not accessible by direct vision. It consists of an optical relay and fiberoptic wires, lenses and glasses. This allows you to feed the tube through an opening and see inside an assembly or under a large object without disassembling or moving it. Some borescopes can be equipped with various tool attachments to allow you to do some type of work while you are inside.
Types of Borescopes
There are two main types of borescopes, based on the type of tube used, rigid and flexible. Rigid borescopes tends to be the less expensive type. They are also more limited in application. The ability to bend and twist a flexible borescope around corners and objects makes it far more useful in automotive applications. In addition to these basic types, there is also the added option to record on video. A video borescope allows you to record and will come in handy if you want to double check yourself after an inspection.
Flexible boroscopes.These boroscopes are specially designed for small, inaccessible areas. They have a long fiberoptic cable that is made up of thousands of small fiberoptic bundles tied together. These cables are really delicate and they provide high resolution and detailed images to the viewer. Another advantage is that the cable is extremely flexible and can be inserted in the smallest place possible for detailed images. The average cost of the model will depend on the brand and additional accessories that you add on to the instrument. They usually cost between $200 and $600, depending on the model and use of the instrument
Rigid boroscopes.These boroscopes are not as versitile the flexible variety, but they offer additional advantages to the user. These are most commonly used to inspect simple straight compartments like fuel injectors, inside gun barrels, automotive cylinders and hydraulic manifold bodies. They tend to have higher resolution than flexable boroscopes. These will cost about $100 to $600, depending on the additional accessories attached to the base instrument
Video boroscopes. These are very effective in creating permanent records of the inspected machine. The video boroscope has a direct CCD on the tip of the probe that makes it easy to record a picture on a high resolution monitor. This variety tends to be very expensive, ranging from $1,200 to $2,000 or more
Applications
Borescopes are extremely useful in automotive work. If you can pull the spark plug out of an engine, it can give you enough clearance to get your borescope in and inspect for wear or anything else you need to see without taking the engine apart. You can also use a borescope to track your way around and through parts of the engine to find a leak. It can be put into a radiator to look for leaks or blockage. If you've ever dropped a tool or bolt under a car, you know how frustrating and difficult it can be to get it back. A borescope with a magnet attachment can bring back any metal object without needing to get under or stretch to reach.
Features You'll Want
If you can afford to get the flexible borescope, buy it. A rigid borescope has its applications, but there are so many other times where it just won't do the job. Get a borescope kit that comes with a number of attachments. You should at least get a borescope that allows you to buy attachments for later. Pixelation is one of the most important specifications for a borescope. The higher the number, the more accurately you can see with it. Never buy one with a pixelation of less than 10,000. Also, get one that is small enough to reach into whatever sort of apertures you'll find necessary.
Related Questions and Answers
Can You Use a Fiberscope Rental for a Car Project that Needs a Boroscope?
Fiberscope Rental is possible for all kinds of car projects. A flexible fiberscope or a rigid fiberscope is ideal for checking out the inaccessible parts of a car's engine. You will find fiberscope equipment rentals at sites like the following. Atlasinspection.com rents out different kinds of commercial fiberscopes and boroscopes for personal and commercial uses. Check with the website to find out the rental rates. The instrument is delivered right to your home. ThomasNet.com has a complete directory of fiberscope suppliers and renters. You can get in touch with each individually to get the best rate. Globalspec provides engineering goods for engineers and companies who require the goods. Rates and delivery modes will vary with supplier. Check with a dealer or rental agent before signing the contract.