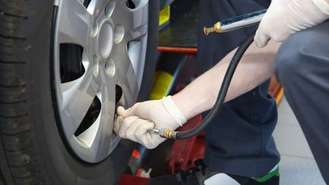 You have numerous options when you are looking to purchase a car tire repair kit, from tire plug kits to tire patch kits. You should have an assortment of both types. The plugs are a temporary fix that will get you from point A to point B safely, but they should not be driven on permanently. For that you should patch the tire. Service stations fix punctured tires by patching them, but you can do it yourself if you have the right tools. Don't skimp when you purchase a tire repair kit. Make sure you get one that has solid chrome tools, quality tire plugs and patches, and a high quality 12V compressor for roadside fill ups.
Professional Tire Repair Kits
There are some kits, like the Black Jack tire repair kit and the Permacure Master Tech kit are used by professional mechanics. The difference between these kits and the others is that they can be used for heavy duty, high volume work. The quality of the tools included, as well as the way the tires are repaired, is far superior. Naturally this means the price is much higher, but that is to be expected.
These kits can repair far more than a simple hole left in a tire by a nail. They are able to effectively repair punctures to shoulders and crown of the tire and, in some cases, even the sidewall areas. Black Jack, for example, molds into the shape of the puncture, unlike the "one shape fits all" scenario of other kits. There is no comparison between this and a simple patch stuck on the inside of a tubeless tire with a bit of glue.
Consumer Grade Kits
As opposed to tire plug kits which plug punctures in flat tires temporarily to give you time to make it to the service station, tire repair kits are designed to patch the flat tire so it is safe to drive on. A comprehensive tire repair kit will include several tire strings--the plugs used for temporary repair--and a patch kit for a permanent seal. The variation in price has to do with the number of patches it contains and the quality of the tools. Tire repair kits range in price from around $13 to $90 or more. You don't necessarily need to spend the most to get a good product, though. This list will detail some of your options for tire repair kits so you will be able to decide which brand and size is the best for your needs.
Blackjack KT20.This tire repair kit comes with all the necessary chrome tools for tire repair. The kit is enclosed in a hard plastic case and can be yours for under $40
Continental Tire Repair Kit.An average passenger car tire that is flat can be filled in less than seven minutes with the Continental repair kit. What is really good about it is the cause of the puncture doesn't have to be removed. This is done by activating a sealant that injects a liquid latex tire sealant to repair the puncture. It has a compressor which will re-inflate the tire and give a quick and simple temporary repair. However it cannot be used for all tires (e.g. if the inflation pressure exceeds 43 psi)
Dynaplug Tire Repair Kit.The Dynaplug kit is perfect for any tubeless tire and even run flats. It doesn't require any glues or solvents and one plug can seal a reasonably large hole. In addition, up to four plugs can be used in one hole if needed. The Dynaplug works with the tire pressure monitoring sensors
Progressive Suspension Tubeless Tire Repair Kit.It goes for about $31 and allows for on-the-wheel patching of punctured tires
Slime 2210 22-piece Tire Repair Kit.Slime is a trusted brand in tire repair, although this kit is for temporary repairs. It runs about $13 and comes with a number of repair tire strings. It works well for off road vehicles and 4x4s
Slime Powerspair.This 48-piece kit includes a sturdy carrying case, enough plugs for up to 30 repairs, and a heavy duty 12V compressor for roadside tire inflation. It also comes with a tire tackle kit, tool kit, a 25 foot compressor hose and a 24 ounce bottle of sealant for tire repair even in frigid temperatures. This setup costs roughly $85, but paying a tow truck driver to repair one flat will cost that much or more
Slime SS-PDQ. At about $25, this kit comes with temporary tire strings, tire repair tools, sealant, but also with a 12V compressor and a patch kit for permanent repairs. This is a good choice for more comprehensive repair capability. You can plug the flat on the side of the road then once you are home, patch the flat for a long lasting fix
How to Use a Tire Repair Kit
Using a tire repair kit is pretty easy and can help you save time and money. The kit contains two tools, a reamer and a plug installer. One reams out the hole in your tire and the other installs the plug. A tube of adhesive helps bond the plug to the tire and acts like a lubricant as you are installing the plug. The tire plugs are adhesive-coated cords that bond to the tire and fix the leak.
The best way to use the kit is with the tire off of the car. This allows unrestricted access to the tire and makes it easier to maintain air pressure. You can maneuver the vehicle in such a way as to provide access to the hole in the tire, so if you can't remove the tire, you can still plug it with the kit. If there is a nail of other debris stuck into the tire, remove it with pliers. If the hole in the tire is in the sidewall, STOP. Sidewalls cannot be plugged. The tire will need to be replaced.
Once the hole is cleared, start inflating the tire with air. A compressor or tire inflation machine at a service station is best. With the tire inflated, use the reamer to open the hole sufficiently for the plug to fit into it. Air will be rushing out of the tire during this process, but keep filling it. A full tire is easier to ream and plug. Once the hole is reamed, wrap a tire plug around the installation tool per the manufacturer's directions. Put some adhesive on the plug and push it straight into the hole with the tool all the while keeping the tire inflated. Twist the tool and pull it out and your tire should be plugged. Inflate the tire to the proper pressure and then run it on your vehicle. The heat from running the tire will help the plug seal the tire.
Sidewall Tire Punctures
The sidewall is a structural part of the tire and your car's safety could be compromised by a repair. If there is sidewall damage, it should be replaced with a new tire. Any attempt to repair a sidewall will substantially weaken the tire and shorten its life.
Related Questions and Answers
What is Included in a Tire Repair Kit?
A tire repair kit will contain everything that you need to repair a hole in your tire. You can order different kits from online dealers at good rates. But the actual contents of each kit will vary. For example, a slightly higher priced tire repair kit will contain plugs, rubber cements to hold the plugs or patches in place, rubber patches, hook tools, reamers and folding razor knifes to shape the plug or the patch. This kit will cost you about $9. More expensive kits will contain roadside repair lights, puncture plugging tools, puncture repair gums, tire pressure gauges and detailed instructions on how to do the job yourself. Check with a tire repair spare parts site for additional information.
What is the Average Price of a Tubeless Tire Repair Kit?
The average cost of tubeless tire repair kits will vary according to the person manufacturing it and the retailer who sells it. For example, try the Unipatch Rubber Limited System. It costs about $10-20 and contains rubber patches, sealant, needles, spiral tools and other items that will help you repair the puncture. Another system like the Nealey Mini Tire Repair Kit costs about $11. The same manufacturer sells a slightly more expensive kit with more additions. like the Nealey Deluxe Tire Repair Kit, that is sold for $21.95. Please check with a comparison site to get the most updated information.