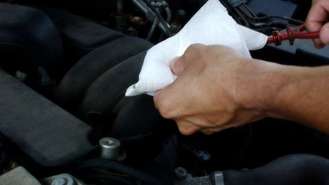 An eco-friendly oil change can help both your vehicle and the environment. Motor oil and other fluids, such as antifreeze, need to be replaced on a regular basis. These resources are non-renewable. This means once they are gone, they are irreplaceable. Also, one gallon of used motor allow can contaminate up to 1,000,000 gallons of water and can take years to degrade. With this in mind, proper recycling of used motor oil will help our environment and allow us to preserve the resources needed to keep using motor oil in the future.
Eco-Friendly Oil Change Locations
It's important to find oil change locations that offer facilities for the proper recycling of oil.
Quick oil change centers. Oil change chain locations such as Jiffy Lube and Speedy Oil now offer motor oil recycling services to help protect the environment. Furthermore, they also accept drop offs of used motor oil and ship them to recycling locations in order to encourage more people to recycle.
Major repair outlets. Major nationwide car repair centers such as Firestone now offer motor oil recycling services as well as acting as a drop off center for used motor oil. Even if you do not have your car repaired at one of these repair centers, they will usually accept up to five gallons of used motor all per day per person.
Auto parts stores. Many companies like Auto Zone and Schucks have set up oil change locations in their parking lots for customers that purchase oil there. These companies also accept used motor oil for proper disposal and recycling.