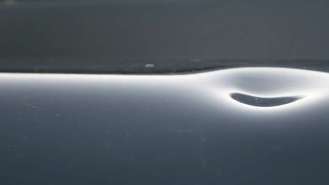 Learning how to do paintless dent repair is invaluable. It can save you a costly trip to the body shop and a huge investment in a new paint job for the whole vehicle. Most cars will get dinged eventually. Dent repair is important to the look of the car, the functioning of all its parts and for the resale value. It can also save you a costly insurance claim.
Tools and Materials
A bright light (portable)
A plunger or suction cup
A rubber mallet
A soft damp rag
A car dent removal kit
Dent Repair Step by Step
The following steps will help you get started on removing your own dents or at least to be ready for the next hail storm.
Evaluate the dent. Make sure the dent is not old or set too deeply into the surface to be knocked out easily. Wipe off the surface with a damp rag. Remove any layers or fabric that will come off, like a door panel or roof covering. Shine your bright light on it and see if you've missed anything, or if there are any strange lines threading away from the dent.
Try to suck out the dent. Using the largest plunger you have or a suction cup from the local auto supply shop, place the circle over your dent, making sure the dent is exactly in the center and will receive most of the suction. Be careful not to scratch the paint by moving the cup or plunger around while the suction is still being applied. Pull the plunger or suction cup hard away from the durface of the car, popping the dented metal back into place.
Tap it out. If you can get clear access to a door panel dent or one on the roof or hood, you may want to try and tap it out yourself. Try a couple taps with your rubber mallet and see how it looks or if it has moved. Also, beware of stretching. Sometimes when a car has dented, even if it looks manageable at first, the actual surface has been stretched and it won't fit back into place. If that happens, stop and get a professional opinion.
Try a do-it-yourself kit. Most auto body or repair shops carry a kit with tools to try and remove your own dent. As the popularity in taking dents out yourself rises, the kits get more elaborate and the instructions give more options to do it all yourself, taking out the guesswork once you have determined it is doable outside of a body shop.
There is a time, however, when it's more effective to take it to a body shop instead of messing with it yourself. If it looks like the dent has been knocked more than once or it has been there a while and is creased, chipped and worn, it might be better to have someone replace the panel or professionally take out the dent and repaint. Sometimes it's just not worth the effort when those efforts could end up doing more damage than good, and costing twice as much because of the duplication of energy.
Finding Reputable Dent Repair Shops in Your Area
One of the best and most reliable sources for information about auto body technicians are friends. Often times one of them has already needed a dent repair shop and done the work of figuring out which one is best. While their advice may be good, you have to be careful to not just take their word for it because sometimes different customers have different needs and experiences.
Check out the Shop
Once you have the name of a shop, go check it out before you need any work done. If you go when you need something from them you may feel pressured and not fully check out the shop. Another way to quickly determine whether the shop is reputable is to look for posted prices, awards, degrees and certification. Chances are that if a shop has all of those, you at least won't be scammed and will be aware of the price for the work.
Consider the Employees
Another indicator of a shop's professionalism is the employees. If they are friendly, courteous and knowledgeable then they will take pride in their work and do a good job. On the other hand if the employees are unsatisfied, and seem like they don't want your business; then they don't deserve your business and would not do a good job.
Test Their Work
One of the best methods for testing a repair shop is to have them do a small job before you use them for anything major. Have them repair a small dent and use that to determine whether they deserve the bigger jobs. While it may cost you some extra money that you wouldn't spend otherwise, it can save you from making a big mistake with a bad repair shop.
Factor in Location
While a convenient location can be a huge benefit, it should not be the biggest factor when picking a dent repair shop. While it may save time at first, in the long run it can lead to huge headaches and problems if the shop isn't qualified. A convenient location should only be the deciding factor between two equally qualified dent repair shops.
Beware of Lowball Estimates
The last piece of advice for finding a repair shop is that if it seems too good to be true, it probably is. If one shops charges half the price of another shop, don't just take the low price and have them do the repair. Instead ask them how they can afford to charge so little compared to the other shop and if the answer isn't satisfactory then don't go there.