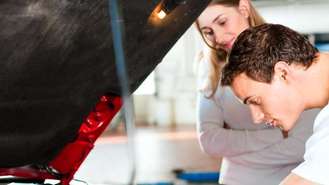 A few auto engine repair tips can help you keep your car in good health. Prevention can go a long way when having to deal with auto engine repairs.
A few auto engine repair tips can help you keep your car in good health. Prevention can go a long way when having to deal with auto engine repairs.
Symptoms of Engine Problems
If your A/C is not working properly, that could be a problem with the air compressor. The compressor circulates the refrigerant in the system making the A/C function effectively. See if there are any bad switches or fuses, wires or even a broken accessory belt. This will give you an idea of what may be wrong with your air compressor.
A few signs that could lead to replacing the PCV valve are loss of gas mileage, weak idling and slower power delivery. Check your PCV valve for clogging when these signs occur and change if necessary.
Maintenance to Prevent Auto Engine Repairs
Here are some quick and easy repairs that will potentially save you lots of money this year.
Replace your air filter. This is a 5-minute job that could save you tons of money in gas costs.
Flush your cooling system. This is a 10-minute task and adds longevity to the engine.
Get the proper tools. Having tools and shop towels inside your car could actually add years to the life of the car. If you break down you have the correct tools instead of improvising and possibly causing more damage to your car.
Replace spark plugs on schedule. Your owner's manual should include a maintenance schedule for your car. Stay as close to this schedule as possible to prevent low gas mileage and low engine power.
Replace your fuel filter. A clogged fuel filter is stealing your good gas mileage and may allow contaminates into the engine.
Clean your fuel injector. Use a fuel injector cleaner every time you change the oil in the car. This will ensure the fuel injectors are performing at their best.
Change the oil on schedule. Your owner's manual lists the kind of oil for your kind of car. If you don't want to do it yourself have an oil change shop do it for you. Using the correct oil and having it changed on time will give you extra mileage, extra power and better MPG.
Prevent corrosion. Make sure that all your electrical connections are clean and free from rust. For instance, the battery should be kept dirt free and all connections and wires to the battery must be kept clean.
How to Find a Trustworthy Repair Shop
Finding a trustworthy auto repair shop is crucial to ensuring that quality work will be performed by qualified mechanics. Identifying a trustworthy shop can be an intimidating task, however these steps will not only help you locate a repair shop but will also give you confidence that you are making the right choice.
Check out vehicle specific message boards. Forums like VWVortex have a strong user base that is enthusiastic about a particular make of vehicle. These forums usually have sections divided by geographic areas. These sub-forums usually have information regarding local repair shops.
Don't rule out the dealership. Some people are hesitant to take their cars to a dealership after the warranty has run out, for fear of high repair bills. It's important to note that most dealership mechanics are trained to perform service specifically on the types of vehicles that they sell. This means knowledgeable technicians will be doing the work and the repairs will probably have some sort of guarantee.
Look at reviews. Do online searches specifically for the shops you have identified. If you found Bob's BMW Repairs in your town, search for "Bob's BMW Repairs review" or something along those lines to identify Internet users who have used that particular shop.
Contact the shops. Call or stop by the shop to talk about your specific needs and the qualifications of the mechanics that will be working on your vehicle. Although it's not always a fail-safe indicator of quality, ask if they are ASE certified and if the technicians have had specialized training on your brand of automobile.
Get estimates. Specialty shops sometimes have very high labor rates and parts mark-ups. Avoid the unpleasant surprise of a higher than expected bill by getting written estimates. Once you have an estimate from one shop, get another. Having multiple estimates will make the decision making process much easier.
Get warranty information in writing. Once you have an estimate you can live with, be sure to find out the shop's warranty policy. Some independent shops offer no warranty and could leave you with costly unexpected follow-up repairs. Most dealerships will stand behind repair work for a predetermined amount of time.
Ask your friends. Before making the final decision, ask around. With a list of 100 shops, this might be impossible, however with a list of three to five shops in mind, there is a chance that a colleague has used one of the shops.
Don't underestimate your gut. It's important to make a decision based upon a complete set of facts. If you visit the shop and get a bad impression from one of the mechanics or are treated poorly by the receptionist, walk away. Poor customer service before the repair is generally an indicator of poor customer service after the repair.