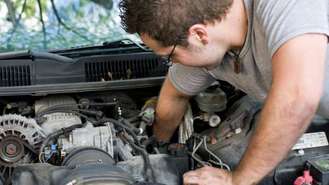 The spark plug wiring in your car should be checked at least every two years and replaced when necessary. Modern cars rely heavily on modern electronic ignition systems to properly conduct electricity for a clean, consistent spark. Manufacturers utilize different methods in constructing ignition wires that will not only suppress RFI (radio frequency interference) and EMI (electromagnetic interference), but provide an extended service life.
Ignition Wire Conductors
There are three general types of ignition wire conductors and understanding each type is important to get a general overview of how ignition wires could differ in performance.
Copper wire conductors. Copper was the prime choice to use as an ignition conductor in the infancy of motoring. Copper ignition wires were durable and would last the life of the car. They also provided almost no resistance to the flow of electricity to ignite the spark plugs and were cheap to make. But these conductors emit too much RFI and cause interference in radio and television signals. The FCC regulated the amount of RFI emitted by stand-alone motors or other sources in the 1960s, which led to the slow demise of the copper wire conductor.
Carbon wire conductors. Carbon wire conductors are the most common type of ignition wire in most modern vehicles. These are also known as "suppression conductors" due to excellent suppression levels of both RFI and EMI. Like copper, carbon is durable and cheap to make, but needs specific attention when it comes to service life. Vehicle manufacturers consider carbon wire conductors as serviceable items and should be replaced when necessary to ensure consistent vehicle performance. Carbon conductors are usually made of fiberglass and kevlar, with a coating of silicone or any high conductive latex for improved noise suppression.
Wire wound conductors. A carbon core conductor wound in a thin thread of stainless steel or alloy wires gives the wire wound conductor the low resistance and suppression abilities of a carbon conductor, with the added benefit of heat resistance and added durability. Wire wound conductors give the most consistent current even in high heat or extreme use, while still offering low resistance. All these benefits come at a price, though. Wire wound ignition wires can cost up to 10 times more than the average carbon wire. When talking about ignition wire conductors, the ones with the lowest resistance are considered the most expensive.
A high performance vehicle would perform optimally with the use of wire wound ignition cables, but a normal city driven car would be content with a carbon ignition cable. Applications may vary, and remember that the most expensive may not necessarily be the best choice for your car.
Spark Plug Ignition Wire Sets
Spark plug wire sets are part of a performance upgrade that not only aids in combustion efficiency but in reliability as well. Quality spark plug ignition wire sets are built to last and withstand extreme high temperatures inside the engine bay while still providing consistent ignition performance.
High Performance Brands
Vitek Performance. The Vitek Performance spark plug power cable set is among the best on the market and offer innovations such as a nylon/Kevlar conductor wound in a copper/nickel alloy metal. The terminals are all stainless steel and ensure a snug fit. The high performance series are triple insulated and promise to negate distortion, especially for those with complicated car audio set ups. Vitek Perfoirmance wire sets are guaranteed to last the life of the vehicle.
MSD. Forty years of experience in ignition research and engineering have made MSD a renowned brand when it comes to ignition parts and accessories. Their line of Heli-Core spark plug wires boast a stainless steel conductor wound in a glass core. Other models, such as the Super Conductor wire sets, are made of ultra low resistance 8.5mm copper alloy conductor that limits the amount of interference. A high quality silicone casing and jacket give these wires extreme durability at high temperature and resists scuffs, dirt and tear.
Why You Should Replace Spark Plug Wires with New Spark Plugs
Rather than install new spark plug wires when your older wires become damaged or used up, it's often easier to install new spark plugs instead. A spark plug wire set can be purchased separately from the plug itself, but installing it is usually considered a waste of your time and resources.
Benefits of Installing a New Spark Plug Set
If you install new spark plug wires, the plugs themselves are still subject to the same damage and wear and tear that will cause them to break down regularly anyway. This means that you'll still have to replace the plugs periodically, even if you've already changed out the wires. It makes more sense to simply replace the spark plugs as a whole rather than to replace the wires and then the plugs once again; you'll save yourself from having to make two different replacement procedures instead of one.
Other Considerations
The cost of purchasing a set of spark plug wires is lower than the cost of purchasing a new spark plug. However, due to the fact that you'll eventually have to replace the outer casing and other parts of the spark plug if you only replace the wire set, the total costs are likely to be higher if you begin by only replacing the wires.
Furthermore, the process of replacing the entire spark plug set at once is generally considered to be easier than replacing the wires themselves. This means that those who have less experience will be more comfortable replacing the plugs.