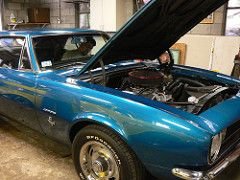 If you own a Chevy, an oil change may be somewhat different than expected. While the actual process of changing the oil in a Chevrolet is about the same as with many other types of vehicles, there are a few things that you should keep in mind.
Oil Life Reset
When changing the oil in your Chevrolet vehicle, you will need to reset the oil life indicator on the vehicle. Therefore, if you are having the oil changed by a quick oil change company or if you're doing the oil change yourself, you need to ensure that the instructions contained in the vehicle's owner's manual are followed to ensure that the indicator is reset
Chevy Dealerships
In order to encourage Chevrolet owners to have their oil changed at authorized Chevrolet dealerships, you can often find Chevy oil change coupons that will save money when having your car serviced at the dealership. Also, by having your oil changed at the dealership, you will avoid any potential issues with an oil change that may cause the manufacturer to void your warranty.
Chevrolet Warranty Considerations
If you own a Chevrolet, you need to make sure that you keep all receipts for oil purchases and oil changes for your Chevrolet vehicle. Many car manufacturers are finding ways to limit their liability, and thus save money, by requiring customers to keep more adequate records to prove that they have maintained their vehicle according to the manufacturer's specifications. Therefore, always make sure you keep receipts for oil changes on your Chevrolet.