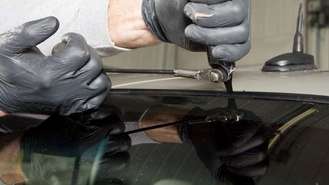 A windshield repair quote varies depending on the type of repair and the auto glass service that you use. A damaged windshield poses a danger to drivers and passengers that can be avoided by having repairs completed as soon as possible.
The price range for the repair or replacement of a windshield is between $20 and $325. This price range reflects the differences in by vehicle type and whether the replacement is for the front or rear windshield. You can often attend to small surface cracks yourself, while cracks that have penetrated the surface need the attention of a qualified auto glass repair technician.
Windshield Replacement
The replacement of the front or rear windshield glass is the most expensive repair, averaging $300 for all vehicle types. A window replacement is required when the length of a crack exceeds 24 inches, or is too big to be repaired safely by the repair shop.
The replacement of a windshield may have additional costs, depending on the type of vehicle. Vehicles with special molding requirements will add up to $20 to the cost of repair. If the windshield has wipers attached, this will result in another $10 to $20 increase in the cost of repair.
Chips and Cracks
Chips and cracks occur when debris, such as gravel, hits the windshield, leaving a mark. Damage of this type that scratches the surface of the windshield can be repaired with a $30 Diamondite glass cleaning kit.
You run a fingernail across the surface of the crack and it is caught, this requires the repair to be performed by an auto glass repair shop. This repair will cost between $20 and $60. A mobile service is around $55. The cost to repair a chip or crack is on a per incident basis - that is you will pay for every crack or chip.
The size of the crack will also determine the cost. Chips or cracks that are up to a foot in length will cost $50 to $60 to repair. Those chips and cracks that are between one and two feet in length will cost $60 to $70 to repair.
Average Price by Vehicle Type
The cost, on average, to repair a windshield breaks down as follow by type of vehicle:
Passenger vehicle windshield replacement $157 to $324
Sports utility vehicle windshield replacement $164 to $290
Pickup truck windshield replacement $164 to $310
Minivan windshield replacement $174 to $294
How to Get a Windshield Repair Quote
Obtaining a windshield repair quote should be easy to accomplish and take a relative short period of time. Using the Internet to obtain a quote will also allow for you to do a price comparison among different repair shops.
Obtain a List of Windshield Repair Shops
Use the Internet to obtain a list of local auto glass repair shops. These shops should be chosen for their reputation and ability to complete the repair of your damaged windshield in a timely and professional manner. A shop that can come to you and complete the repair will rate higher than one where you have to take your car.
Because the windshield is an important safety component of the car, it is better to choose shops that specialize in auto glass repair as opposed to a dealership or general auto body shop that may not specialize in glass repair.
Request an Online Windshield Repair Quote
Choose those auto glass repair shops that offer an online quote form. These shops are easier to obtain information from in order to compare with other auto glass repair facilities. Complete the form in order to make a request for the type of repair that you need to have done to your vehicle.
Choose between Several Repair Shops and Compare
Once you obtain quote information for the repair shops from the online forms, compare the pricing to determine which repair option best fits your budget. You want to be careful and not base your decision solely on price; cheap is not better. An auto glass repair shop that is inexpensive but has a poor reputation will cost you more in the long run than a shop that is a little more expensive but has an excellent reputation.
Select a Windshield Repair Shop
After you make your selection, call the auto glass repair shop and make the arrangements for the repair. Use the quote that you receive as the basis for the price you are willing to pay for the service, but understand that the quote is not necessarily a firm price until the repair is actually performed by the shop.