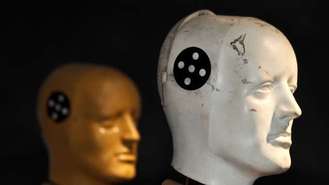 Van shoppers are no doubt concerned with finding the best crash test rating van available for their money. With the space and utility of an SUV but similar handling and gas mileage to a car, minivans have surged in popularity ever since Dodge introduced the first one, the Caravan, for the 1984 model year. Since the primary purchasers of minivans are families, crash test safety takes a top priority in this class of vehicle.
The National Highway Traffic Safety Administration (NHTSA) is a well-known provider of crash test data. They crash test the new vehicles sold in America each year, and rate each of them on a star system (five stars being the highest ranking). In fact, many auto manufacturers use NHTSA data when advertising their vehicles.
Dodge Grand Caravan
It's fitting that the minivan that started it all is also one of the safest. The Dodge Grand Caravan (and its corporate twin, the Chrysler Town & Country) scored very well in NHTSA crash tests. It was given a five star rating for both driver and front passenger frontal collisions, as well as for driver and rear passenger side impact collisions. Additionally, it received four stars for rollover safety. The Grand Caravan comes standard with dual front airbags and side curtain airbags that span the entire vehicle. In addition, it comes with a high-strength steel safety cage to further protect its occupants.
Honda Odyssey
Honda's Odyssey is one of the most popular minivans in America. With its stylish looks and powerful engine with Honda's reputation for reliability, and the Odyssey is a winner in the eyes of many consumers. The NHTSA gave it the same crash test ratings as the Dodge Grand Caravan. Besides the requisite complete vehicle airbags, the Odyssey comes equipped with standard anti-lock brakes (ABS), active front head restraints and Honda's Vehicle Stability Assist with traction control.
Kia Sedona
Kia has made great strides in recent years with vehicle quality and dependability, and consumers are beginning to take notice. Improved safety in Kia's vehicles is also contributing to their increasing popularity. Similar to the vans above, the Sedona received five stars for front driver and front passenger head-on collisions, five stars for driver and rear passenger side impact collisions, and four stars for rollover accidents. The Sedona has host of standard safety features, including a complete vehicle airbag system, 4-wheel ABS and side impact door beams.
Toyota Sienna
Toyota's Sienna has become a major player in the minivan market since its introduction in 1998. Like Honda, Toyota's reputation for quality and durability was a contributing factor to the Sienna's rise. In NHTSA crash tests, the Sienna was given four stars for front driver head-on collisions and rollover accidents, and five stars for front passenger frontal collisions and driver and rear passenger side collisions. Standard safety features include airbags, stability control and front and rear crumple zones.
Chevrolet Uplander
The Chevrolet Uplander was first sold in 2005. This vehicle is most noted as having a price of just over $20,000 when brand new. One item of note is the large fuel tank on the vehicle, allowing an owner to drive upwards of six hundred miles at a stretch before running out of gas.
During crash testing, the Chevrolet Uplander fared well overall in comparison to most vans. However, rollover testing proved to be marginal at high speeds.
Ford Freestar
The Ford Freestar joined the market in 2004 and has been a favorite among van owners ever since. Despite its slightly lower power (roughly 201 horsepower), it has several passenger safety and comfortable drive features, so people tend to overlook the slower rise to top speed. Cruise control, keyless entry and tri-part air-conditioning are all standard with this vehicle, as well as a few aesthetic perks such as the leather wrapped steering wheel and a privacy glass.
Safety features of the vehicle are standard airbags, self sealing tires and brakeforce distribution. In crash testing, the vehicle received five stars for frontal crashes, four for side impact and five stars for rear crashes.
Chevrolet Express
The Chevrolet Express has two model options. One is a 1-ton (3500) edition while the other is a half-ton (1500) model. The 3500 edition of the Chevrolet Express is equipped with an extended wheelbase. This extension makes room for a total of 15 passengers. The 1-ton edition is also equipped with base LS and sophisticated LT. For family use, the LT edition is the better option. It is equipped with full power components, has an A/C rear, more sophisticated interior and cruise control. It also has side curtain airbags and standard stability control.
Check out our list for the Best Crash Test Rating SUV's >>
Related Questions and Answers
What is the Number of Auto Accident Deaths Per Year for the Last 5 Years?
There are tens of thousands of auto accident deaths on American roadways every year in accidents caused by a variety of factors. By far the largest causative factor in these accidents and thus these needless deaths is alcohol. Just how many people die on American roadways every year may terrify you. In 2009, the last for which data is available, 33,808 people died on American roads and highways. This is the lowest number in over sixty years. 2008 saw the second lowest number of highway fatalities in a number of years at 37,261. In 2007, 41,059 people died on American roads. The year 2006, saw the second highest number of deaths in this five year period at 42.642 deaths. In 2005, more people died than any of the others in this five year study at 43,443. Better enforcement and stricter punishments have seen traffic fatalities decrease by several thousand over the past five years.
What is the Best Crash Test Rating?
The Insurance Institute for Highway Safety assigns best crash test rating to vehicles that pass certain tests. Tests are full frontal, front oblique, side impact and rear impact. Values derived from these tests are combined and an overall number or rating is assigned. The "Insurance Institute for Highway Safety Crash Ratings" are the one most people look for. A very safe vehicle will be rated as good in each of the categories tested, plus provide more than adequate rollover and head restraint protection, along with vehicle stability control. This very safe vehicle will be awarded the Institute's highest honor of Top Safety Pick for a given year. The government rates vehicle crash safety on a star basis. Five star crash ratings are the best that can be awarded. Air bags, side impact bars and rollover safety have made cars much safer to drive over the years.
What is the Best Hybrid Sedan for Gas Mileage?
A hybrid sedan has dual power and the small internal combustion engine and electric motor add power. Which is the best hybrid sedan is a debatable topic, as it is very specific to the driver. This energy efficient vehicle will reduce your carbon footprint. The three best hybrid sedans are the Toyota Prius, Toyota Highlander Hybrid and Toyota Camry Hybrid. They each have an EPA estimated mileage rating between 22 and 33 miles, depending on the type of road it is driven. This mileage is much less than a normal car that runs on gas or diesel.
What Different Features are Included in a Hybrid Sports Sedan?
There are not many hybrid sports sedans on the market right now, as it is a relatively new type of vehicle. The Nissan Altima Hybrid was one of the first hybrid sports sedan models and it is designed similarly to the normal sports sedans with a 2.5 liter 4 cylinder engine. The advantage is that the Altima has an estimated mileage rating between 33 and 35 miles per gallon and has all the other sports car features. Although sports sedans are heavier than other cars, the hybrid sports sedan will be much more fuel efficient than a traditional sports car.
Which Hybrid SUV's have the Highest Safety Rating?
The SUV with the highest hybrid safety rating is generally the most expensive, but at least it will survive an accident better than any other SUV. The Lexus RX 450h has a 3.5 l powerful engine, but it is also known for its safety features. The Honda Insight and the 2010 Toyota Prius also obtain a high hybrid safety rating, based on road tests that examine the braking speed, steering efficiency and wheel grip, among other safety features. The safety tests also examine fuel economy and owner satisfaction surveys.