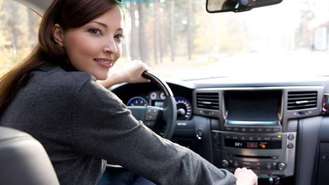 While there's nothing quite like the excitement of being a new driver, the latest cars & trucks are crammed with a dizzying number of features and technology. Fortunately, there are some things new drivers can do to maintain focus on the road and make things safer for both themselves and others.
Keep Your Hands on the Wheel

It may sound simple, but many people have trouble following this simple suggestion. Before your car ever leaves the driveway, adjust your mirrors, your seat and anything else you may have to before you take off. Using a navigation system? Consider inputting your route ahead of time.

Doing this prevents you from having to make these adjustments on the road, which can easily take your eyes off of what's in front of you and create a dangerous situation. Odds are these things will take less than a minute, a trivial amount of time given the risks of distracted driving.


Stop Touching the Radio

Everyone likes listening to their favorite music while driving. It helps pass the time on long trips and can help you keep tabs on the latest news & weather. However, excessively fiddling with controls on the center stack of your car can be distracting.

If your vehicle has radio controls on the steering wheel, use those instead of leaning over to touch the unit itself. If you still aren't familiar with the controls of a new car, take some time to get acquainted. Not sure about how something works? Read the owner's manual and become an expert.

Alternatively, consider switching off the radio entirely if you're new to driving. This will allow you to get accustomed to the natural sound of traffic and how your particular car muffles the sounds of the outside world.


Turn Off Your Cell Phone

In today's world, everyone is connected wirelessly. Text, email, phone calls, music— today's wireless phones are multimedia powerhouses. They can also be incredibly distracting (and get you a ticket in some states).

Studies have shown that driving while texting can be just as dangerous as driving drunk. Consider turning off your ringer or turning off your phone entirely if the desire to check it is too tempting.

If you really need to use your phone in an emergency, consider pulling over or find a safe place to stop. With the prevalence of things like robocalls and spam texts, you shouldn't risk getting into an accident for something so trifling.


Wear Your Seat Belt

This is another tip that may sound painfully obvious, but many people don't take heed. First and foremost, wearing a seat belt is scientifically proven to help prevent injury in an accident. Second, not wearing your seat belt is a ticketable offense in most states.

Save yourself the hassle, and the money, and just wear your seat belt. It could save your life.


Stay in Your Lane

Yet another seemingly apparent rule of driving that many people just can't follow. Pay close attention to what lane you are driving in. If you cut a person off you can cause an accident, or a backup in traffic.

Many new vehicles now offer lane departure warning, which sounds an audible alert if it senses you're drifting out of your lane. Some models even have lane-keeping assist, which helps nudge you toward the center of the lane if necessary.


Consider Taking A Class

Some organizations offer classes in something called defensive driving. In some cases, you may even be able to qualify for discounts on your car insurance. Odds are the benefits of increasing your knowledge will be well worth the upfront cost of a class.