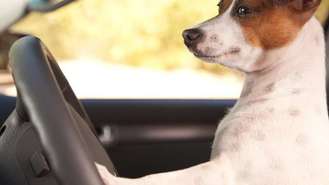 For dog owners, our furry friends are often considered members of the family. While many cars & trucks can be suitable for the needs of dog owners, there are some important things to keep in mind to ensure that driving with a dog goes safely and smoothly.
In general, dog owners should look for key features such as a spacious interior, seats that can handle the wear & tear, and ample cargo space to store not only your luggage but your pet's stuff in the event of a road trip. Here are some picks worth considering.
Subaru Forester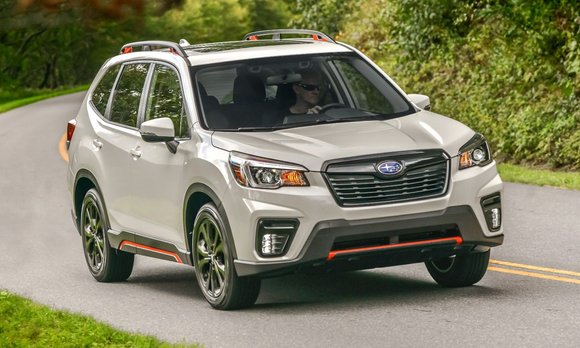 With up to 33 mpg on the highway, the Subaru Forester is surprisingly efficient. Now that the automaker's EyeSight driver assistance technology is standard, both you and Fido can benefit from safety features like automatic emergency braking, lane departure warning, and more.
While many of these features are becoming common in competitors, the Forester offers a unique high-roof design that makes it feel larger than it is. Along with a comfortable ride, the model also comes with the confidence-inspiring characteristics of all-wheel-drive.
Prices for the Forester start just over $25,000 in base form.
Learn more about the Subaru Forester »
Toyota RAV4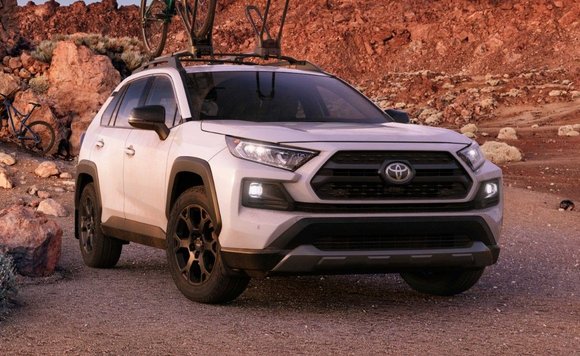 Like most Toyotas, the RAV4 comes equipped with advanced safety features like automatic emergency braking, adaptive cruise control, and lane departure warning. The latest version also features new additions like road sign and cyclist detection.
Unlike most of its competitors, there's an even greener option thanks to the RAV4 Hybrid. It's rated at 40 mpg overall, making it one of the most fuel-efficient options in its class. The vehicle features a more rugged look compared to the previous generation.
Prices for the RAV4 start just under $27,000. We consider the RAV4 Hybrid LE to be a surprisingly good value when compared with a similarly-equipped all-wheel-drive RAV4. In terms of price, the difference can be less than $1,000.
Learn more about the Toyota RAV4 »
Other vehicles that deserve to be mentioned as having dog-friendly layouts are:
Dog Safety Considerations
Dangers of Distracted Driving

Many times when driving down the road you will see dogs running from the back seat to the front seat of a car while it is in motion. This practice is dangerous to both the pet and the car driver. A distracted driver is more likely to be involved in a vehicle accident than a driver who is not distracted. Having your pet running in the car while it is in motion is a recipe for disaster.


General Safety Precautions

A dog should always ride in the back of a car in a harness or specialized seatbelt for dogs. Like children, large dogs should be placed in the rear seat in order to prevent them from becoming a distraction while driving and reduce the risk of harm that may be caused from a discharged passenger side air bag deployed during a crash.

Dogs can also be distracting to the driver. Some want to jump into the driver's lap, hang their heads out of a window, or jump from the front seat to the back. There are many devices on the market that help to keep the dog secure in every make and model car. In some cases, these devices may work in concert with your existing seatbelts to minimize movement in the event of a crash.

Dogs that are allowed to ride unsecured in truck beds are a concern to lawmakers and actions have been taken in some municipalities to outlaw people and dogs riding in truck beds. Another dog car safety hazard is leaving a dog unattended for long periods of time in a hot car. Temperatures in direct sunlight can rise more rapidly than you might expect.


Pet Carriers

Small dogs under 30 pounds and cats can be placed in a travel-approved carrier. This equipment is designed to be strapped into the rear seat of the car and provide side and front crash protection in the event of an accident.

This type of device is a must for a car owner that travels a lot with their pet and would be concerned that the pet would be injured in the event of an accident. Taking the time to observe some basic pet safety techniques can make the difference between life and death.

A pet store or car dealer may be able to assist you with identifying special safety equipment specific for your pets. Your local pet store can help you pick out the appropriate device for your pet and install it properly in order for it to work properly.


Car Window Safety

There are times when dogs can be seen with their head out of the window on a nice summer day. However, as dog lovers can admire this sentiment, it is very unsafe for the dog and drivers alike.

It does not take much force for the dog to lose balance on its two hind legs, which could send the dog out of the window. Some dogs might even try to climb out of the window. Rocks, dirt, and other debris can cause serious injury to sensitive areas like eyes and noses.

Explore Top-Rated Crossover SUVs

»