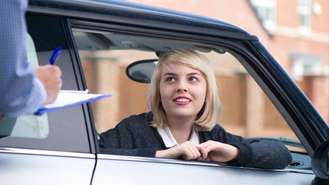 If you have to retake a driving test, you may not have to wait as long as you think. Every state's department of motor vehicles has a different rescheduling time. Some allow you can take the test whenever you can make an appointment; others impose a waiting period. For example: In California, you must wait six weeks before taking the test again, while in New York you may take the test the next day.
States do, however, limit how many times you can retake the test. This number is usually around three, but no more than five. After that, they may require you to take a driver's education course and wait a given amount of time, usually three to six months. They require this time so you can practice driving in a safe, controlled environment before your next test.
Failing
Whether you're taking your driving test for the first time or the fifth, it's important to avoid behaviors that earn an automatic fail. These include ignoring the instructor, offering a bribe, committing a traffic violation and refusing to abide by the rules of the test.
Does Retaking a Driving Test Increase the Cost of Auto Insurance?
As long as you pass the test within three attempts, you shouldn't see an increase in insurance rates. Premiums will likely rise, however, or your policy may be canceled if a series of failed tests leaves you without a valid license.
Related Questions and Answers
How long must a permit-holder wait before making an appointment for a driving test?
Once you earn your learner's permit, you may be forced to wait an allotted amount of time before you can take your driving test. Some states allow you to schedule an appointment in advance, but you must usually wait 120 to 180 days before taking the test. This delay varies by state, and you should consult your local department of motor vehicles for specific requirements and instructions.
What three things do you need on the day of a driving test?
You will need several items on the day of your driving test. Most importantly, you should bring your previous driver's license, or your learner's permit if you are a new driver. Also bring a vehicle in which to take your test, and proof of insurance. Lastly, it's a good idea to bring a course completion card that proves you successfully completed the written portion of the driving test.