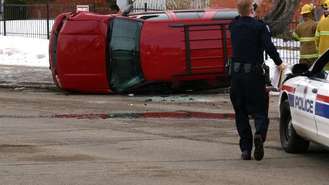 A vehicle's rollover rating estimates the risk of its rolling over in a single-vehicle crash, according to an official definition of the term by the National Highway Traffic Safety Administration. It is an important indicator of vehicle stability and safety.
NHSTA developed a five-star rollover-resistance rating system based on data gathered from over 86,000 single-vehicle crashes involving rollovers. Rollover ratings combine two measures; one is a measure of how well balanced a vehicle is when stationary and the other is a measure of how the vehicle performs in a simulated high-speed avoidance maneuver.
The 4 Best Rollover Rated SUVs
Increased size, space, and utility are all benefits of owning an SUV. However, due to their generally top-heavy design, they are also known for a higher probability of rollover. As their popularity has grown (and as lawsuits have been filed), auto manufacturers have spent millions of dollars improving SUV rollover safety.
The ratings below are based on 2010 model year SUVs with all-wheel drive. Of the 2010 SUVs tested by NHTSA, the highest rating achieved was four-stars. Many models received this ranking, so we listed the four most affordable SUVs below.
The 5 Best Rollover Rated Sports Cars
Rollover accidents can occur in any kind of vehicle, but the rollover rating for sports cars are typically higher than other types of vehicles, including pickup trucks and SUVs, due to their low center of gravity. Some cars (like the unrated Porsche Panamera) come equipped with a rollover-protection system to help enhance safety even further. Here are the top-five rollover-rated sports cars.
The 5 Best Rollover Rated Trucks
Rollovers account for 45 percent of all pickup truck deaths, so the NHTSA's rollover rating for trucks should be an important factor in any purchase decision. A high center of gravity and/or narrow track width (distance between the right and left tires) make a rollover accident more likely. Fortunately for consumers, the pickups with the best rollover ratings also have the highest overall consumer ratings.
For 2010, the top five rollover rated trucks are:
The 5 Best Rollover Rated Vans
According to tests run by NHTSA, most vans have rollover ratings between three and four stars, with a 15 to 30 percent chance of rolling over. Vans tend to be more vulnerable to rolling over than passenger cars because of extra weight behind the rear axle. Here are five of the safest vans according to rollover tests:
The 5 Best Rollover Rated Hybrid Cars
Hybrid owners want to help protect the environment, but not at the risk of endangering their families. Hybrid cars are put through the same rigorous testing as any other vehicle, and listed below are the rollover ratings for hybrid cars (2009 models).
The 5 Best Rollover Rated Sedans
Passenger cars have about a 12 percent chance of rolling over, according to NHTSA. Here are five of the safest.