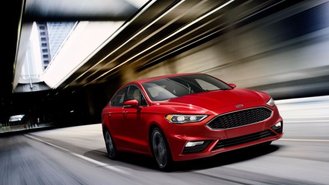 Both Ford and its luxury-brand counterpart, Lincoln, have been growing strong in certification lately. Combined sales of certified pre-owned vehicles from the two brands more than doubled between 2012 and 2015, according to a Ford spokesperson: from 130,330 to 296,001. At least one-fifth of all used vehicles sold by Ford and Lincoln dealerships have been certified. That percentage corresponds to the industry average, as calculated by the JD Power organization.

Factory-certified pre-owned vehicles undergo a comprehensive, point-by-point inspection, and come with an extended warranty. Most notably, they're backed by the manufacturer of the car (in this case, Ford). Inspection is performed at a franchised Ford dealership, by technicians familiar with that brand.

Several other organizations offer "certified" cars, including warranty companies, publications, and independent (non-franchised) dealers. Inspections and an extended warranty are part of the process, but such third-party certification has no connection to the original manufacturer. If anything goes wrong, the owner must deal with the certifying organization, not the Ford company or its new-car dealership.

Inspection at a Ford dealership covers 172 points, which is about average for factory CPO programs. To be considered for certification, a Ford has to be less than six years old, with fewer than 80,000 miles showing on its odometer.

The Ford CPO buyer is entitled to any balance of the new-car warranty, plus additional 12-month/12,000-mile comprehensive coverage. Also included is a 7-year/100,000-mile powertrain warranty, emphasizing the engine and transmission, starting from the Ford's original new-car in-service date. A $100 deductible is charged for each warranty-related visit to the service department. Like most factory CPO programs, Ford's gives a copy of the CARFAX Vehicle History Report to the new owner.

Ford dealerships typically offer special financing, including a low interest rate (APR) for a specified term. Special "perks" also include Destination Assistance, Trip Interruption (up to $500 for three days), a free loaner car when needed, and a three-month trial of SiriusXM satellite radio. Roadside Assistance also is part of the package.


Nothing has changed lately in Ford's CPO program, which a spokesperson advised is "competitive with other OEM [Original Equipment Manufacturer] programs, with similar inspection and reconditioning requirements and warranties." Why buy certified? Top reasons, according to Ford, are the factory inspection checklist, warranty, overall value in a high-quality vehicle, and that essential element: "peace of mind."

Although "price is always important to consumers," Ford's spokesperson noted, it's not the sole factor. The "warranty is extremely important," because one of a customer's foremost fears is "potential for unexpected repair bills."

The average "price premium" for a certified pre-owned vehicle is above $1,000, according to calculations by JD Power and AutoTrader. A 2016 consumer survey by NADA Used Car Guide determined that the average additional cost for certification of a mainstream-brand vehicle, such as Ford, is $1,190. More than 70 percent of respondents expressed willingness to pay a premium price for a CPO model.

CPO popularity seems certain to grow in the coming years, because the foremost source of certifiable cars are those coming off a lease with a two- or three-year term. The supply of off-lease vehicles is expected to increase.

"Most customers don't fully comprehend CPO features and benefits until a dealer salesperson explains them," said Ford's spokesperson. Research suggests that awareness is growing, but gradually. Almost 60 percent of women and more than one-third of men participating in the NADA Used Car Guide survey admitted to have little or no familiarity with CPO vehicles.

Turning to alternative certification, offered by such organizations as Costco and CarMark, might cost less, while including a thorough inspection and other benefits. Only with a factory-backed CPO program, however, is the original manufacturer and its dealerships involved.