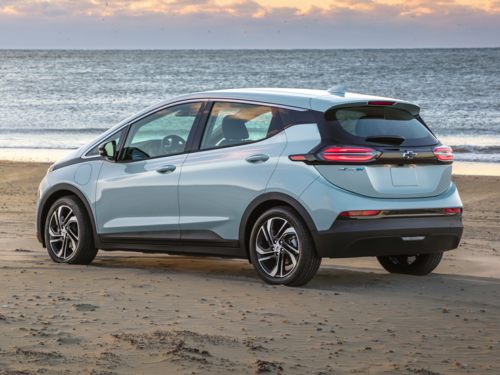 2022 Chevrolet Bolt EV Prices and Deals
Mix of model years
The restyled 2022 Bolt EV has started arriving at dealers nationwide. It will be followed by a new crossover variant called the Bolt EUV (covered in a separate entry).
The 2022 Bolt EV receives a $5,500 price cut to better align MSRPs with actual transaction prices. This means rebates and discounts will be harder to come by, if not eliminated.
The 2021 Bolt EV remains very much available, and factory incentives are extremely generous right now. In California, the Bolt EV qualifies for a $2,000 Clean Vehicle Rebate and a $1,500 Clean Fuel Reward.
Current factory offers are available on a national basis through August 2, 2021 unless otherwise noted. This page is updated monthly, so check back for updated information.
Lease: From $166 for 36 months
Current lessees of any brand can now lease a 2021 Bolt EV LT with Fast Charge from $288 for 36 months (10,000 miles year) with just $288 due at signing. The effective monthly cost works out to $296, an exceptional value relative to MSRP.
Even better, Costco members are now eligible for a $1,000 bonus that lowers the cost to $205 a month with $205 at signing.
In San Francisco, the same 2021 Bolt EV model starts at $250 a month with $250 at signing for current lessees. With the Costco bonus factored in, the cost drops to $166 a month with $166 at signing.
If you're not currently in a lease, the cash at signing will be $1,500 higher on these leases, which still provides very good value.
As for the incoming 2022 Bolt EV, the 1LT model starts at $269 a month with $4,979 due at signing for current lessees. The effective monthly cost is $407, which falls just short of a good value in our analysis. With the Costco bonus, the cash at signing drops to $3,979, which makes for a good value. Even so, going with a 2021 Bolt EV model is a no-brainer from a cost standpoint.
Rebates: Up to $12,000 off 2021s
Chevy now offers a $8,000 factory rebate on the 2021 Bolt EV to all buyers. Models equipped with Fast Charge come with a $1,000 bonus for a total of $9,000 off.
In addition, Costco members will receive a $3,000 bonus, bringing your potential savings to a hefty $12,000.

There are no factory cash incentives on the 2022 Bolt EV. It's even excluded from GM Employee and Supplier Pricing. However, a $1,000 Costco bonus is available.
Finance: From 0% APR for 72 months
Instead of the standard rebate, Chevy now offers 0% financing for 72 months on the 2021 Bolt EV. You remain eligible for the $1,000 Fast Charge bonus and the $3,000 Costco bonus.
There are no special APR offers on the incoming 2022 Bolt EV, and we may not see any for several months. For now, we recommend comparing rates at a few local dealers.
Advertised Lease Deals
2022 1LT (GM/Non-GM Lessees)
2021 LT with Fast Charge (GM/Non-GM Lessees)
Excellent Deal
2021 LT with Fast Charge (San Francisco, GM/Non-GM Lessees)
Excellent Deal
This ranks as an excellent deal based on our expert analysis of: vehicle price, length of lease term, amount due at signing, monthly payment, etc.
CarsDirect Target Price
Prices vary by style
CarsDirect
Pricing as of 8/5/21 in 20149
Leases For Similar Cars
Based on 2022 Chevrolet Bolt EV 1LT 4dr Wagon - MSRP $31,995
Insider Information
We have information you must know before you buy the Bolt EV. We want to send it to you, along with other pricing insights.
I agree to receive emails from CarsDirect. I understand that I can unsubscribe at any time.
We will not spam you, and will never sell your email. Privacy Policy.
Thank you. You are now subscribed to our Pricing Insider updates.