For the 2020 model year, Chevrolet introduced an all-new Corvette. Moving further upstream, the Corvette gained a mid-engined design, a hardtop convertible model, and more upscale materials. With the sports car entering its third model year on sale, we expect the 2022 Chevrolet Corvette to be a carryover model.
When the Chevrolet Corvette arrived in 2020, it took the sports car into new territory with a mid-engined design. The move to put the engine in the middle of the Corvette resulted in a sharper, longer, and wider look. The sharp triangular headlights, pointy front fascia, and wide air intakes give the current Corvette supercar styling. Wide air vents on the side, funky rectangular taillights, and quad exhaust outlets are other highlights on the Corvette. We expect the 2022 Corvette's styling to share a lot of design elements as the current model.
The interior of the current Corvette should carry over for the 2022 model year, which is a good thing as it's the nicest cabin we've seen in the sports car's history. The shapely cabin in the Corvette will continue to be split by a long array of buttons and a center console that's oriented toward the driver. Thanks to a removable roof panel on the coupe body style, passengers will also be able to get the benefits of a convertible without the drawbacks.
On top of an 8-inch touchscreen, we expect all of the current Corvette's tech features to carry over for 2022. That means Apple CarPlay, Android Auto, a 12-inch digital instrument cluster, a 10-speaker audio system, satellite radio, and two USB ports will be standard. A performance data and video recorder, 14 audio speakers, and a wireless smartphone charger will continue to be optional.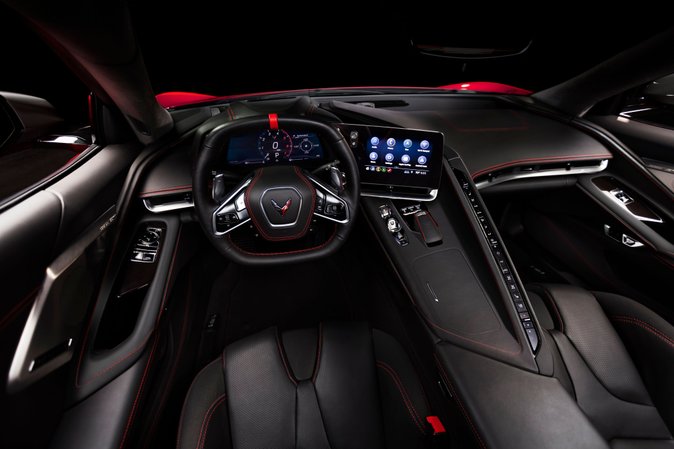 We expect Chevrolet to continue to offer one powertrain with the 2022 Corvette. A 6.2-liter V8 engine will be standard on all models. It will produce 490 horsepower and 465 pound-feet of torque. An available performance exhaust system will increase power to 495 hp and 470 lb-ft of torque. An eight-speed automatic transmission and rear-wheel drive will also be standard.
The current Corvette comes with rear parking sensors, a teen driver system, and a rearview camera. Blind spot monitoring, rear cross traffic alert, and a head-up display are optional. We expect these safety features to remain the same in the 2022 Corvette.