The 2023 Chevrolet Express is arriving as a carryover model. This van comes in both 2500 and 3500 models and has three engine choices to customize the perfect van for your needs. The Express can be ordered as either a cargo van or a passenger van with seating for up to 15.
On the inside, the 2023 Express is a spacious vehicle for all your needs. In cargo guise, it has optional seating configurations to seat one, two, or five passengers, and has a number of options available to customize the van to your trade, including available being able to upfit the van for electricians, plumbers, and contractors. It has a spare dash and durable plastics throughout the cabin.
In passenger models, seating for up to 15 can be chosen, but there are a number of configurations that allow you to customize for your group's needs. Plus, there is still plenty of room for cargo behind the passenger seats. Passengers won't be sweltering in any sort of heat as a rear air-conditioning system is standard on this van.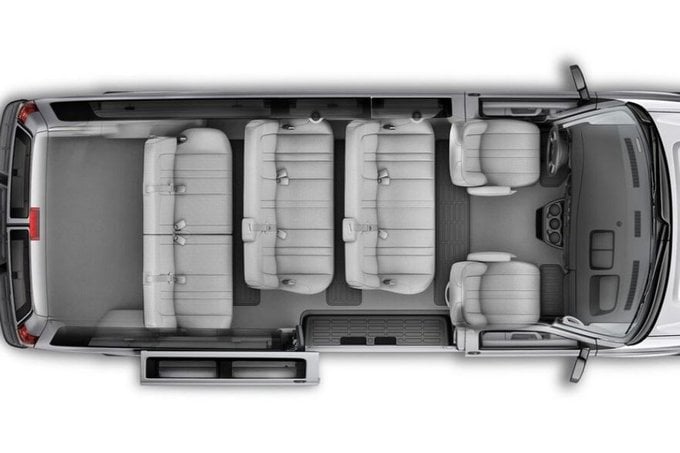 Under the hood, every 2500 and 3500 model of the 2023 Chevrolet Express comes standard with a 4.3 liter V-6 which produces 276 horsepower and 298 lb-ft of torque. This engine is paired with an 8-speed automatic transmission.
There are two optional engine choices available for the Chevrolet Express, a 6.6 liter V-8 which produces 401 horsepower and 464 lb-ft of torque, and a 2.8 liter Duramax Diesel 4-cylinder engine which produces 181 hp and 369 pound-feet of torque. The V-8 pairs with a 6-speed heavy-duty transmission and the Duramax pairs with an 8-speed automatic transmission. With the optional V-8 engine the Express is capable of towing up to 10,000 pounds when properly equipped.
On the safety side of things, the 2023 Chevrolet Express should continue with the same features as the current van. These safety features include a standard rearview camera, and tire pressure monitor, and available features such as blind spot monitor, lane departure warnings, and forward collision warning.