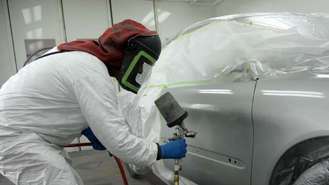 A good car restoration begins with the right car restoration tools. Take an inventory of your toolbox prior to starting your restoration project. You want a good set of basic mechanic tools: wrenches and sockets, various pliers and crescent wrenches, Allen wrenches, and a variety of screwdrivers. As you plan your restoration project, keep a running list of tools you need to for any specific work on the vehicle. Some of this work will require specialized tools. Frequently, tools can be rented as opposed to purchased. Weigh the costs and benefits of renting versus purchasing the tool. Consider if you will need to use the tool one time, or repeatedly.
Below, are some of the more important tools necessary, however, the list is not exhaustive and will depend on your specific project.
Impact wrench. An impact wrench is an absolute necessity. It's used for the removal of lug nuts, nuts and bolts.
Air compressor. Several of the tools you will be using need to be powered by an air compressor. A good air compressor is a wise investment for this project. Not only does it power tools like impact wrenches, hammers and grinders, it also is used to power the spray gun for the paint. You can apply its use not only to the restoration project, but many other uses around the house.
Creeper. If you don't already have one, invest in a good creeper. You want to be able to maneuver underneath the car as easily as possible. You also need a good jack and good, reliable stands.
Paint stripper. A paint stripper is a helpful tool to have in the garage. If your restoration project requires only touch-ups to the paint or small amounts of rust removal, invest in a less expensive, less powerful model. These can be purchased for around one hundred dollars. However, if the entire vehicle needs to be repainted or there is a significant amount of rust that needs to be removed from the metal panels, consider renting a larger, more powerful paint stripper for the bulk of the job.
Grinder. An angle grinder is invaluable when doing body work. It will power through rust removal, can be used to cut metal, and will buff sharp edges. This is a versatile and effective tool that can be used for a number of applications. It is a must have for body work, and as a good staple to your general tool arsenal.
Auto jig. A jig is used to bore precision holes, and is critical to any auto restoration due to the exacting measures needed. This tools will likely be out of the price range to purchase, but can be rented for use during the restoration.
Lift. A hydraulic lift is common in the larger shops, but sometimes the smaller ones have an A-frame. An A-frame is a sturdy type of block and tackle, except it is able to be moved around on rollers. It can have an electric power operated lift or a hand operated lift. These are mostly used to pull and install motors.
Hand tools. A well stocked restoration garage needs a good selection of wrenches, from box end to open end. You may need metric wrenches for some vehicles. You need tin cutters, putty, patch pieces for rust holes and sheet metal for big repairs. A power drill will also be needed. A drill press is a necessity for the big jobs.
Transmission stand. When remove the transmission, you need something to place it on to move it. It is a very long, heavy and cumbersome object. The stand also helps to keep it in a straight line, so that nothing gets injured in the move out or the move back in.
Dent puller. A dent puller is another tool you can't do without. One type you can use with the air compressor, and another is hand operated. The hand model may give you a little more control over dents that are delicate to get to. This is a suction cup that attaches to the side of the car and suctions the dent out.