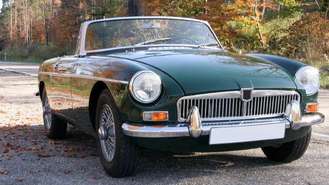 Many car enthusiasts and auto owners enjoy the process of purchasing and rebuilding salvaged convertible project cars. These vehicles are both much less expensive than their fully built and operational counterparts, and they are also available to provide the builder with a sense of accomplishment and a unique and interesting project as one works. Before you make your selection of a convertible to purchase and rework, however, it's important to take the time to investigate all of the different options for cars in your area.
There are a number of different convertibles that are very popular for project cars. Read on for a few of the most popular of these.
Chevrolet Corvette
Corvette project cars are amongst the most popular on the market at this point in time. Corvettes, although still being built, are considered to have reached their heyday several decades ago. These cars have come to be considered almost synonymous with the style of car known as a convertible, and for this reason they are amazingly popular. If you wish to save some money off of the purchase of a Corvette by Chevrolet, you can consider buying an old, worn or salvaged vehicle frame and reconstructing the car on your own. Parts are plentiful and tend to be much cheaper than the cost of a new car itself.
Ford Mustang
Ford has several different convertible vehicles, but Mustang project cars are perhaps the most popular of all. These cars represent muscle cars for many people. Muscle cars are those that were designed generally in the 1950s through the 1970s and contain an extremely powerful engine juxtaposed against a small and compact frame. The result is a lightweight car that can accelerate and hit dramatic top speeds very quickly. Mustangs come in a variety of different styles; the convertible being one of the most popular.
Oldsmobile F-88
This relatively rare vehicle was first built in 1959, making it amongst the earlier convertibles ever designed. F-88 cars are larger than standard sports cars, but feature a sleek design and integrated aesthetic that is appealing to many car enthusiasts the world over. These convertible vehicles may prove to be somewhat more difficult to find frames and parts for, making them a challenge for car builders and enthusiasts alike.
Chevrolet Camaro
The Camaro was first released in the 1967 model year as a response to the Ford Mustang. This vehicle is similar to the Mustang in design, power and other specifications. However, in the intervening time, the Camaro has seen different changes to its structure and shape. Nevertheless, this vehicle remains one of the top convertible project cars available today.