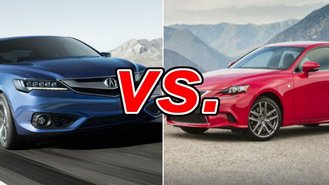 Acura introduced its premium compact sedan for the 2013 model year, making it available initially with a choice of three powertrains—including a Hybrid version and manual shift. The Hybrid soon faded away. A mild redesign for 2016 left only one engine and a new eight-speed automatic transmission. The ILX is the smallest and least expensive of three sedans from Honda's luxury division.
Although the IS nameplate dates back to 2002, the current, third-generation premium sedan barely seems related to the original. Redesigned for 2014, the IS now comes with a choice of three engines, starting with a new turbocharged 2-liter four-cylinder in the IS 200t, which has an eight-speed automatic transmission and rear-wheel drive. An F Sport package is available.
See a side-by-side comparison of the ILX & IS 200t »
What the Acura ILX Gets Right
Even though the ILX seems a bit nondescript at first, beneath the surface it's a surprisingly capable and pleasant four-door. Acceleration with the 201-horsepower four-cylinder engine doesn't qualify as stirring, but it's enthusiastic enough. Automatic-transmission shifts mostly go unnoticed. Handling excels, helped by steering that functions with sufficient heft to ensure confident control.
Front seats are comfortable and supportive, though the back seat is short on space. Perhaps most important, the ILX feels about as refined as can be hoped for in a premium sedan of its price range: starting below $26,000. Fuel economy scores well, too, especially on the highway: estimated by the EPA at 36 mpg. Urban driving isn't quite as thrifty, at 25 mpg.
What the Lexus IS 200t Gets Right
Performance with the new turbo four-cylinder engine is a satisfying plus, with one exception: when strong acceleration is called for, a brief but significant delay is often the response from both the engine turbocharger and the transmission. That phenomenon doesn't occur with V6 versions of the IS. Handling qualities score around average, while the ride ranges from gentle to substantially harsher as the pavement grows rougher.
By today's compact-car standards, fuel economy isn't up to par, EPA-estimated at 22 mpg in city driving and 33 mpg on the highway. As for passenger comfort, reaching the back seat can be a body-twisting adventure, while front seats are snugger and tighter than expected.
Which company's luxury division has the better compact sedan?
In its previous incarnations, the entry-level Lexus has been a reliable premium model, but the latest generation hasn't quite kept up the pace. Acura's compact has a shorter history, but appears to have moved forward already, including narrowing the powertrain choices.
Our Verdict: Acura ILX
Apart from the almost-expected back-seat discomforts, there's not much to fault in the ILX, which ranks a couple of steps above this particular Lexus – though a V6 variant of the IS would narrow the gap a bit.
Take a closer look at the Acura ILX »